Get a Taste of the Sweet Stuff at 7 of Europe's Chocolate Festivals ...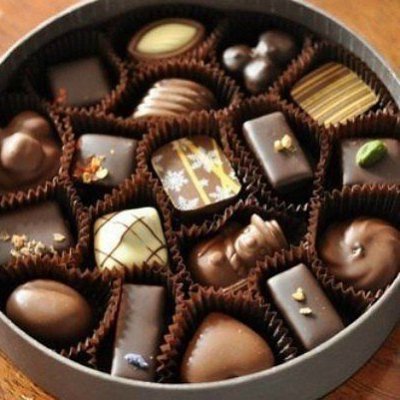 What's the best way to combine your love of travel and a sweet tooth? You can't get much sweeter than chocolate, so pack your bags and hit up some European festivals where there's more chocolate than Willy Wonka could dream of. Just have your workout video ready to plug in as soon as you get home!
1.

FestiChoc, Versoix, Switzerland
There is just time to pack your suitcase and board a last-minute budget flight to Geneva, the closest airport to Versoix in Switzerland, if you want to take part in one of the first European Chocolate Festivals held this spring. Versoix hosts its 11th chocolate festival from Saturday 21st to Sunday 22nd March 2015. The main activities take place in the famous Salon de Artisan, where chocolatiers from across Switzerland, Belgium and France display their amazing creations in a huge tent and showgrounds spanning more than 1,000 square meters. The "Atelier pour les enfants " is dedicated to young artists and those hoping to become one. Here kids can get their chocolate fix with celebrity chocolatier Marc André Cartier for the sweet price of 5.00 Swiss Francs. See versoix.ch for more information and how to get there.
2.

Le Salon Du Chocolat, Paris, France
This is not just one of the largest chocolate festivals in Europe, but the biggest chocolate event in the world, with an expected 120,000 visitors arriving in celebration of all things sweet and chocolaty in 2015. Held from 28th October to 1st November, this spectacular show includes a cat-walk Fashion Show and The Chocolate Awards. Entrance fees are 14.00 Euros for adults and 6.50 Euros for children aged 3 to 12. Under 3's go FREE. More than 500 exhibitors showcase their sweet stuff in a 20,000 square meter exhibition hall. Exhibitors from 30 countries, among them participants from Belgium, France, Italy, Switzerland, Japan, Germany and the United States, showed off their chocolate art last year, when the festival celebrated its 20th anniversary. See salonduchocolat.fr for more information.
3.

Choco-Laté Festival, Bruges, Belgium
Chocolate is one of the ingredients indispensable to the happiness of many, which is why Belgium produces more than 172,000 tons of the sweet stuff every year to keep chocolate fans happy. Held at the city's Chocolate Museum in April this year, the three day trade fair showcases the work from the country's finest chocolatiers, pastry chefs, celebrity chefs and bakers. There are chocolate sculptures, body painters and finger-licking workshops to look forward to! Take your kids to Choco Kids Village and enter chocolate heaven on Earth! See choco-story-brugge.be for more information.
4.

Cioccolatò Festival, Turin, Italy
Piedmont's capital, Turin, holds an annual weekend festival, the Cioccolatò, in and around the Piazza San Carlo from 21st to 30th November. This is one of the best chocolate festivals in Europe to visit before Germany's famous Christmas markets start. Watch more than 80 national and international producers unpack the ultimate show-stopping offerings in both traditional luxury brands and hand-made artisan chocolates. See cioccola-to.it for more information.
5.

The Chocolate Festival, London, England
Held at the Business Design Centre in the heart of Islington, a part of London that is brimming with trendy cafés, chic fashion boutiques and flashy antique shops, the Chocolate Festival takes place from 27th to 29th March this year. Highlights include the Cocoa Spa where visitors can soothe their senses with lush cocoa beauty treatments and various workshops, where you can learn to make your very own cocoa-based face mask. See
festivalchocolate.co.uk for advance tickets and how to get there.
6.

ChocoART, Tübingen, Germany
Fly into Stuttgart and take the train to one of Germany's most picturesque university towns for one of the most inspiring European Chocolate Festivals. Held from the 1st to 6th December 2015, the 10th ChocoArt event will once again feature 100 of the best chocolatiers from Europe, Africa, South and North America. Nearly 300,000 visitors flock to the festival every year to see stunning creations fashioned entirely out of chocolate and sugar. Tübingen's beautiful, ancient centre is the backdrop for this cocoa spectacle. See facebook.com for more information.
7.

Obidos Chocolate Festival, Portugal
Now in its 13th year, the international chocolate festival is held from 16th April to 3rd May and is expected to attract thousands of visitors into the medieval Portuguese town of Óbidos. It is one of the liveliest chocolate festivals in Europe, including a "Kids' Chocolate House" where the youngest visitors can learn how to prepare several cocoa-infused recipes and enjoy a multitude of activities. Grown-ups can enroll in cookery classes where chocolate features as the base ingredient. There are also competitions, such as "Chocolatier of the Year" and the "International Competition of Chocolate Recipes" to look forward to. See festivalchocolate.cm-obidos.pt for further information.
And if you cannot make it to Europe this year, don't despair. There's always the New World Chocolate Festival held in San Francisco from 12th and 13th September! (ghirardelli.com)
Do you dream in chocolate?
{{#comments_count}} Show Commnents ({{comments_count}}) {{/comments_count}}