One of my absolute favorite road trip themes is amazing roadside attractions! No matter where you live, there are bound to be several near you. They are scattered throughout every state, so you might have to do a little bit of research, but this is a great theme for an extended trip, a weekend getaway or even a simple day trip! Take a look at these amazing roadside attractions and try to squeeze a few into your summer sightseeing adventures!
---
1

Paper House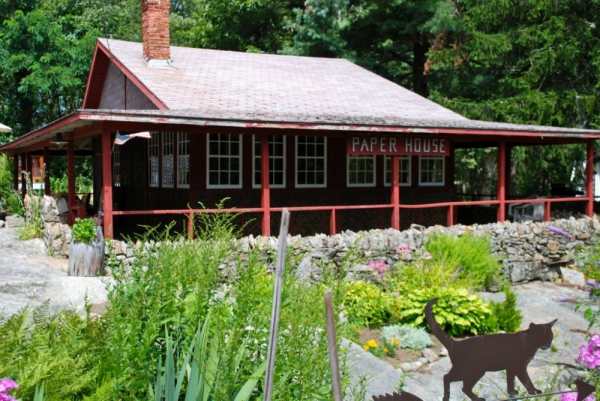 Location: Rockport, MA
The Paper House is one of the most amazing roadside attractions I have come across. In 1922, Elis Stenman decided to build a house, using newspaper as insulation. What began reasonably enough took off in a whole different direction and he began building the entire house, inside and outside, with newspapers, heavily coated in varnish. The furniture on the inside is a mixture of actual furniture covered in papers and glue or furniture he made out of paper as well. Don't worry, the roof and the floor are all wood, but for a house made primarily out of newspaper, it has held up remarkably well for all of these years! You can visit it for $2 per person!
---
2

The Farnham Colossi (Land of Giants)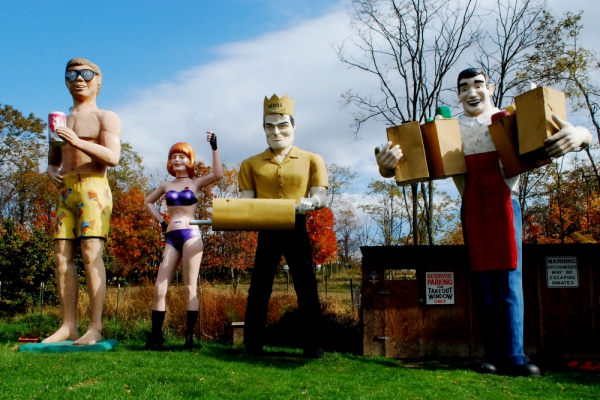 Location: Unger, WV
The Farnhams love two things… collecting things and over-sized statues. They put the two together to form a massive collection of giant statues on their property. You can stop by and see anything from The Muffler Man to Santa Claus! These 20 some odd foot tall giants are a real sight to see! The couple welcomes wanderers who are looking to take photos and explore the Land of Giants!
3

Cardiff Giant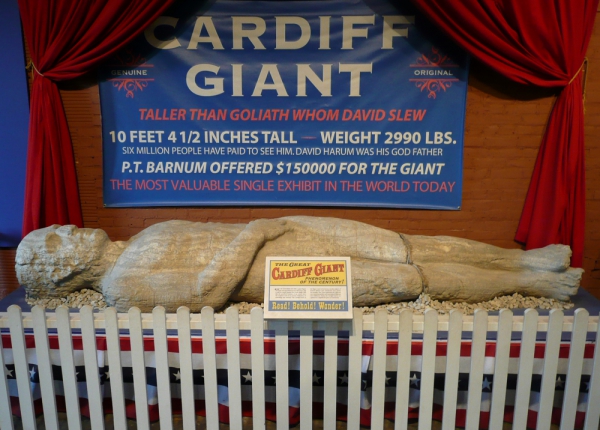 Location: Cooperstown, NY
Ahh, the Cardiff Giant. I see this amazing piece of work several times a year, as it is kept within the Farmer's Museum in Cooperstown which I am a frequent visitor of. In 1868, George Hull planned a very elaborate hoax, paying men to carve out a 10 foot block of gypsum and lying to them about what it was for. He then paid another man to carve a giant man out of the stone. He was also paid and sworn to secrecy. Once the giant was finished, they stained it with various liquids and beat it to make it appear old and weathered. He then transported it, by train, to his cousin's property where they buried it. In 1869, the cousin, following the plan, ordered a well dug on his property, thus uncovering and "discovering" the giant! The men charged admission for people to come gawk at their discovery until it was discovered to be fake. At this point, it was bought from the men for $20,000 more than they had paid to arrange the whole thing. There are now two copies of the Cardiff Giant. P.T. Barnum wanted desperately to own the original, but despite a high offer, was refused. He therefore created his own which he exhibited at his shows. In the midst of trying to sue Barnum for making a "fake," Hull revealed that his giant was ALSO a fake (oops). It has changed hands a couple of times, but the original now lies in a box, on display in Cooperstown.
---
4

Official Home of Superman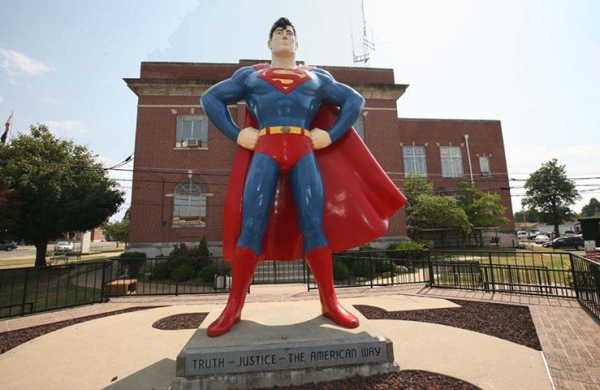 Location: Metropolis, IL
Metropolis is the place to head if you are a Superman fanatic! While the city held its name well before the invention of Superman, it has changed quite a bit since it became the adopted hometown of Superman. The local newspaper is The Planet and you will find themed roads throughout the town (such as Lois Lane). There are giant statues, cardboard cut outs and expansive museums you can visit. If you love Superman, this should be stop #1 on your road trip!
---
5

Lucy the Elephant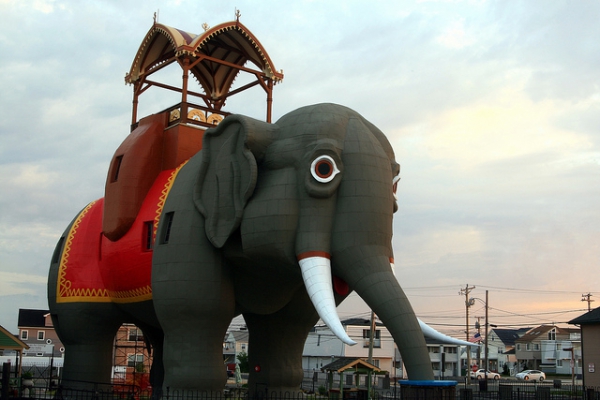 Location: Margate, NJ
Lucy is a 6-story elephant-shaped building. Since it was built, it has been everything from a restaurant and hotel to an office building and a cottage. In 1969 it was saved from demolition and fixed up to replace its deteriorating exterior. It has been targeted by harsh weather. In 2006, Lucy was struck by lightening; thankfully the only damage was blackening to the tips of her tusks. In 2012 Hurricane Sandy hit nearby, but the water only came up to Lucy's toes, sparing her any real damage. Today, you can go on a tour of the entire building every half hour, 7 days per week!
---
6

Corn Palace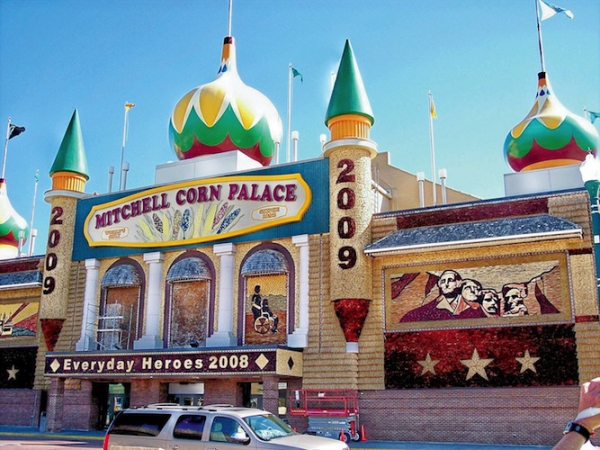 Location: Mitchell, SD
I have had the pleasure of seeing the Corn Palace up close and personal! It is an arena that hosts a variety of exciting concerts, sporting events, rodeos and festivals throughout the year. The entire outside of the building is covered in murals and artwork made entirely out of corn! You can visit it year round, but if you go between Memorial Day and Labor Day, you will get to see them removing the season's display and replacing it with a new one! That is just as interesting to see as the fully adorned building is! It really is a massively impressive work of art!
---
7

BioSphere 2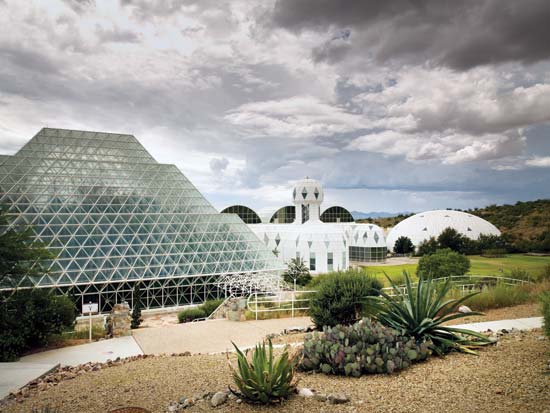 Location: Oracle, AZ
Created as a sealed dome for research and experimentation, BioSphere 2 is now a flow-through system that is no longer a closed structure. While this may alter it's usage for research purposes, it allows for walking tours through the dome, which is an exciting experience! For $10-20 per person, you can go on a guided tour through the tropical rain forest, ocean with a coral reef, deserts, grassland and human habitat! Can you imagine taking that all in while only walking a mere mile? While this one might seem a bit pricey, I say it's worth it and if you're going to pay for any road side attraction on your road trip, this would be the one I would choose!
These are my current top 7 favorite roadside attractions, but there are SO many more you can investigate and explore all over the world! I can't wait to visit the BioSphere! What's the most exciting roadside attraction you've ever been to or heard of?
---
Comments
Popular
Related
Recent