I've still got a massive bucket list despite all my travels and experiences and I know many of them will remain unfulfilled before I do kick over the pail, but if I were to prioritize them, staying in a treehouse hotel would come very high. That's because – as well as being fabulous – it is something that is becoming more easily accessible. If you want some awesomely different holiday accommodation, these treehouse hotels fit the bill.
1

Ariau Amazon Towers Hotel, Brazil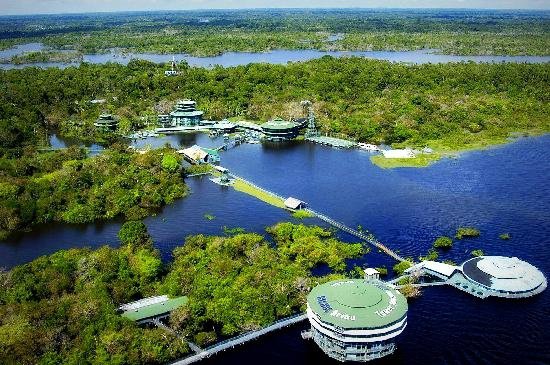 Located 35 miles from the Amazon gateway city of Manaus, the Ariau Amazon Towers Hotel is one of the largest treehouse hotels on the planet, boasting wooden catwalks that stretch for 10 miles, overlooking some of the world's most stunning flora and fauna. Guests can enjoy the best views since Disney's Jungle Book from two 150-foot tall observation towers. The President Lula "Tarzan" House sits right at canopy level and boasts its own Jacuzzi and plunge pool. Watch colorful Amazonian critters flit by from your own private balcony!
2

Treehotel, Harads, Sweden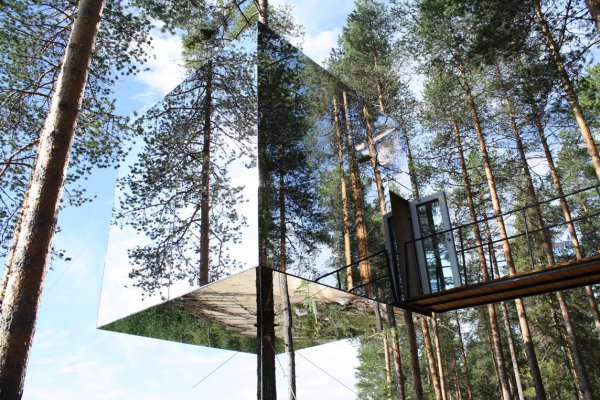 Located in the north of Sweden, this small village knows how to lure visitors to their doors. With five (soon to be six) innovative treehouse hotels that sport individual designs, from a bird's nest room with twigs sticking out to a silver UFO seemingly stuck in mid-air(!) overlooking the lovely Lule River Valley, this treehouse hotel makes for an unusual, but idyllic retreat.
3

Sanya Nanshan Treehouse, Jiangsu, China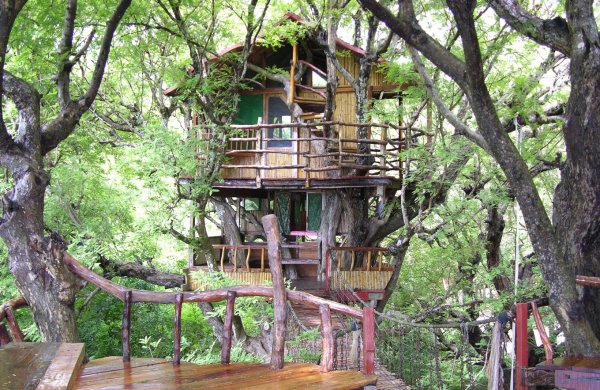 Feast your eyes on the rolling surf of the South China Sea from the Sanya Nanshan Treehouse Resort in Jiangsu. Although not luxurious by any means, this rustic treehouse is nonetheless charming and the landscape surrounding it is spectacular. Access your tamarind treehouse accommodation via a rope-and-suspension bridge. Nearby is a Buddhist Theme Park offering spiritual enlightenment and lovely walks.
4

Inkaterra Canopy Treehouse, Tambopata National Reserve, Peru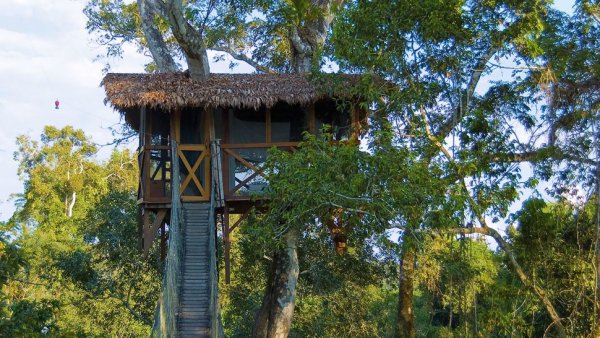 All that separates you from inquisitive monkeys and adorable hummingbirds is a mesh screen when you stay at the Inkaterra Canopy Treehouse Hotel. Perched 90 feet above the Peruvian Amazon in the Tambopata National Reserve, the treehouse hotels offers guests a wonderful blend of luxury holiday and real adventure. Have your drinks served by a canopy butler, then join a guided walking tour into the National Reserve.
5

Cedar Creek Treehouse Hotel, Ashford, Washington, USA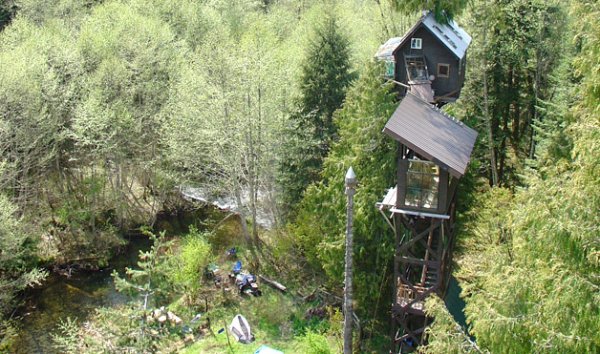 Overlooking Gifford Pinchot National Forest, the Cedar Creek Treehouse sits at 50 feet above the ground and offers guests a kitchen, sleeping loft and a glass-walled observation room fitted with an indoor hammock. Accessible via a spiral staircase, this treehouse hotel is just a 10-minute drive from the amazing Mount Rainier National Park, the perfect place for a hiking tour.
6

Tree House Lodge, Gandoca-Manzanillo Wildlife Refuge, Costa Rica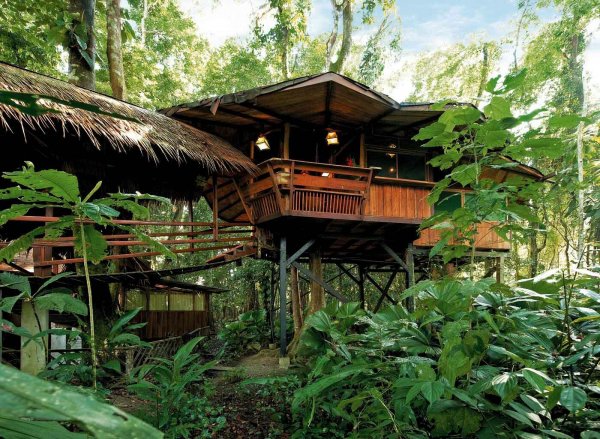 Close to the popular Punta Uva Beach, the Tree House Lodge is accessible via a suspension bridge and offers guests ample space. The rooms can sleep up to 6 people, have a Jacuzzi and a full kitchen. Fitted with a thatched roof and shaded by tree branches from the hottest rays of the sun, the treehouse seems miles and miles from anywhere, but is in fact just a 5-minute stroll from restaurants and grocery stores. For an adrenalin kick, join one of the Lodge's hiking excursions, white-water rafting tours or zip-line canopy adventures in the jungle.
7

Tranquil Resort, Wayanad, Kerala, India

Situated in a private 400-acre estate complete with a working vanilla and coffee plantation, this southern Indian treehouse hotel boasts eight well-appointed rooms with king-sized beds, full bath, veranda and amazing views of the Kerala rainforest. Join a tour of the plantation or sit by the pool sipping a refreshing drink. Or be pampered and have a traditional Ayurvedic massage in this most relaxing of treehouse hotels.

I've chosen some pretty exotic locations here but really, treehouse hotels are popping up all over the world. I've found a few in the UK that I will have to check out one weekend. Is this your idea of a fun place to stay?