I haven't yet realized my ambition to stay in one of the growing number of treehouse hotels around the world but now that I have found there are some in the UK, I might be able to rectify that sooner than I thought. By their very nature treehouse hotels are not going to be big sprawling accommodations with every amenity. They are however, in gorgeous places, well facilitated and perfect for intimate breaks or eco-conscious travelers.
---
1

The Tree House at Castle Cottage - West Sussex, UK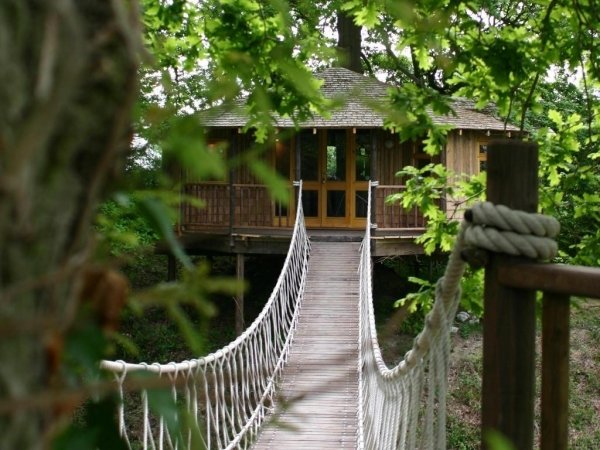 This is one of the many treehouse hotels that have experimented with having trees run right through the bedroom. This tree effect is becoming more popular in British houses, albeit expensive houses, and may be seen at the tree house at castle cottage.
---
2

Pasonanca Park Treehouse - Mindanao, the Philippines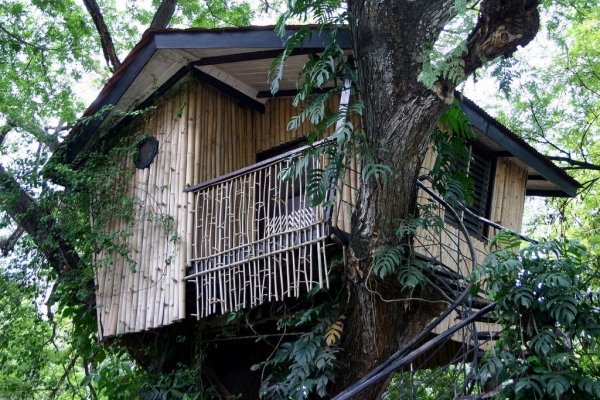 It is now more of a tourist attraction than a working room, but it is literally what you may expect of a treehouse. Within the branches of a tree, you will find a small shack with windows and even a small balcony. It is located within a nature park where you can see some very exotic birds and insects.
---
3

Châteaux Dans Les Arbres Hotel - Dordogne, France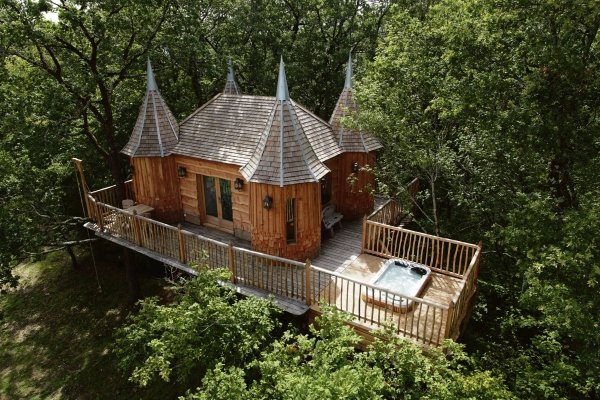 The rooms are raised wooden platforms in the middle of the forest. The platforms are fenced and atop you find your own mini-palace, some with four spiked spires, that is all made of wood. Some even have a Jacuzzi outside.
---
4

E'terra Samara - Ontario, Canada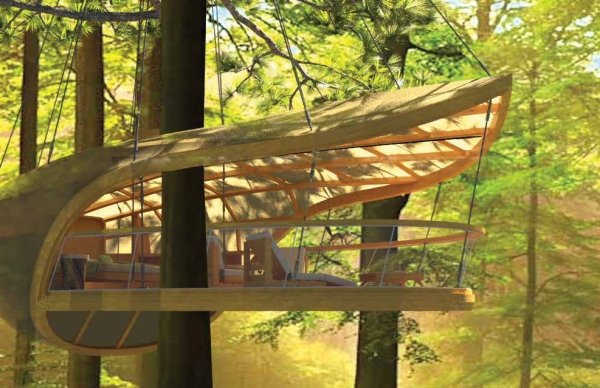 This is a hotel in the woods that has rooms that were expertly crafted with designs you will not see elsewhere. Most of the room is made of wood and each room, or living space, is suspended from the trees. It is a private getaway that is akin to very luxurious camping in the woods.
---
5

Free Spirit Spheres - Vancouver Island, Canada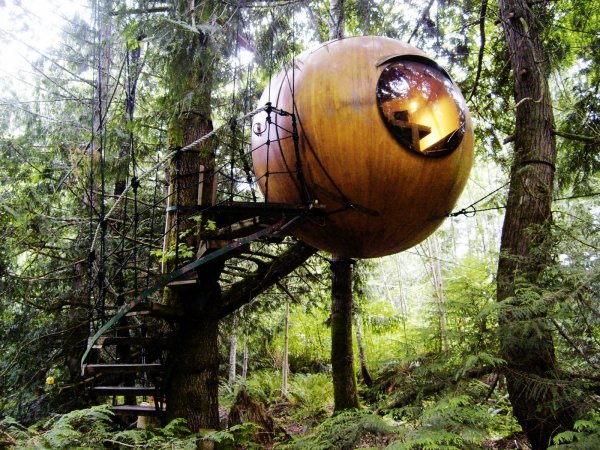 Spherical rooms have been created and suspended in the woods. They have circular one-way windows that you can look out of into the woods. Take small ladders, steps and bridges to get to your suspended room.
---
6

Kadir's Tree Houses - Olympos, Turkey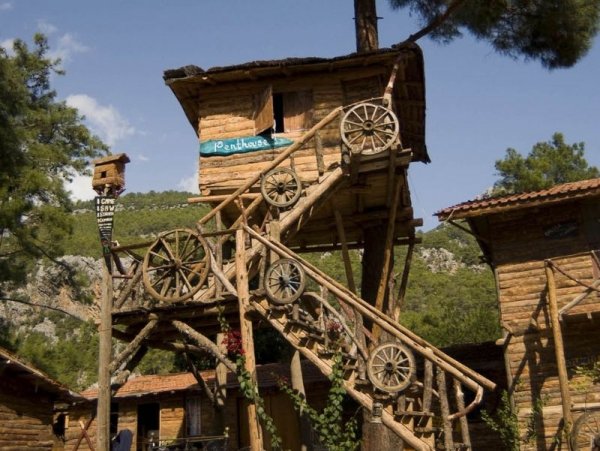 This looks a little like a small wooden town you may see in an old Clint Eastwood western. Heaven help them if they ever get woodworm because the town would crumble. It is certainly a sight you will not see very often in your lifetime, and you can stay in the treehouse rooms, some of which have cozy fireplaces.
---
7

Treehouse Villas at Saratoga Springs Resort & Spa - Disneyworld, USA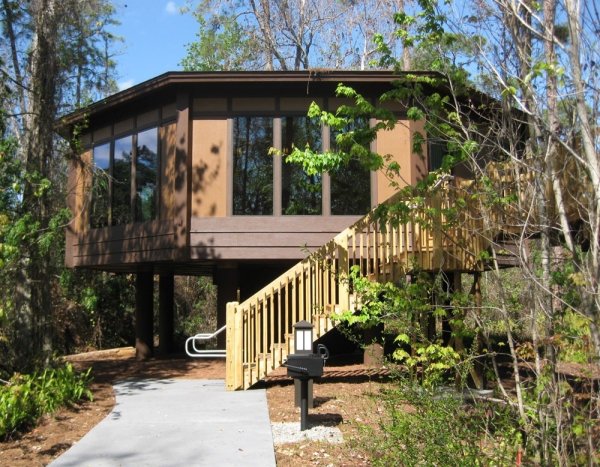 There are no treehouse hotels on this list that are cheap. They are all pricey, but if you really want to pay through the nose, then try the Disneyworld treehouse villas. They have their foundations held up by wooden posts, and are octagonal in shape with the roof reaching its apex in the centre. There are quite a few of them in this exclusive complex, and they are surrounded by woods and waterways. They each have a balcony, and underneath there is enough clearance for the kids to run between the supporting beams.
---
8

Centre Parcs Treehouses - Sherwood Forest and Longleat Forest, UK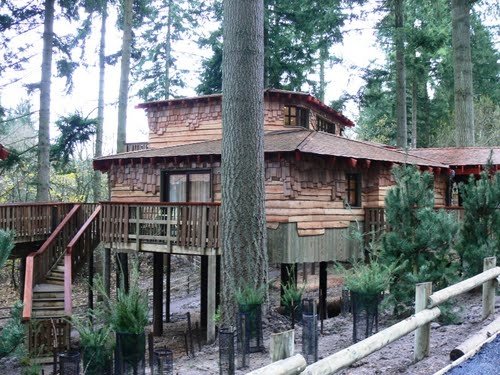 Centre Parcs are like big outdoor adventure camps in the UK where families and couples can go and enjoy nature and loads of outdoor activities and sports. Some of the apartments are made mostly of wood and have their foundations supported by wooden poles. The houses have their own balconies and some of them even have two storeys.
---
9

Cedar Creek Treehouse - Washington, USA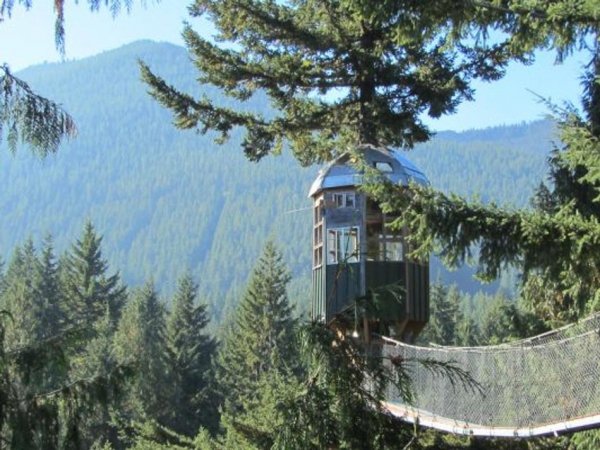 This is a hotel that is on the verge of being scary. It has a horror movie look about it because of the color of the wood, the design, and its location, which is right in the middle of green trees. The treehouse is a lot higher than most treehouses too. The inside is rather nice and better lit than it may appear from the outside, though in the dead of night atop the trees it can be scary, especially if the wind is blowing.
Do you have a hankering to find your inner trail woman and stay in a treehouse hotel?
More
Comments
Popular
Recent