A ski holiday over the New Year promises a fabulous celebration. You've already got the snowy landscape to give that seasonal magic so all you need are festivities and fireworks to say goodbye to last year and herald in the new. If you want to see 2016 in on the slopes here are the best ski resorts for New Year.
Let's start with North America
Table of contents:
1

Aspen, Colorado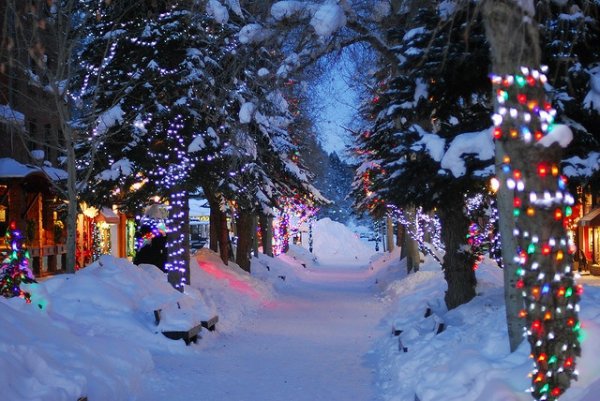 Luxurious Aspen is Colorado's most famous ski resort, home to minor celebrities and A-listers alike during the snowy season. This is why there are two, not one firework displays over Aspen Mountain. The first bangs, booms and clatters away at 8.00 pm to please small revelers, and the second springs to life over the snowy peaks at midnight. Live music at the Wheeler Opera House or various local hotels will allow you to dance the night away after a posh bit of grub. Look out for the Snowmass torchlight parade and fireworks on 28th December, where kids aged eight and older can be torch-bearers in the parade. Could their little faces light up more if they tried?
2

Mont Sainte-Marie, Quebec City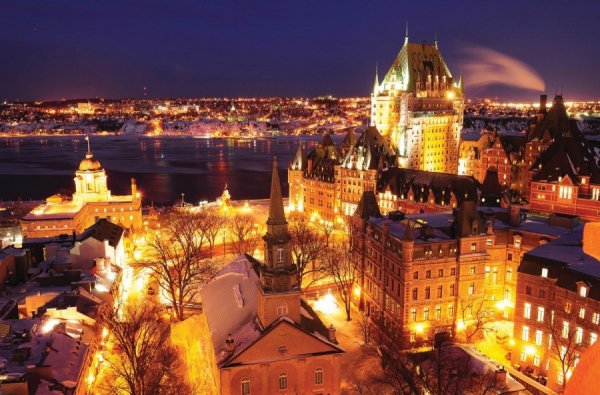 Located just 40 minutes from Mont Sainte-Marie ski resort, the old-world charm of Quebec City makes for a wonderful New Year's Eve getaway. Looking like a historic European village with it's own fairytale castle, the 19th century Fairmont Le Château Frontenac Hotel, Quebec City oozes winter wonderland magic. In the center, especially around the Grand Allée, the main party takes place. Here revelers can go "ooh" and "aw" to their hearts' content at midnight, when the skies light up with fireworks worthy of Gandalf the Grey.
3

Whistler, British Columbia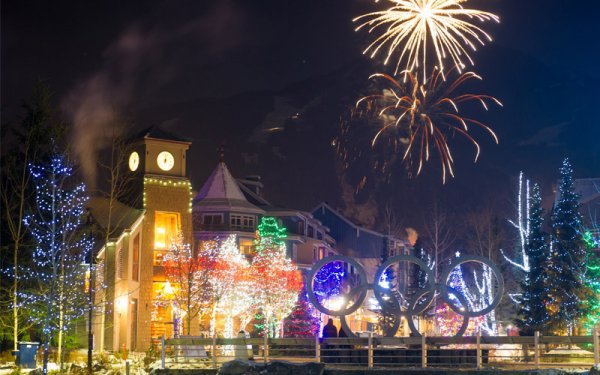 Great food, fabulous party atmosphere and a young crowd have made Whistler in British Columbia a favorite with New Year's Eve partygoers the world over. With a drinking age of just 19, Whistler offers fun for all ages, from dancing at clubs to family-outings at alcohol-free events in the village center (tickets, prices range from $15 for adults to FREE for under 12's). One doesn't mind paying though: the famous Fire & Ice ski jumping display, dancing food, ice skating and a spectacular fireworks display are all included in this small fee.
4

South Lake Tahoe, California/Nevada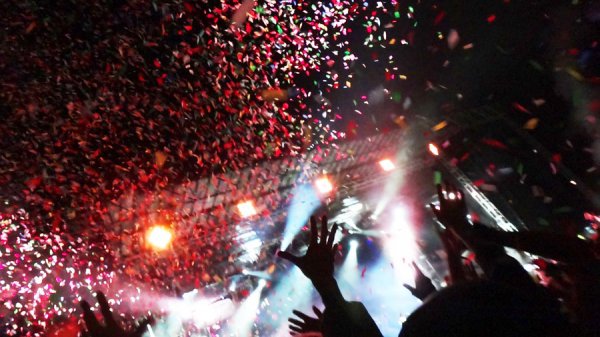 More than 500,000 partygoers come to South Lake Tahoe every year for the overwhelming number of entertainments on offer at New Year. There's something for all ages and tastes, from family-pleasing events to a gambling at the casino experience that might make you a millionaire over night or lose you your shirt. The famous 3-day Snow Globe event, a dance and music festival like few others is the ultimate test for skiers: can you dance the night away and still make it down the piste in one piece the next morning?
5

Beaver Creek, Colorado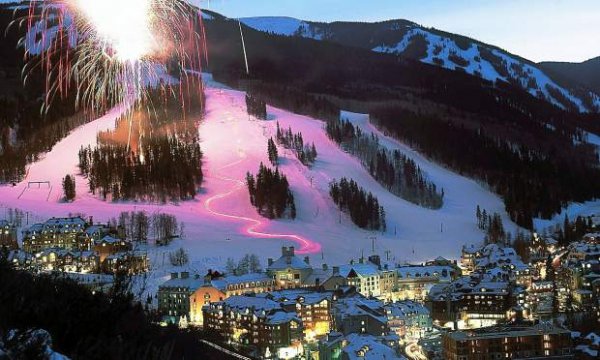 Family fun is taken very seriously in Beaver Creek, when it comes to New Year's Eve partying. Firework displays start around 6.45 pm to allow wee revelers to get a look-in, too. After that, put on your party hat and sequined frock and head to the party, which starts at 8.00 pm. Be prepared for the raffle, live music, games, dancing and balloon drops (the first happens at a child-pleasing 10.00 pm) that will make the night feel much too short to cram it all in.
6

Steamboat, Colorado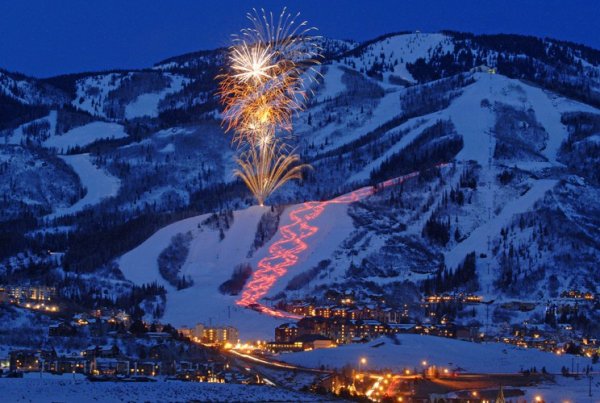 Celebrations kick off at 6 pm, when a torchlight parade and fireworks signal the start to a night of partying. Some of the larger hotels, such as the Sheraton Steamboat Resort's Villa Gallery for example, host parties with drinks and appetizers that go on until 1 am. Live music events or DJ supported venues provide happy dancers with plenty of opportunities to swing a leg and enjoy a dinner buffet and champagne toast at midnight.
7

Jackson Hole, Wyoming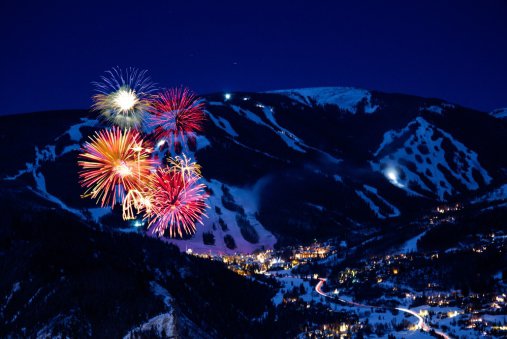 A family-friendly start of the night, the fireworks and torchlight parade begin at 6 pm in Jackson Hole, Wyoming. Stay in the resort's center or hop on a gondola to the Couloir-based restaurant perched at 9,095 feet above sea level, where you can dance the night away from 9 pm onwards. The admission fee includes a midnight champagne toast.
8

Okema Mountain, Vermont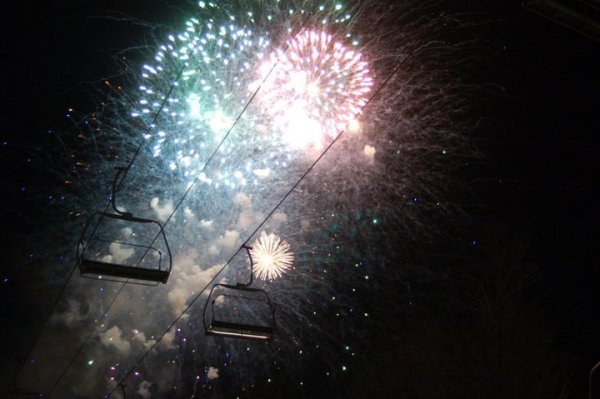 This is another child-friendly New Year's Eve party event, where celebrations kick off at 5 pm with ice skating, snowshoeing, mountain coaster rides, snow tubing, horse-drawn wagon rides and trivia tournaments and such like to please all ages. Admission isn't cheap, around $45 for adults, but there are so many entertainments and activities included in this, nobody minds paying it. The family revels end at 9 pm.
9

Stowe, Vermont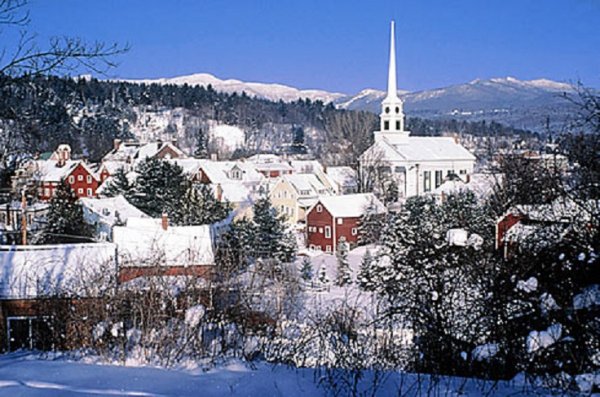 Stowe puts on a grand show with ice carvings, complimentary s'mores and cups of hot cocoa, fireworks displays and torchlight parade. Stowe Mountain Resort is the place to be from 7 pm onwards.
And now onto Europe
10

Grindelwald, Switzerland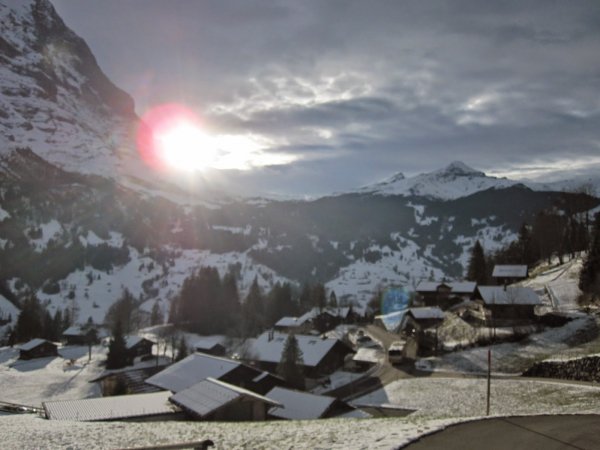 Dancing, sing-alongs and amazing fireworks are all part of what the German Swiss call "Silversterabend", celebrated across all of Switzerland's cantons, audibly so: the hills are alive with yodeling and ringing of cow bells to drive evil spirits out of the New Year. Grindelwald's New Year's Eve party is a warm and welcoming affair. Head out of your hotel at around 10 pm, when the streets are being cordoned off for vehicular traffic and revelers begin to spill out of bars and restaurants to have a good time in the snowy surroundings.
11

Tignes, France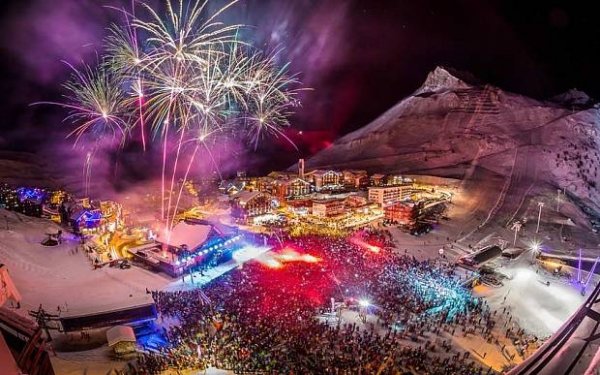 Tignes in France is famous for offering New Year's Eve party events like nobody else does. A line up of famous DJs, stunning pyrotechnics at midnight and a mountainous backdrop to die for make this one of the places to be in Europe in winter. Non-stop dancing with hundreds of like-minded disco queens is guaranteed. Local shuttle buses take partygoers back to their neighboring resorts after the event, so there's no problem getting around at 2 am.
12

Klosters, Switzerland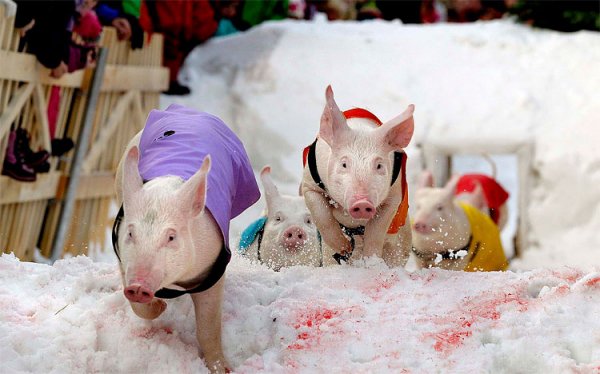 Ever seen porkers race through the snow? At Klosters you can, for it's an annual tradition to hold the Hotsch Race, a fiercely fought competition, where ten rosy cheeked, snubbed-nosed competitors race each other to the finish line. The winning hog becomes the town's lucky mascot for the year. It's a wonderful family event with lots of good-humored piggy jokes and laughs. Thousands of spectators cheer on the little curly-tailed contestants, before eventually turning up their noses towards the heavens like all two-legged revelers to watch spectacular firework displays.
13

La Plagne, France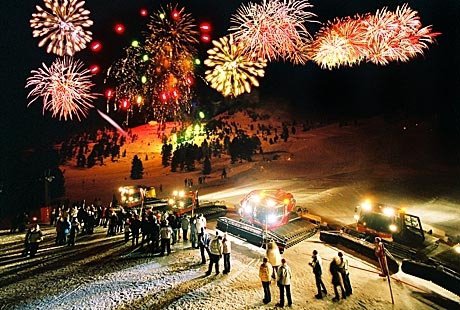 La Plage is part of the large Paradiski ski area, where skiers will find an abundance of pistes and snowboarders of all abilities and experience can test their mettle. At the year's end, La Plagne lights up the inky heavens with an amazing display of fireworks and the Nuit du Pompon Rouge, or Night of the Red Pompoms, a celebration with traditional New Year's Eve countdown with avant-garde light displays, puppetry, floats and amazing traditional fireworks thrown in for good festive measure. Most merrymaking takes place in the resort centre, where hundreds of people gather for a red-nosed hug and kiss at midnight.
14

Kitzbühel, Austria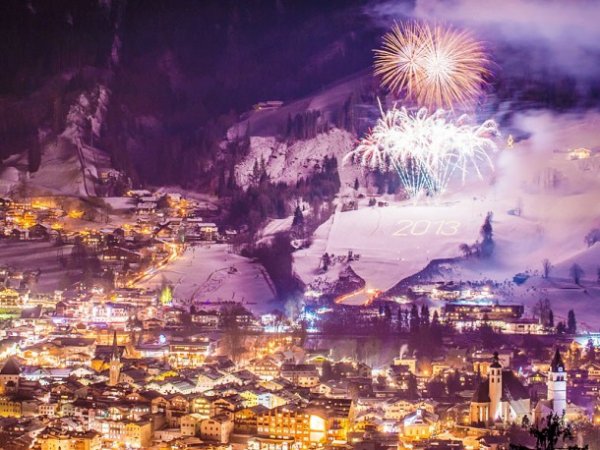 Although there is a long ski season in Austria, New Year is Kitzbühel's showcase celebration. Visitors, workers and residents of the resorts and town gather in the central Square on New Year's Day for fireworks (choreographed by a pyrotechnic master) and a torchlight procession of the experts of the various ski schools. There's tricks galore including jumping over a fire pit and partygoers get to stomp their get along to a traditional Tirolean soundtrack. 30,000 people pack the celebrations so you'll be warm and toasty.
15

Courchevel, France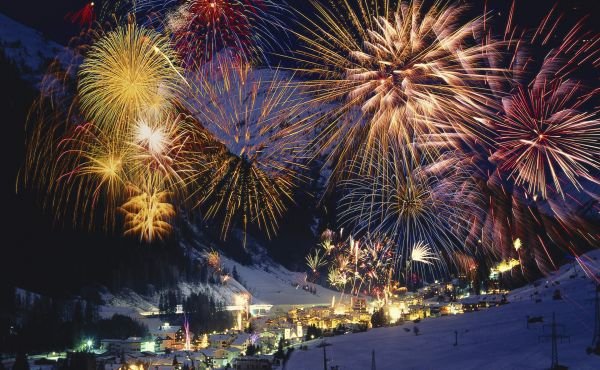 Here New Year's festivities last four days, culminating in the almost infamous New Year's Even Dance Party every disco king and queen in Europe who's ever stood on skis has heard about. Starting on the 28th December, the Courchevel festivities include music, dance, fantastic ice skating shows, theatre and a party at the foot end of the ski slopes with fireworks at midnight and DJ support throughout the night. Best of all, the 4-day event is free for all!
16

Brunico-Bruneck, Italy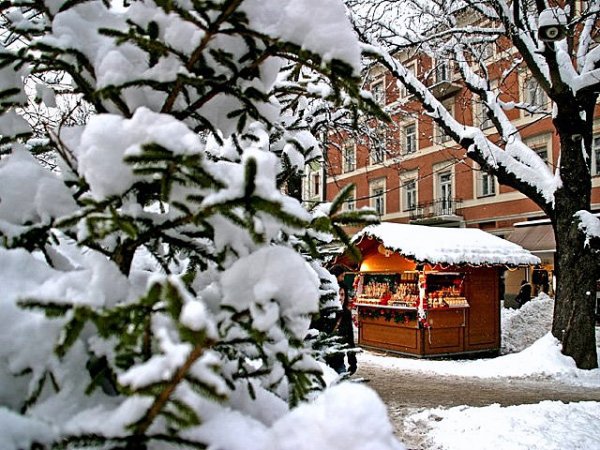 If fireworks aren't really your thing on New Year's Eve and you're looking for a different kind of celebration, the resort of Brunico-Bruneck, near Kronplatz in the Italian South Tirol is the place to rock up to. Here New Year's Eve is passed in the town's Rathausplatz (central square) where guests are encouraged to join the locals at 11:30pm in dancing the last Harlem Shake of the year (yes, honestly!) The Christmas market is open all day too.
17

Five Ski Resorts, Scotland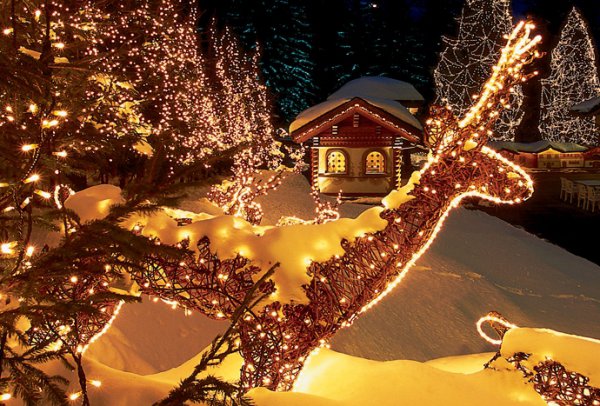 There are only five ski areas in Scotland – Aviemore (Lecht), Glencoe, Nevis Range, Glenshee and Cairngorm but New Year is a big thing in Scotland – more so than Christmas. There's nothing quite like Hogmany in Scotland and all the ski resorts and hotels offer great festivities and entertainment. If New Year for you is skis, snow, tartan, kilts and pipers, Scotland will show you a whale of a time.
Are you heading to the slopes for New Year? Where are you going?
Please rate this article