Don't want to spend Christmas at home? Or just fancy a different experience for a change. It's nice to see how different parts of the world celebrate the holidays. Take a look at where you might want to go:
---
1

Brussels, Belgium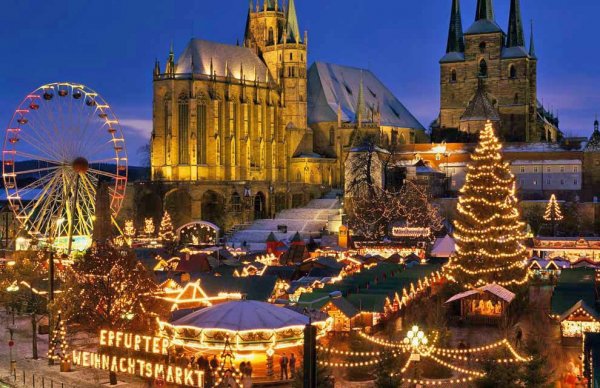 Yummy Belgian chocolates, Belgian waffles, croustillons (sugared doughnuts) and not one but two Santas, Saint Nicholas and Pere Noel, make the Belgium capital an utter delight at Yuletide. Brussels' Winter Wonders' Christmas market was named the "most original in Europe" by Britain's tour operators. Boasting 2 km of stalls, a fairground with giant Ferris wheel and a sledding track, a series of music concerts, lightshows on the famous Grand Place and an ice rink where festive spirits can make a fool of themselves, Brussels is definitely one of the 25 best places in the world to spend Christmas.
2

Dresden, Germany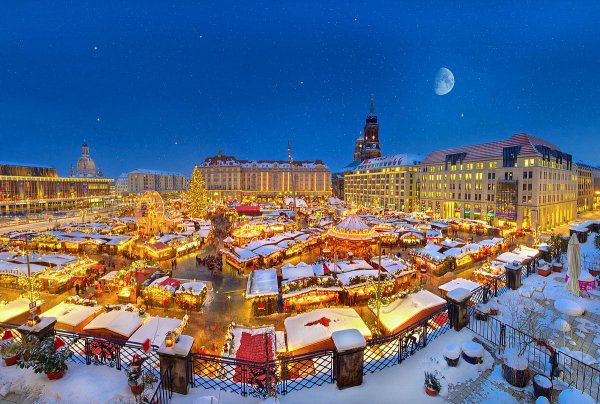 The beautifully restored city of Dresden, famous for its Meissen porcelain collection, its opera house and links with some of the world's most famous composers, is also home to Europe's original and oldest Christkindlmarkt or Christmas market. Dating back to 1435, the market is surrounded by some of Europe's finest 18th century buildings and just a short stroll from the River Elbe, where revelers can take a traditional steam-driven shuffle boat cruise and admire the stately homes that lie along the mighty river. If you prefer lots of snow to mulled wine and sugared almonds, head to Munich in Bavaria, where the Marienplatz market and Tollwood Winter Festival should furnish you with enough Glühwein and Lebkuchen (mulled wine and gingerbread) to keep you going until New Year's Day.
---
3

London, United Kingdom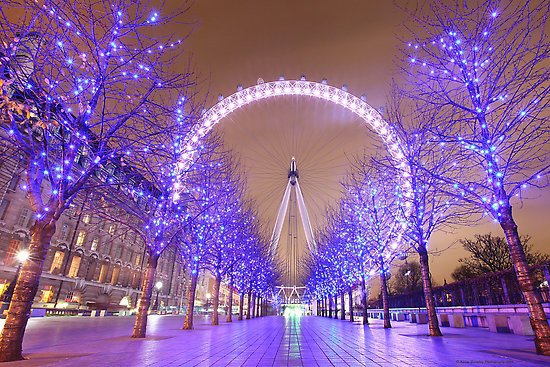 Visiting the Charles Dickens Museum is an absolute must-do for anyone who's read the Victorian author's "A Christmas Carol". The British capital has an abundance of Christmas markets to offer, but none are quite as magical as spending a candlelit evening in the Dickens Museum, which was the author's former home. Walk along the Thames River or visit Hyde Park and you'll come across a festive market (Winter Wonderland), numerous Santa's grottoes and ice rinks close to landmark buildings. Be sure to try traditional Christmas pudding, a dessert dating back to the Middle Ages. Served doused in brandy and set alight, it will keep you feeling full until Epiphany.
---
4

Salzburg, Austria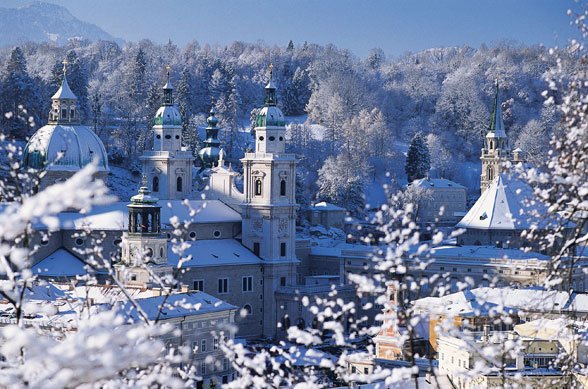 If you are visiting Munich in Germany, you might want to take a coach tour to Salzburg in Austria, just across the German border. Mozart's birthplace is a magical winter wonderland and boasts one of Austria's best Christmas markets. Take a horse-drawn sleigh ride or go shopping for Advent wreaths, hand-carved nativity displays or twinkling hand-blown glass tree decorations. Naturally, this being Mozart's home town, there are Mozart Kugeln (chocolates) and Apflestrudel just waiting to be devoured. If you're staying in Austria, head to Vienna's main Christmas market, which dates back to the 13th century, making it one of Europe's oldest.
---
5

Rome, Italy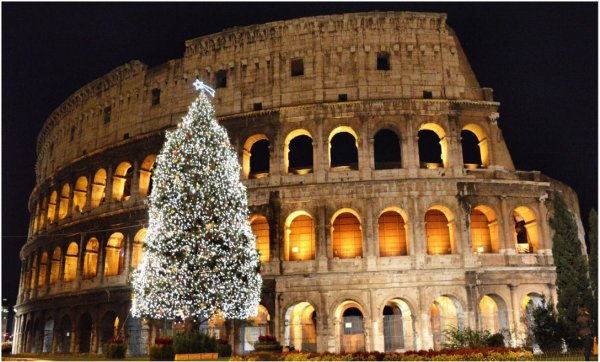 All over the world lapsed Christians manage the stroll to their nearest church on Christmas Eve to celebrate midnight mass services. If you want to celebrate the birth of Christ with thousands of others, head to Rome. Outside the Vatican, where Pope Benedict XVI will give his annual address, pilgrims from all over the world line up for a Papal audience, to hear special readings, receive blessings and to hold prayers in St Peter's Basilica. If you wish to attend mass on Christmas Eve, you have to book tickets well in advance. The mass service starts at 10.00 pm and is repeated on Christmas Day at noon.
6

Paris, France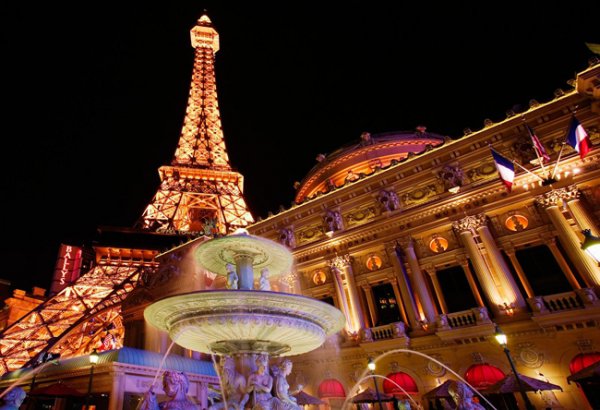 The world's most romantic city does nothing by halves, especially when it comes to twinkling fairy lights. The "City of Lights" couldn't be more glittering or sparkling. Go to Place la Concorde and take a ride on the giant Ferris wheel to get a really good look at the festive lights or scale the Eiffel Tower for an even better view. At the famous department stores of the Galeries Lafayette the animated window displays can rival with anything London's Regent and Oxford Street have on offer. If you've got time, head to Strasbourg in the beautiful Alsace region, where another really ancient and utterly charming Christmas market is held. It dates back to 1570 and features many stalls where Strasbourg's bakers sell their delicious wares.
---
8

Budapest, Hungary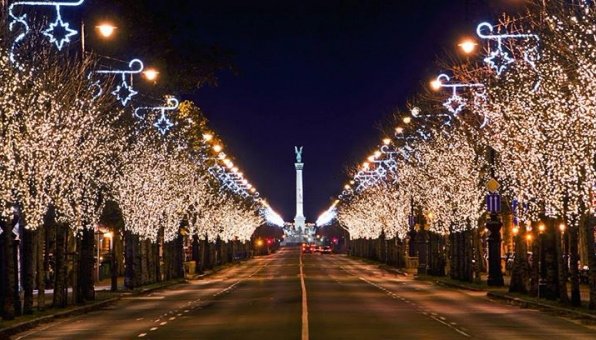 Medieval Budapest is one of Europe's most beautiful cities and especially so in winter, when snowflakes transform the historic city into a fairytale place. Visit one of the city's famous bathhouses and defrost your numb digits in their steaming outdoor pool, ice skate on Lake Városligeti Tó, or eat yourself silly with their delicious strudel and töki pompos (oven-baked dough balls), both available at Christmas markets held throughout the city. If you've got the energy, climb up to Vajdahunyad Castle for some of the finest Budapest views.
---
9

Prague, Czech Republic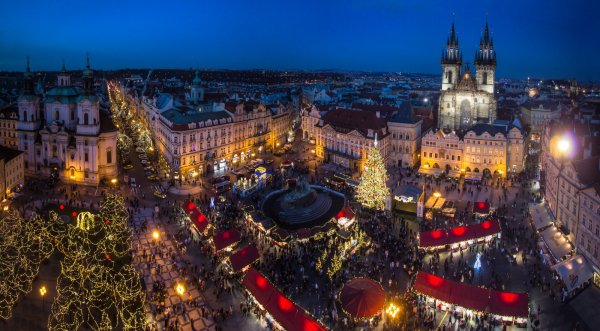 Scramble up to Prague Castle and listen to the hundreds of bells that chime at noon, for the hilltop castle overlooks a gorgeous jumble of red-roofed spires that belong to some of Europe's most beautiful Baroque churches. All along Charles Bridge you'll find artisans selling their hand-made wares. At the Old Town Square you'll find local specialties like giant hams spit-roasted and trdelník, sugary Czech pastries, that will pile pounds on your hips by just looking at them, as ladies in traditional Czech folk costume fry them in hot oil. Most of the churches offer afternoon concerts around 4.00 pm, which cost very little and offer a wonderful opportunity to rest yourfeet and admire the golden interiors of Prague's churches.
---
10

New York, USA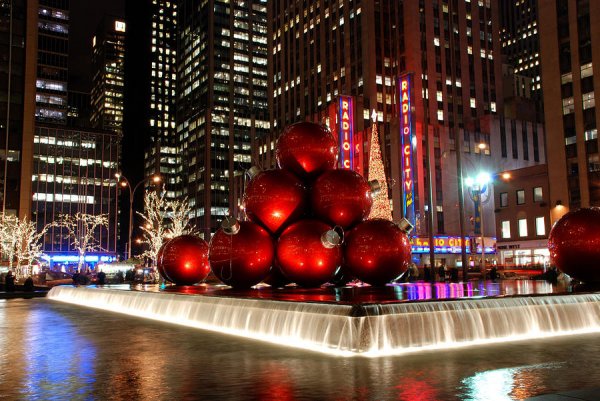 Be sure to include the sparkling Christmas tree at the Rockefeller Center in your itinerary, for its 30,000+ fairy lights are a sight to behold. At Fifth Avenue the shops are just as sparkling, offering some of the world's most innovative and amazing window displays to passers-by. At Central Park's ice-rink everybody tries to flirt and at Macy's amazing Santaland your inner child won't want to leave.
---
11

Madrid, Spain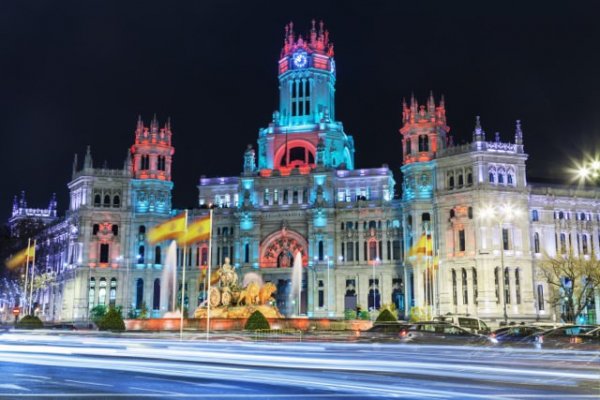 Spain's capital likes its fiestas, and Christmas is no exception. The Plaza Mayor's Christmas market is probably the largest you'll find in Madrid. There are numerous ice-rinks all over town and shop windows sparkle with lovely displays. The biggest show-stopper is reserved for the Three Kings Parade on 5th January though, when the annual procession of huge floats and a walking nativity march through the streets.
---
12

Boston, USA

Ever since the 17th century, when the Puritans banned Christmas in Boston, the city has been trying to make up for this lapse in Yuletide judgment. There is an abundance of Christmas markets, with candlelit carol singing popping up everywhere. Festive shows, ice-skating on frozen lakes and the lovely Faneuil Hall tree and Stone Zoo's Zoolights even with its amazing lightshow are just some of the winter wonderland things on offer.
---
13

Montreal, Canada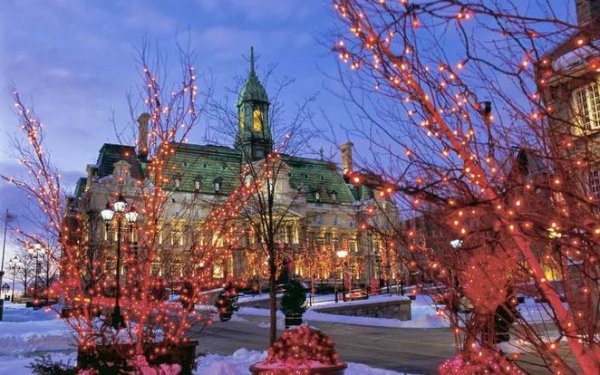 Since Montreal's cultural influences are from France, the place has a distinct European flair to it. Quebec's capital simply dazzles with its fairy lights and tree decorations. The annual Santa Claus Parade, which dates back to 1925, is the highlight though, rivaled only by the French-themed Défilé de Noël festival. Colorful floats start from the city's Old Port and make their way through the centre. At food stalls along the way, hungry revelers can taste the flavors of France: buttery pastries, mugs of steaming hot chocolate and candied chestnuts in paper bags.
---
14

Tallinn, Estonia
The Estonian capital offers a different perspective on Western Christmas activities. Tallinn is a stunning city dating back to the early Middle Ages. Dusted in snow, its red-tiled roofs remind us that it is here the world was introduced to the Christmas tree in 1441, when the first tree was erected on Town Hall Square to grace the market. Go skating at an outdoor ice-rink, shopping at the international Christmas market or head to the Estonian Open Air Museum's own Christmas village, where the magic of the season is bound to plunge you into a romantic mood.
---
15

Chicago, USA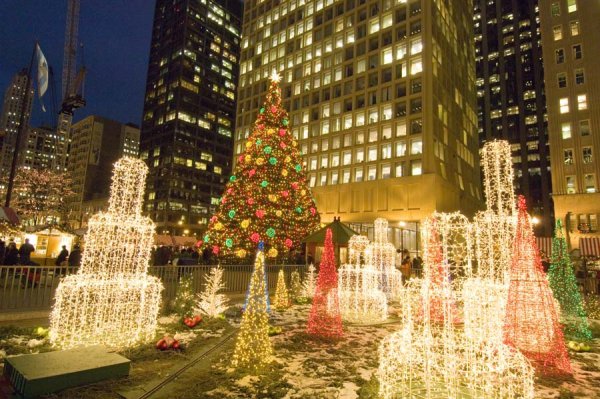 Chicago is a fun place to be over the Holidays. Visit Macy's just to see their tree and animated window displays, if you can resist the urge to buy stuff. Go ice-skating at Millennium Park or stroll along the Magnificent Mile, decorated with 1 million fairy lights. At the German-style Christkindlmarkt you'll find a Santa House to put a smile on every kid's face and a lantern parade to put the magic back into commercialized Holidays.
---
16

Montreux and Basel, Switzerland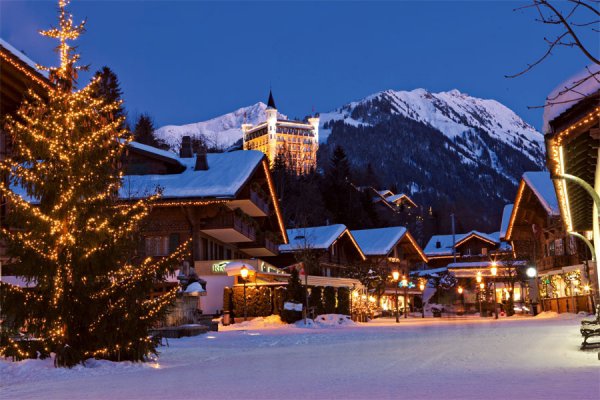 The Swiss are clearly at an advantage landscape-wise when it comes to creating a winter wonderland atmosphere and Christmas cheer. They are also record breakers in the unspoken and unofficial Yuletide contest of whose celebrations are bigger, better etc. Mount Pilatus in Switzerland hosts the country's highest Christmas market - try munching a bag of Nidelzältli toffees at 2,133 meters above sea level and you'll get the feeling any moment Santa's sleigh will burst forth from among the rocky summits. Everywhere there are Christmas markets and Christmas villages on mountaintops with Santa's grottoes that are straight out of Brothers' Grimm fairytales. There's even a reindeer park in the town of Montreux. Surrounded by snow-capped alpine mountains, the city of Basel boasts Europe's longest street of Christmas illuminations.
---
17

North Pole, Alaska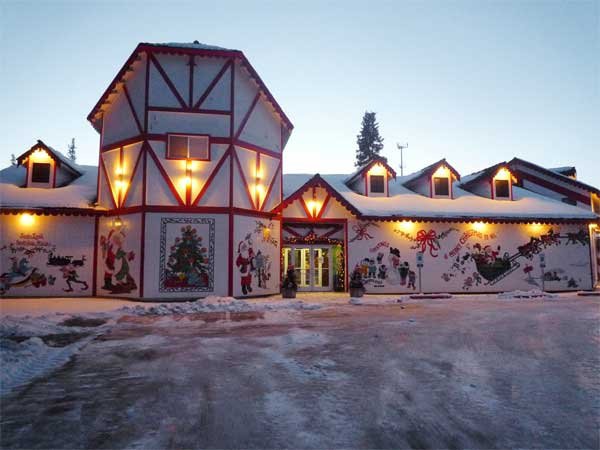 Dreaming of a white Christmas? You'll have a guaranteed snowy time at the Santa Claus House at the North Pole. Take a regular dog-sleigh or put on a pair of snowshoes and join the winter carnivals, ice carving competitions and community snowshoeing races in style. Meet the world's largest Santa, a 34-foot tall statue guaranteed to scare the living daylights out of anyone seeing that coming down the chimney. Bring some carrots for Santa's reindeer and don't forget to take a selfie in Santa Claus Lane, which is lit up by streetlamps shaped like candy canes. Magical doesn't even begin to describe it. Touristy, on the other hand does (but it's still beautiful).
---
18

Rovaniemi, Lapland, Finland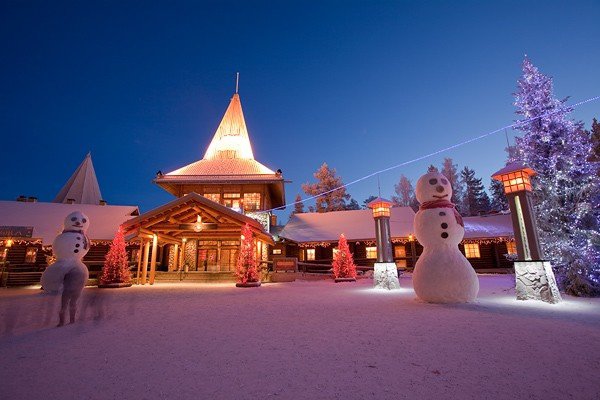 Another chance to meet the "bearded one" and his little helpers presents itself in Lapland, a sparsely populated region in Finland that is home to the famous Santa Claus Village in Rovaniemi. Ride into town on a reindeer sleigh, ask Santa's post office elves to stamp a postcard for you and send it off home to make everyone green with envy. Then proceed to selfie opportunities in Santa's workshop, where busy elves are wrapping up gifts for the sleigh. If you're lucky, you might even get to see the Aurora Borealis, the Northern Lights.
---
19

Copenhagen, Denmark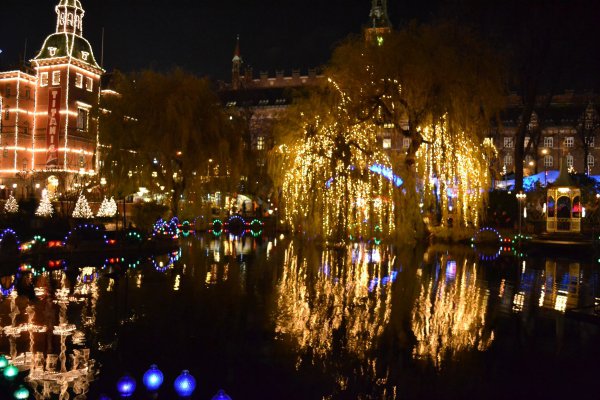 Denmark's capital is a fun place to be at Christmas, even if there are fewer daylight hours and the weather's cold. Tivoli Gardens, the famous family theme park, is transformed into a magical winter wonderland, hosting a carnival, boasting an ice palace and displaying a fabulous light show over Tivoli Lake. Strøget is one of Europe's longest pedestrian shopping streets and lit up beautifully at Christmastime. Take a walk along Nyhavn canal or enjoy a horse-drawn carriage ride around the charming Kronborg Castle.
---
20

San Francisco, USA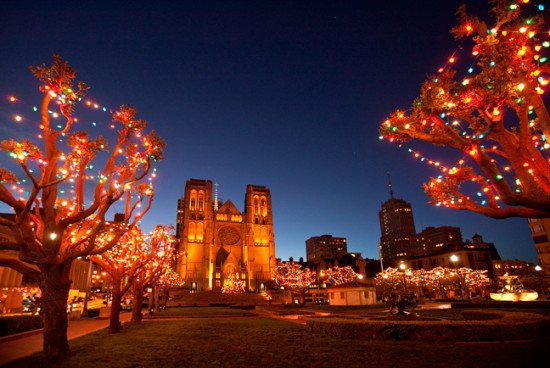 You can ice-skate beneath an 83-foot tall Christmas tree in Union Square or trundle along the tree-lined Huntington Park and historic Picardy Drive on a bike to admire the twinkling lights. If travelling with kids, be sure to take them to the visit the notorious Tom and Jerry tree on 21st Street.
---
21

Medellin, Colombia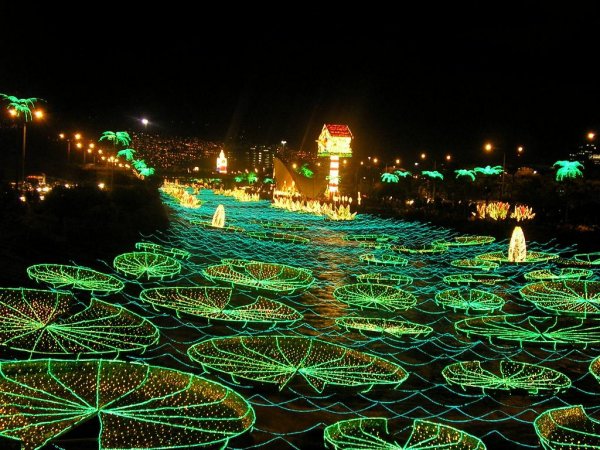 Perhaps rather a surprise entry in this bucket list, Colombia is nonetheless a great place to visit at Yuletide. The city hosts the word's most amazing lightshows and with a whole month of carnival there is never any shortage of visitors. Throughout December and early January the city is lit up by more than 16 million lights. As for the official Christmas tree, being 79-foot it's a monster you can dance under without ever banging your head.
---
22

Lake Tahoe and Squaw Valley, Sierra Nevada, USA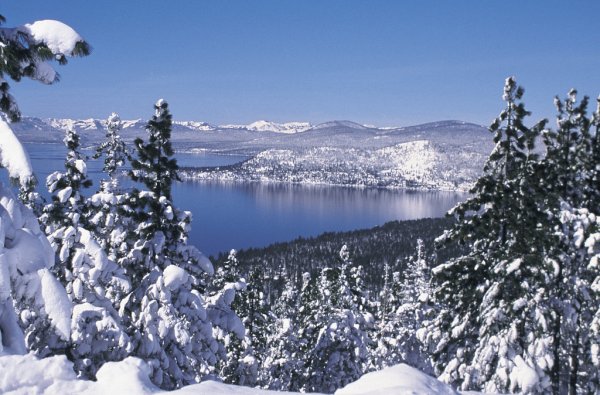 Lake Tahoe transforms itself from a summer idyll to a winter wonderland quite successfully, offering families great snow-filled days with skiing, snowmobiling and ice skating. A romantic moonlight sleigh ride along Lake Tahoe or a visit to Squaw Valley Festival of Lights should certainly be on your itinerary. Who could resist a Gingerbread Village and breakfast with Santa and Mrs Claus? The festival begins around 25th November each year.
---
23

Sydney, Australia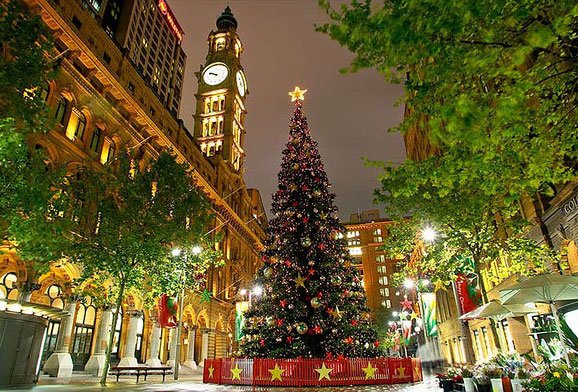 Wearing a Santa hat to match your bright red bikini you can plunge into the warm waters and forget worrying about cooking Christmas dinner - just throw a few steaks on the barbie and enjoy the views of Sydney Harbor Bridge, Opera House and Town Hall in the background. At night, when these landmark buildings are lit up with thousands of fairy lights you could almost forget the hot temperatures, the flip-flops and picnics at the beach are real. The annual Santa Fest at Darling Harbor is another highlight not to be missed. Santa arrives by boat, surrounded by exploding fireworks!
---
24

Vancouver, Canada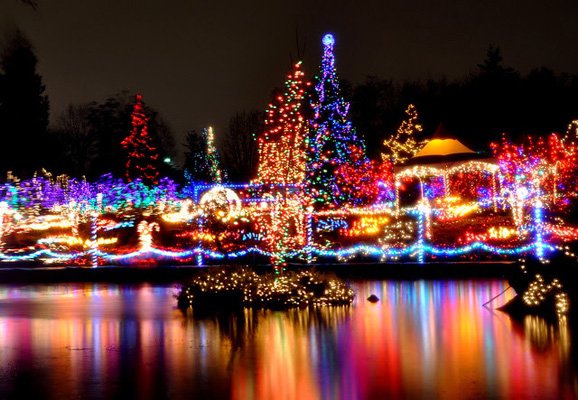 See Capilano Suspension Bridge Park lit up for Christmas or walk to the lovely Festival of Lights at VanDusen Botanical Gardens or Stanley Park's Bright Nights event, which transforms the park into another North Pole Christmas village. On Grouse Mountain you'll find a reindeer farm, Santa house and ice-skating rink that could come from the regions of Lapland, they look that authentic.
---
24

Bethlehem, Israel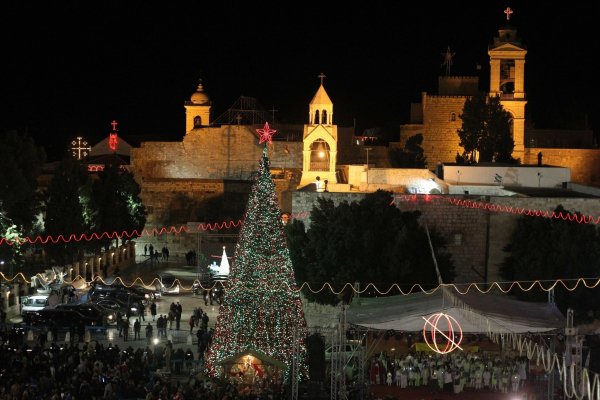 You might as well spend Christmas in the birthplace of Jesus, if you're confessing to being a Festive Day addict. The centre of nativity scenes across the globe, Bethlehem is the draw for thousands of pilgrims every year, who come to see the Manger Square and attend the midnight mass service at the Church of the Nativity on Christmas Eve. It marks the actual spot where Jesus was allegedly born. Tourists and locals alike, no matter what their cultural background or religion, come together here to celebrate and sing carols, have candle parades and enjoy live music.
---
25

Manila, Philippines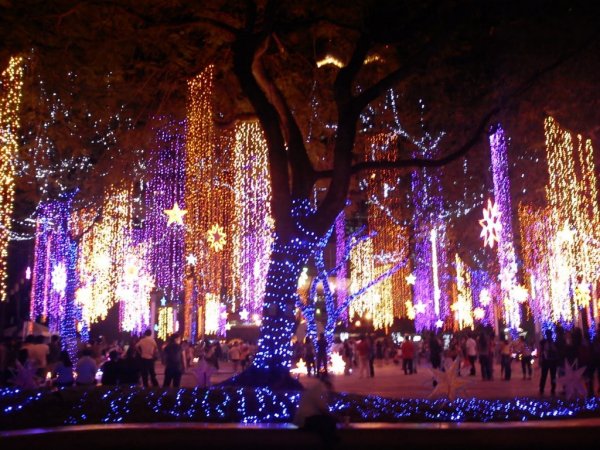 Strangely, hot and humid Philippines boasts the world's longest Christmas season. The Filipino Holidays start in September and finish with the Feast of the Epiphany on 6th January. Carrying traditional parols, star-shaped lanterns fashioned of rattan or bamboo, carol singers parade around the streets from September onwards, but the main festive activities don't start until 16th December, when Manila's giant lantern festival and street parties kick off. Christmas Eve is the highlight for families, who celebrate the birth of Christ with enormous meals and good cheer.
They all sound magical and wonderful. Which destination would be top of your list?
---
Comments
Popular
Related
Recent