There are many sites that are a feast for a traveler's eyes but nothing quite like buildings that resemble food. Get your traveling shopping cart ready because I've got an architectural shopping list right here.
---
1

Big Banana, Coffs Harbour, New South Wales, Australia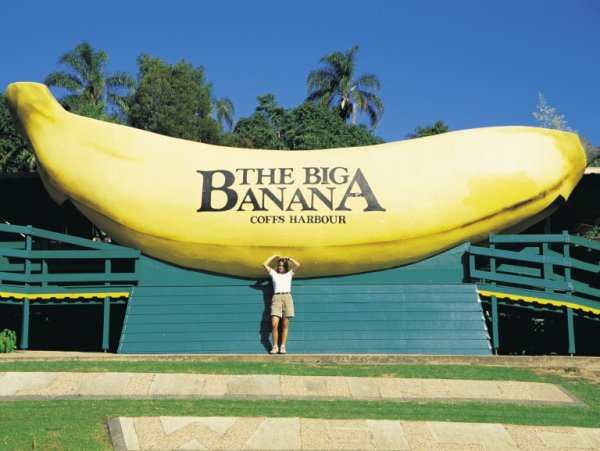 Bananas are good for humans; they're full of nutrients that make us happy. In New South Wales, they have taken the celebration of all things nutritious to a new level. Here the unwary traveler is subjected to the sight of buildings shaped like food or representing marsupials or miners. The Big Banana at Coffs Harbour was built in 1964, making it potentially the oldest of such buildings in Australia - with the possible exception of Larry the Lobster. Weighing in at a proud 1,200 pounds of concrete, the Big Banana used to stand in the heart of an active banana plantation but now stands as an attraction of a large banana-themed fun park. Totally nuts!
---
2

The Peach, Okanagan Lake, Penticton, British Columbia, Canada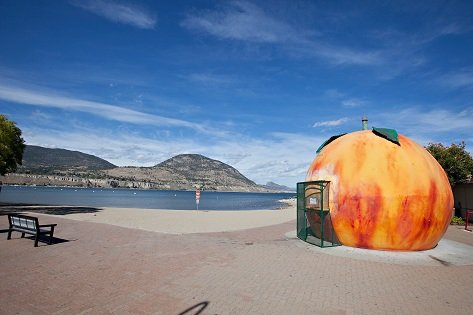 A fruit to rival that banana? Yep, there's one right at Peach City, more accurately the one situated at the foot of Okanagan Lake. Standing proudly in Rotary Park, The Peach on the Beach is a concession stand offering basic snack bar food and local speciality "The Screamer," a peach-flavored slushie with a bit of soft ice cream mixed in. Whatever Rotary Park's other attractions, nobody misses out on a photo opportunity in front of The Peach.
3

Big Apple, Ontario Highway 401, Rural Ontario, Canada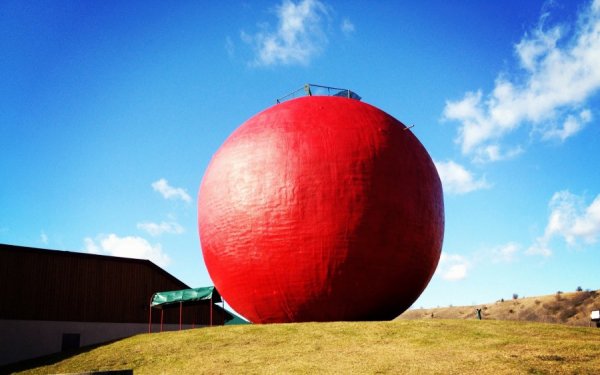 You only need to take one look at The Big Apple to know that somewhere in its history lurks an Australian just bursting to tell you how he founded the 35-foot tall roadside attraction back in the 1980s. He did it to remind himself that Australia's roadside buildings are far more fun than anybody else's. Formally called Mr. Applehead, the massive fiberglass apple even has an observation deck, so diners stopping off for a slice of homemade apple pie (what did you expect, peach melba?) and an Instagram-worthy pic can look down on all those poor motorists who are unable to stop and enjoy the same. George Boycott, the Australian responsible for this tourist-trap, has even added a petting zoo, mini-golf course, herd of wild bunnies and shuffleboard court. The Banana Experience theme park is almost sane by comparison!
---
4

Dunmore Pineapple, Dunmore Estate, Scotland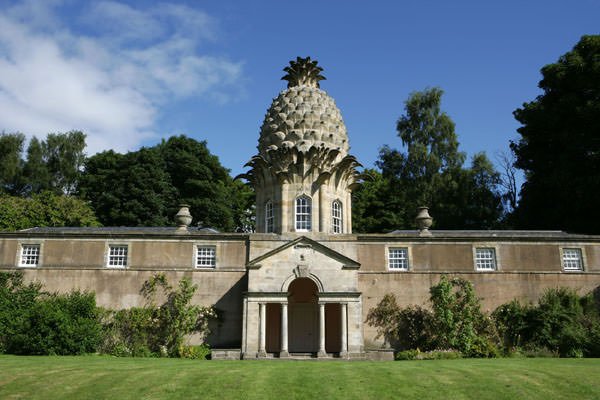 Back in the Old World, John Murray, 4th Earl of Dunmore, demanded that a gigantic pineapple should be constructed on top of his summer house, when he returned from a spell as colonial governor of Virginia in 1777. Before that, his 1761-built summerhouse was quite normal and nicely Palladian. Pineapples used to be a popular symbol of prosperity and hospitality in the 18th century. Today, the Dunmore Pineapple is a Landmark Trust-owned vacation rental without any of the modern trimmings the 4th Earl of Dunmore might have liked. No Wi-Fi, no cooking pineapple fritters with TV chef Jamie Oliver either, for these historically authentic properties have no TVs.
---
5

Coney Island Hot Dog Stand, Bailey, Rocky Mountains, Colorado, USA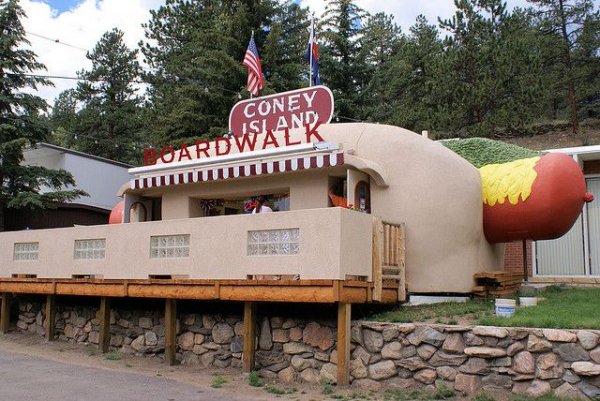 Built in 1966 in Denver as an architectural homage to the East Coast's hot dog culture, the Coney Island Hot Dog Stand is actually nowhere near Brooklyn, the Big Apple or Coney Island for that matter. This 18-ton giant wiener and bun construction is a bona fide 1950-style diner that was moved from Aspen Park in 1970, then moved to Bailey in 2006. In 2011, it received a new owner. Since then, reviews on Yelp have steadily gone downhill for its food. If you must have giant sausage, bun and condiments for lunch, take just a photo and move elsewhere.
---
6

Bob's Java Jive, Tacoma, Nalley Valley, WA, USA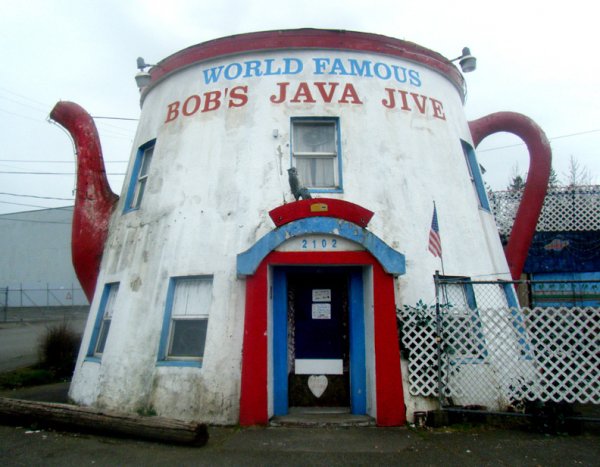 Some people will do anything for a great cup of coffee, even build their own Coffee Pot Restaurant. A Nalley Valley landmark building since 1927, Bob's Java Jive once served real coffee from its glorious 25-feet tall construction. Since its fragrant coffee bean beginnings, the place has sadly been lacking in the stuff of late. It's been a pool hall, speakeasy, Polynesian-themed rock club and juke joint, not to mention go-go-bar. Today, Bob's Java Jive is a grungy dive bar, although listed on the National Register of Historic Places.
---
7

The Donut Hole, La Puente, Southern California, USA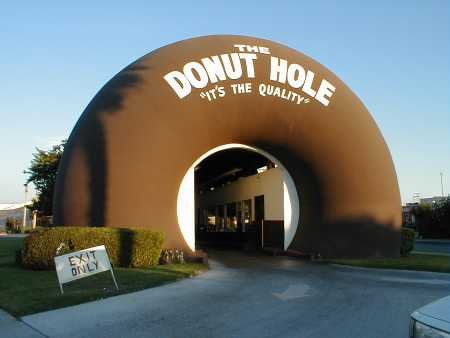 We can't let Aussies grab all crazy architecture glory in this world. For this reason, the good citizens of North America frequently construct food shaped buildings that defy good taste and nutritional values. The Donut Hole drive-through in La Puente may not be quite as famous as the bakery building of Randy's Donuts in L.A., but it comes pretty close. Built in 1968, the fiberglass dough ring serves motorists 24-hours a day with baked goodies like bear claws, crullers, apple fritters, maple bacon bars and pretty much every other type of circular donut known to man, woman and child.
Well, they certainly add a certain something to the local landscape, don't they? Have you got any food shaped buildings near you?
---
Comments
Popular
Related
Recent