If you're still undecided about where to take your vacation and want to go somewhere crowds definitely don't feature, there are some gorgeous uninhabited US islands. You truly can escape all the trials and tribulations of the daily grind among the peace and solitude. You won't find a coffee shop or the Golden Arches on every corner, and you may not even find decent paved roads on these uninhabited US islands.
Table of contents:
1

Mokoli'I, Oahu, Hawaii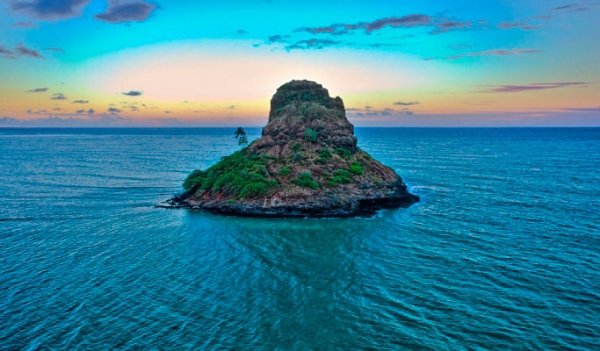 Locally known as the Chinaman's hat, many a tourist has photographed the island of Mokoli'i from afar. A favorite tourist trick is to pose with the Chinaman's hat on the horizon so that ti looks like they are wearing the "hat." While it's well-known, it's one of many uninhabited US islands you can actually visit, but few do. It sits across outside the Kualoa Regional Park, and can be accessed by kayak, surfboard, swimming, or even wading when the tide is low. It's open from dawn to dusk, so you can't camp there, but you can enjoy the solitude and a great view of Oahu as long as you want during daylight. On the island, the climb to the top is steep and the trail will occasionally get lost in underbrush. To increase your chances of being there by yourself go midweek to avoid weekend travelers.
2

Yellow Island, San Juan Islands, Washington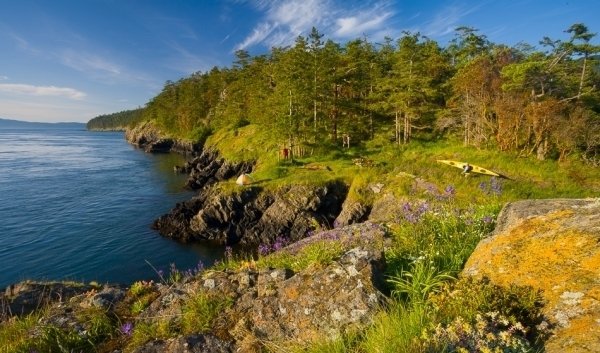 There are several uninhabited islands in the San Juan Island chain, and most are owned by the Nature Conservancy. Some have restricted access, but Yellow Island is open to the public. This 11-acre site is home to more than 150 varieties of wildflowers, mostly caused by lack of grazing. It's been long admired by passengers aboard the passing ferries for its colorful flower display from March through June. Although not completely uninhabited - there is a caretaker on duty much of the time - you will mostly have the island to yourself. Camping isn't allowed, and you must go between the hours of 10 a.m. and 4 p.m. The island is only accessible by boat. Skilled kayakers may make the trip from Deer Harbor. You must go ashore at the location of the caretaker's cabin, and stay on designated trails.
3

San Jose Island, Gulf Coast, Texas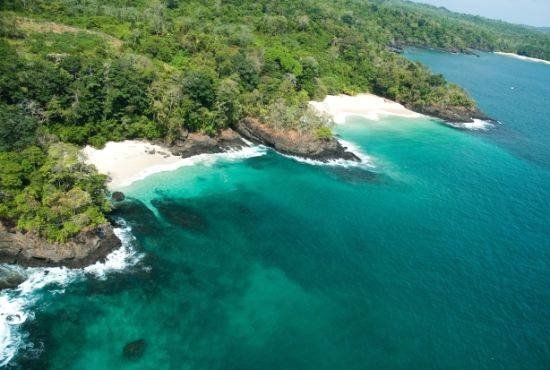 Most locals refer to this island as Saint Joe's, and you can get there via a jetty boat from Fisherman's Wharf. Situated across from Rockport in the Gulf of Mexico, it's a favorite destination for people who love to fish. Vacationers, however, will find a paradise of swimming, beach combing, and treasure hunting. Wildlife lovers will enjoy the abundance and variety of shells and starfish, along with sea birds and dolphins. Treasure hunters might get lucky - buried on San Jose Island are the treasures of two shipwrecks, one on its way with gold ornaments for a Vera Cruz cathedral and one carrying payroll for Spanish soldiers. No cars are allowed.
4

San Miguel Island, Channel Islands National Park, California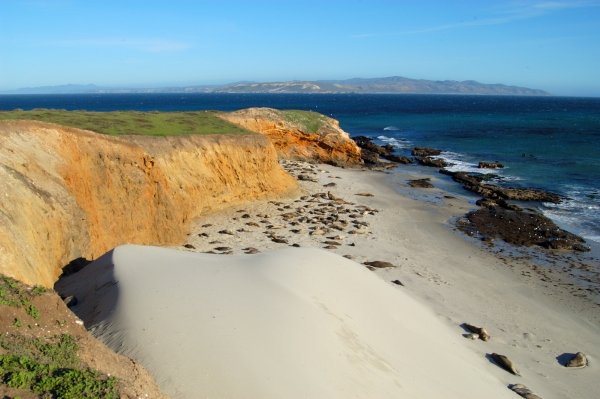 This island and its surrounding waters boast one of the largest concentrations of wildlife in the world and is a wildlife lover's dream. Designated an archaeological district on the National register of Historic Places, the island is home to more than 600 Chumash archaeological sites, some nearly 11,000 years old. There are also fossilized pygmy mammoths. While there is a ranger station on the island, there are no services and campers and hikers are urged to be well-prepared and self-reliant. While beautiful, isolated (no more than 30 visitors are allowed on the island at one time), and pristine, the island experiences high winds and fog much of the time. It's one of the few uninhabited island where you can stay overnight, and it has a 10-space primitive campground with a pit bathroom. Most hiking trails are restricted to ranger-led outings, and include hikes like the 14-mile Point Bennett hike to view seals and sea lions, or the hike to the island's caliche forest. While swimming and water sports are allowed, the waters are filled with great white sharks. Visitors are transported to the island by boat.
5

Assateague Island National Seashore, Maryland and Virginia
Another of the great uninhabited US islands for wildlife viewing is Assateague Island. The island boast over 320 species of birds, however most wildlife lovers come to see the legendary horses. Folklore has it these horses are there as a result of a shipwreck off the Virginia coast, but since there is no evidence of that it's likely they are descendants of domesticated horses. There are few places in the US where you can view wild horses. Along with the wildlife, there is so much to enjoy about the area. The 37 miles of white-sand beaches are wonderful for relaxing, swimming, or looking for shells. Other activities include sightseeing cruises, kayak tours, crabbing, fishing, and biking. On the way to the beach you'll see one of the most famous lighthouses in the US, the Assateague Lighthouse, with its vivid red and white stripes. You can get there via one of two bridges. The north entrance is about 8 miles south of Ocean City in Maryland. The south entrance is about 2 miles from Chincoteague, Virginia.
6

South Manitou Island, Lake Michigan, Michigan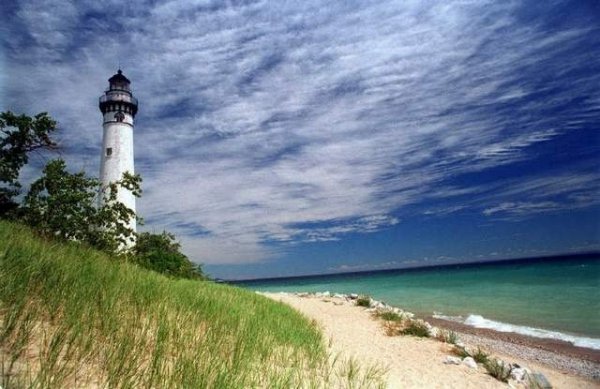 Once a thriving farming community, this island holds only the ghosts of its past life. Old buildings, farm machinery, an old schoolhouse, and a graveyard are testament to farmers that once inhabited the island. You can take a tour of these historical structures via Dunesmobile, a vehicle historically used for dune rides until the 1960s. The area has also been designated a state underwater preserve due to the remains of more than 50 shipwrecks, which are popular attractions for divers. One such shipwreck is still visible - the Francisco Morazan, stranded about 300 yards off the shoreline. A grove of virgin white cedar trees can be found on the southwest corner of the island. One of the fallen trees had 528 rings, indicating it was growing before Columbus arrived. The most familiar landmark is the South Manitou Lighthouse, which offers tours. There are three campsites on the island for overnight stays, but pets are not allowed due to disturbance of visitors and wildlife. To get there, take a ferry that operates daily throughout the summer.
7

Elliott Key, Biscayne National Park, Florida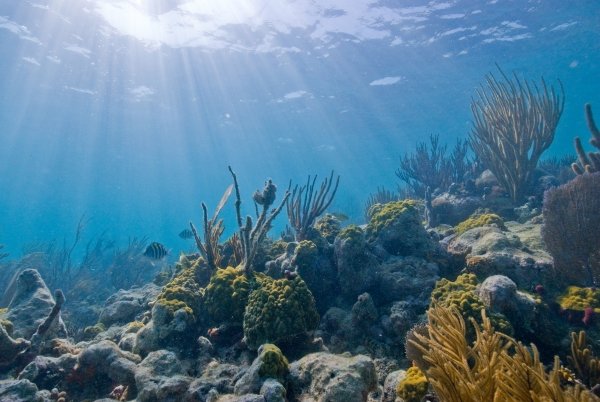 The island once harbored a thriving community of pioneers, but is now part of Biscayne National Park. The park offers first-come-first-served camping, and the campground sits 25 feet from the harbor. Restrooms with cold-water showers are available. This lush paradise offers a number of activities - walk the mile-long Spite Highway (named by park opponents before the park was established) and enjoy the shaded maritime forest, or take a swim in the designated swim area on the bayside of the harbor. Enjoy the hidden lagoons, creeks, and mangrove shorelines by kayak, or put on a snorkel and discover hundreds of species of fish. Enjoy fishing, crabbing, or catch a few lobster for a wonderful seafood dinner. Pets are permitted on a leash and cannot be left unattended. Get there on a private boat or take a shuttle offered by the park's concessioner, shuttling between Convoy Point and Elliott Key daily during winter and spring.
There's plenty to commend the uninhabited US islands for vacation activities, and these 7 are just a few that lie around the coast. Are you imagining yourself there yet?
Please rate this article