Fall is a lovely time of year to travel – even if it's just down the road to view the awesomeness of the trees changing their colors. I love to travel in fall because quite simply, everywhere is less busy and also, a bit cheaper. And even though summer festival season is over, there are still plenty of amazing events and holidays in the fall that are worth a visit. Like these:
1

Day of the Dead - Mexico
Mexico's Day of the Dead celebrations are even more colorful than the riots of yellow, orange, red and brown hues of New England's forests. Travelers respectful of Mexico's cultural heritage will always find a warm welcome from locals re-enacting ancient customs. El Dia de Muertos honors deceased children on 1st November each year, followed by celebrations held in memory of deceased adults on 2nd November. Look closely and you'll notice every ofrenda (shrine) includes photographs of those who passed away. Candles and cempasuchil, the Aztec marigold or Flower of the Dead, decorate each ofrenda. Across Mexico, each community has its own special way in which they celebrate El Dia de Muertos. The three best known celebrations are held at Patzcuaro and Janitzio, Michoacán and San Andres Mixquic in Tlahuac, Mexico City, the latter being the least somber occasion.
2

Santa Fe Festivals - New Mexico, USA
If one of your friends is heading for stressful divorce proceedings, take them to Santa Fe's Fort Marcy Park on 4th September next year for the Old Man Gloom or Burning of Zozobra festival! Let them watch locals set fire to a 15-meter-tall puppet stuffed with divorce papers, sad messages on scraps of paper and tax receipts; it's bound to cheer them up to no end. There's still time to pack an overnight bag for this year's Santa Fe Wine & Chile Fiesta, held between 23rd and 27th September and the Santa Fe Concorso, a motorcycle show held from 25th to 27th September. Roar when you start having fun!
3

Meet the Grizzlies - British Columbia, Canada
If you're looking for destinations for fall that will take you out of your comfort zone, head to British Columbia, home to grizzly families. Brown bears are central BC's shyest inhabitants, which makes them a challenge to spot in the forests, where grizzlies hunt for food along the rivers and streams in autumn, when salmon spawn to provide hungry bear families with a feast before lean winter months arrive. Relax, you won't have to start training as a ranger! Simply visit Bear Camp between August and early October, when migratory brown bears appear in reliable numbers.
4

Munich Oktoberfest - Bavaria, Germany
Marginally better behaved than bears when stuffing their faces with a pre-winter feast, Bavarians start their merrymaking a little later than central British Columbia's grizzlies. Held from 19th September to 4th October each year, Munich's Oktoberfest is the world's largest beer festival. Although most of the low-cut dirndl dresses and sexy lederhosen are worn by tourists, the festival is nonetheless a folklore event and you won't escape traditional oompah-oompah brass band music and yodeling anywhere in town. Each year ca. 7 million liters of Weißbier (wheat-based lager) are consumed, when visitors wash down Weißwurst (pale, fried sausages) and pretzels. Fear not, you won't have the chance to pile on weight: this year you can enjoy rides on the Konga, Europe's biggest and fastest swing, and the Sky Driver roller coaster, where screaming and throwing up are just part of the fun.
5

Name That Color - Tsaritsyno Park, Moscow, Russia
Although you could go "aw and ooh" in New England at the sight of forests turning color in fall, naming gorgeous autumnal hues in Russian is a far greater challenge and, therefore, more fun. What are the Russian words for scarlet, gold, russet or orange? Some of the former landscaped gardens surrounding royal palaces in Moscow are now public parks. Go to Tsaritsyno Park, which has some of the finest fall colors. The 390-hectare estate lies on the Moskva River and once served as one of Catherine the Great's many residences in Russia.
6

Singles' Day - China
Sick of being a single gal? Don't be! Head to China this fall and wash that Valentine Day's blues right out of your hair. Although a fairly new institution, China's Singles Day, or Guanggun Jie, has already been wholeheartedly embraced by the local population. It's viewed as payback time for all those romantic comedies people had to sit through in front of their TV all year. Held on 11th November – picked for the four singular number ones of the date, which positively scream of lonely, rainy nights in fall – Singles Day Festival even has its own delicatessen. Stuff your face with four youtiao, deep-fried flour sticks dripping in calories, and don't feel guilty about it for a second, before heading to one of many speed-dating parties held all over the country.
7

Spring Skiing - Chilean Andes, Chile
If all that autumnal gloom is getting you down, why not head to the other side of the Southern Hemisphere's winter, where spring skiing will be in full swing? At places like the Portillo resort in the Chilean Andes, you can get great low-season, all-inclusive rates in September, when prices fall by $1,000 or more per person per week. Later in the season, girls with kids in tow should book during weeks when little snow-owls can ski and eat for free.
8

Motorhead Cruise - the Bahamas
It may defy logic, but the guys from Motorhead have actually survived years of legendary rock 'n roll living and are still around to tell the tale. Or should that be, tell the yarn? To celebrate their 40th anniversary, they and a few head-banging chums are hosting a cruise, starting from Port Miami on 28th September. The Motorhead cruiser will make a stop-over in Nassau to inspect the private Island of Great Stirrup Cay in the Bahamas for metal music mayhem potential. Onboard, support "stewards" Suicidal Tendencies, Hatebreed, Anthrax, to name but a few, will see to it that the "loudest boat in the world" won't ever sail silent.
9

Diwali, Hindu Festival of Light - India and Indian Diaspora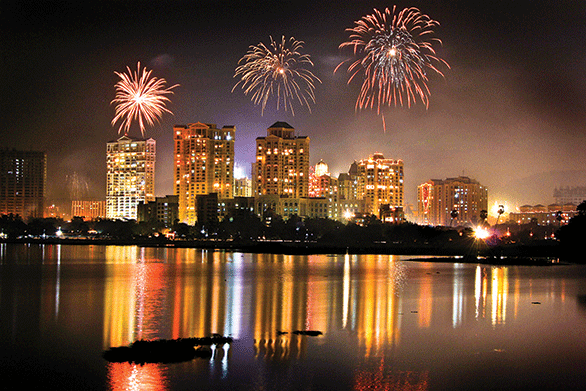 This year Diwali's main events fall on 11th November, when millions of people will go "uh and ah" at the sight and sounds of amazing firework displays. The festival is held over 5 days, with events taking place all over the country. At Varanasi, you can see the most fantastic firework displays light up the skies over the Ganges River. At Jaipur, the "pink city" of Rajasthan, you can lose yourself in vast illuminated markets for entire nights, strolling from food stall to food stall, stopping off to marvel at snake charmers, street entertainers and musicians. If you arrive early in Goa, participate in competitions, building the most terrifying effigy of the demon Narakasura. Don't expect to take it home, though, it'll get burned before the night's out.
10

Lake of Stars Music Festival - Mangochi, Malawi
There's just a hint of England's Glastonbury Festival in the appearance of Malawi's Lake of Stars Music Festival, but thankfully it comes without the mud and floods of rain. Held from 25th to 27th September, this year's typically broad spectrum of music includes acts like South Africa's Uhuru and Scotland's Young Fathers, as well as a vast number of DJs. The star of the show, however, is the gorgeous palm-lined lake, glittering under Malawi's star-littered skies.
11

Star Wars Fan Gathering - Skellig Rocks, Ireland
When the latest installment in this Hollywood Sci-Fi saga hits cinema screens this December, the remote UNESCO World Heritage Site of Skellig Rock on the south-westerly coast of Ireland will be propelled to movie stardom, for it features as background in the sequel, "Star Wars VII: the Force Awakens." Nearly vertical, these now uninhabited peaks used to give shelter of sorts to a 6th-century community of monks, but they are now rumored to be used as Luke Skywalker's Jedi Academy in the film. Whatever the truth of this online speculation, at some point the force must have been with the monks because Skellig Rock is the most inhospitable and windy spot imaginary. Boats leave daily from Portmagee, County Kerry. Book well in advance, Star Wars fan girls, it's going to be a bumpy ride to Jedi Academy!
12

Whiskers Galore at World Beard & Moustache Championships - Austria
The World Beard and Moustache Championships held in the Austrian Alps from 2nd to 4th October is hard to resist for sheer entertainment value. Alaskan Whaler, Freestyle, Imperial Moustache, Musketeer are just some of the categories your boyfriend's whiskers could register for in this hirsute competition!
13

Go on a 24-Hour Tube Adventure - London, UK
This fall, London's ancient underground transport system is finally catching up with the modern world when 24-hour tube services are offered to night-bus-weary revelers. Night Tube will offer 24-hour services on five of its tube lines on Friday and Saturday nights only. Tour London's amazing night clubs, or nibble a pastry at Soho's famous Bar Italia, which stays open until 5.00 am, or get a haircut at Neil Cornelius's 24-Hour Salon on New Bond Street.
14

Grab a Caribbean Bargain
When leaves begin to change color and fall in other parts of the world, hotel prices in the Caribbean join in the fun and start to tumble. Less crowded than in winter high season and priced to sell quickly (except around Thanksgiving), vacation accommodation in Curacao, for example, is on average $45 less than you'd have to pay in peak winter vacation time. Although it means you're visiting during the Caribbean hurricane season, Aruba, Bonaire and Curacao have statistically the lowest probability of getting in the way of hurricanes.
15

Mid-Fall Festival, Asia
Asian countries like China, Taiwan and Vietnam all celebrate a spectacular mid-autumn festival, making Asian destinations for autumn a dead cert on the awesome selfie front. This year, the mid-autumn festival date falls on 27th September, and should see Chinese and Vietnamese people around the world having fun with fire dragon processions, such as the one held in the Tai Hang neighborhood of Hong Kong for example. Here residents weave a fiery dragon made from more than 10,000 incense sticks through their crowded, narrow streets to celebrate the arrival of autumn. In Taiwan, meanwhile, residents are searching the river banks for the best barbecue and picnic spots. Lanterns light up trees in parks, avenues and private gardens. Magical!
A fall destination doesn't just mean some sunshine package deal picked up for cheap on a travel site. Take the opportunity to engage with a different society and immerse yourself in new experiences and customs. It's bound to be a trip to remember if you choose any of the ideas I presented. Which would you most love to do?
Wendy:
I would love to go to the uk london
Ash:
@Neecey, Diwali falls on 30th October this year! Get ready to watch the fireworks!