There's always a touch of romance to sleeping under the stars – even when sleeping alone. The openness of the sky and the nocturnal sounds of nature are just sheer freedom. And naturally, enterprising people have taken our love of the outdoors to the extreme in providing accommodations totally beyond the norm of regular hotels, hostels and camping. Can you imagine sleeping in any of these places?
---
1

Sleep in the Human Nest in Big Sur, California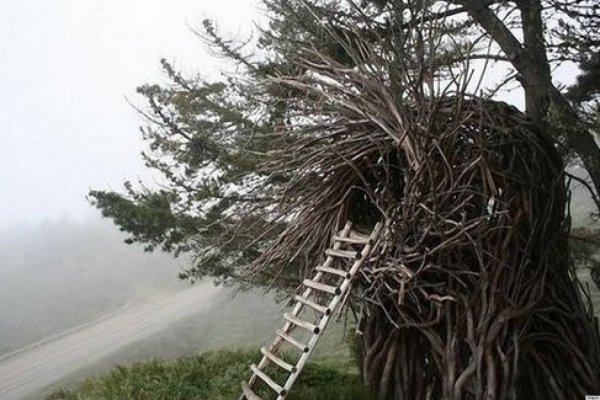 This structure looks like it emerged from a medieval tale instead of an artist's hand. The whimsical nest, created by artist Jayson Fann, is placed on a platform and is accessible by ladder. It's only big enough for two guests and looks out over the Pacific Ocean, so it would be great for a romantic getaway under the stars. It's part of the Treebones Resort and is described by them as "extreme eco-sleep."
---
2

Stay in a Hanging Tree Bed in Bavaria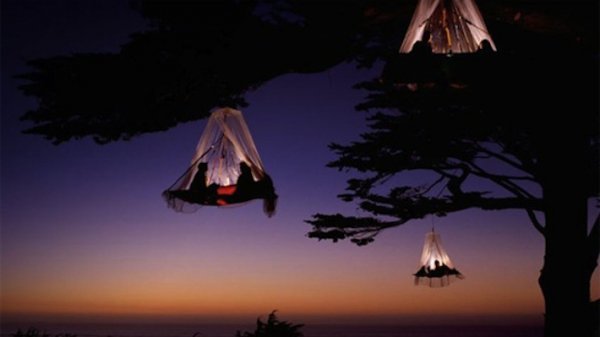 These magical accommodations allow you to sleep surrounded by the open air. Suspended from trees are tents with nets that allow you to enjoy the wonder all around you, and you'll see sunsets and sunrises like you've never seen them before. The sleeping pods are suspended from thick branches and hang several feet off the ground. Located at Waldseilgarten Hollschlucht near Munich, this adventure park also offers rope courses, a 3-D archery course, hiking and tree climbing.
---
3

Stay in an Observatory Bedroom near Pisco Elqui in Chile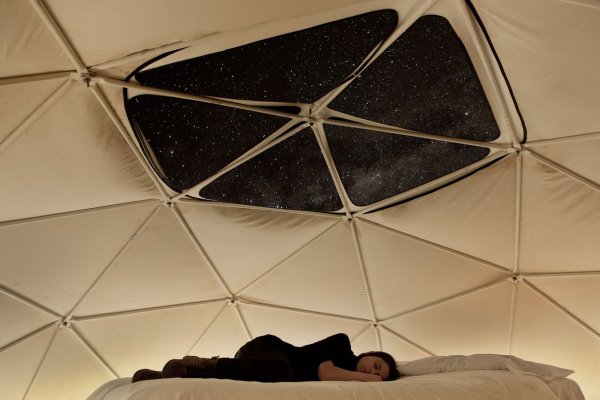 A few hours north of Santiago lies an area well-known for its clear nights. If you like astronomy or just the peaceful lull of a star-filled night, the stars don't get much clearer than in this mountain retreat. The bedrooms of the observatory have glass panels installed above the lofted beds, and rooftops can be opened so that you can have an unobstructed, open-air view of the starry expanse. The hotel also houses two electronic Schmidt-Cassegrain telescopes for the more serious astronomer.
---
4

Sleep and Dine in Elegance in Namibia, Africa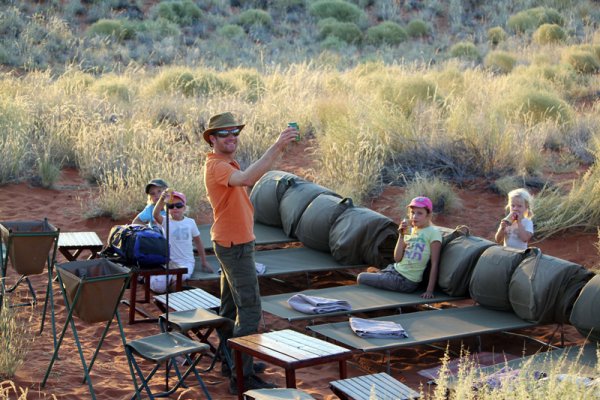 You may not think a safari would put you in the lap of luxury, but Tok Tokkie Trails offers a 2-night, 3-day walking safari that includes a luxurious "bedroom" and catered meals. While the guide introduces you to the delights of the Namibian desert close-up, you can relax afterwards with a three-course dinner. Feeling full and sleepy, you'll head off to the romantic "bedroom" they've set up for you under the stars, which includes a comfy stretcher bed with a bedside carpet.
---
5

Sleep near the Pool in Canyon Point, Utah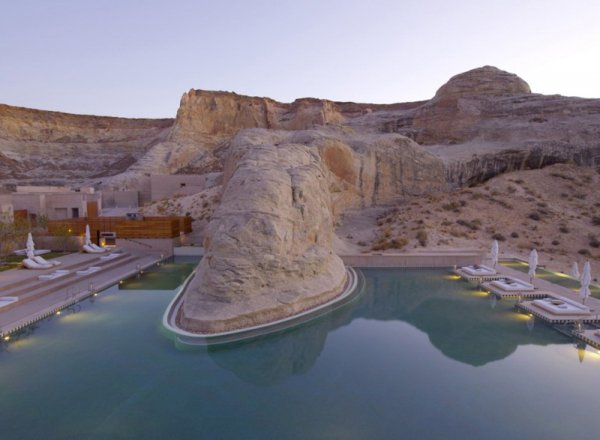 The Amangiri Resort in southwestern Utah is tucked into a protected valley and is within a two-hour drive to several major tourist destinations, such as the Grand Canyon and Bryce Canyon. Amangiri, Sanskrit for "peaceful mountain," lives up to its name with a luxurious spa and elegant dining. Many suites offer daybeds that get magically transformed into open-air bedrooms at night, a welcome option when the nights are warm enough to sleep under the stars and perhaps take a dip into the private plunge pool.
---
6

Sleep with the Tigers in Pench, India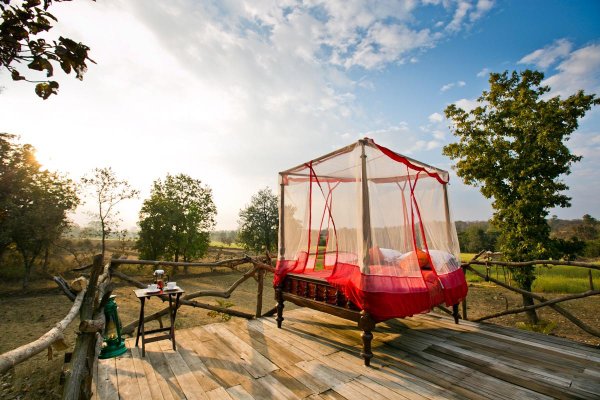 Okay, so maybe not with the tigers, but pretty close. The Jamtara Wilderness Camp sits just outside the Pench National Park and Tiger Reserve, and offers 3 different "star beds," inspired by the local Machaans, or local farmers who stay in the fields at night to scare away wildlife. Beds are placed on a platform and surrounded by Indian silk, great for keeping mosquitoes at bay. They come with basic bathroom amenities and lanterns, plus a pair of binoculars so you can pass the time stargazing or watching wildlife. If you want, you can have coffee delivered in the morning. One important plus – a night guard to ward off dangerous animals.
---
7

Sleep in a Tree House on a Private Game Reserve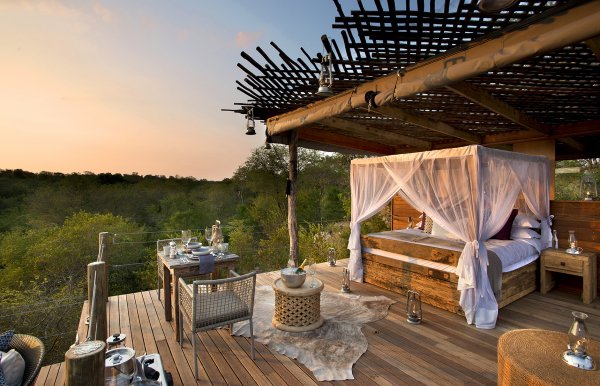 The private Lion Sands Reserve is located within the world famous Sabi Sand Game reserve in South Africa. The Kingston Treehouse can accommodate up to 4 guests, and offers amenities such as a shower and enclosed bathroom, but no electricity. Completely open to the elements, sleep under the stars and listen to the sounds known only to the treetops. If you're adventurous, take a safari and see sights reserved only for Lion Sands guests.
---
8

Be a Girl in a Bubble in the South of France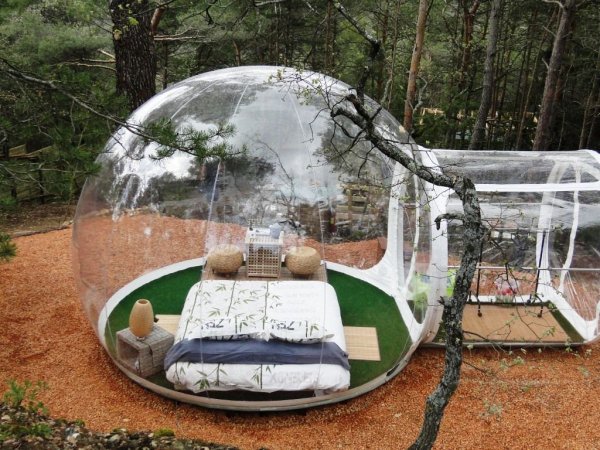 Like something between a rigid tent and cabin, at the Attrap Rêves hotel, accommodation is in the form of spherical plastic bubbles. Spread around the gorgeous countryside surrounding Marseilles, the 13-foot bubble pods are luxuriously comfortable and spacious with various levels of transparency according to how close you want to feel to nature. I can't help but think it might feel like being in a snow globe.
Which of these appeals to you? I quite like the idea of the suspended tents in trees.
More
---
Comments
Popular
Recent