Normally, airlines and good food never enter the same sentence. But, you will be surprised to learn that there are actually quite a few airlines that do serve great in-flight food. In fact, good food is becoming one of the factors that airlines are now using to entice new customers. Here are some airlines that serve the best food.
---
1

Singapore Airlines

This should hardly come as a surprise considering Singapore Airlines has been voted the best airlines in the world many times over. They pay special attention to the food they serve in-flight. There are wines and champagnes available to premium and first class fliers and even in the economy class, it is well presented and tasty.
---
2

Turkish Airlines

The secret to the Turkish airlines making it to the list of airlines that serve the best food is that they don't try too hard. They don't try to be fancy or gourmet; instead they stick to basic Turkish and Mediterranean foods that taste good when re-warmed.
---
3

Etihad Airways

This UAE based airline makes it to the list of airlines that serve the best food by doing exactly the opposite and doing it really well. Their first class menus consist of dishes that are typically found in 4-star restaurants accompanied with fine wines. Even their economy class menus have some great items on them that are well cooked and well presented.
---
4

Cathay Pacific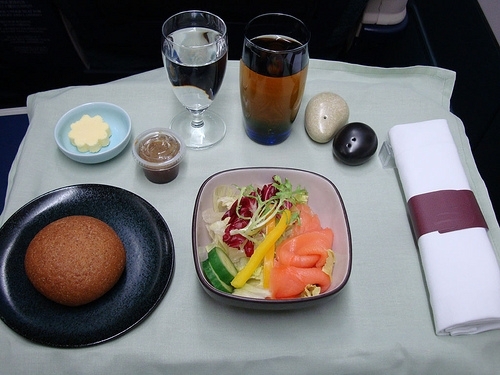 Photo Credit: Luke Lai
Cathay Pacific makes it to this list of airlines that serve the best food by being the first airline that cooks at least some of its food in air. They have rice cookers and skillets on board, which means that you can have freshly cooked food in flight. They have achieved the unimaginable in air travel.
---
5

British Airways

Although all of you have heard jokes about British foods, British Airways is certainly one of the airlines that serve the best food. Although, it is hardly surprising that most of their menu does not comprise of British staples. Instead they feature a number of Italian dishes, the lasagna being the favorite.
---
6

Virgin America

By its own admission, Virgin America focuses on comfort foods that you could curl up with in front of a television. The top rated items include soft chocolate cookies and fruit and cheese dishes as well as Cubano sandwich and artichoke chicken sandwich wrap.
7

Continental Airlines

While its first class food is really something to write home about, even the economy class fare like fried chicken and salad are certainly way above the general standard and much better than anything their competition offers.

As you can see from the list of airlines that serve the best food, your desire to eat good food in-flight is mostly only fulfilled by foreign airlines. To add, there are not many domestic flights that even carry in-flight food anymore. Let's hope our domestic carriers take the cue from these foreign airlines and start dishing up good food to their customers.

Top Photo Credit: taigatrommelchen
---
Popular
Related
Recent