Have you ever saved up all year, or perhaps even over two years, to be able to go on an amazing vacation? The kind of vacation that you would class as the dream holiday? Well, I hate to break it to you, but whatever you were doing and wherever you were staying, it probably didn't even make it in to the top 80% of ridiculously expensive vacation options that are out there for the rich and famous to enjoy! I'm talking about places that you would have to save up for ten years, maybe even twenty! Here are the 10 most expensive hotel suites in the world!
---
1

Royal Penthouse Suite at Hotel President Wilson – Geneva, Switzerland

You can live like a true European monarch in this amazing 12-bedroom suite that spans the entire eighth floor of the hotel. Complete with a grand piano, rare book collection, Jacuzzi, and unbelievable views of Lake Geneva it's a steal at $80,000 per night!
2

Mark Penthouse at the Mark – New York, USA

How does three king bedrooms, two queen bedrooms, six bathrooms, and a whole library lounge sound to you? Spread across two floors, this is the most space you will be able to enjoy in New York, offering panoramic views of Central Park for just $70,000 per night!
---
3

Penthouse Suite at Hotel Martinez – Cannes, France

Cannes is a famous playground for the rich and famous, and this five-star penthouse suite is definitely fit for a superstar. The walls of the 17,000 square foot suite are adorned with real Picasso and Matisse masterpieces! Just $53,200 per night!
---
4

Penthouse Suite at Faena Hotel – Miami, USA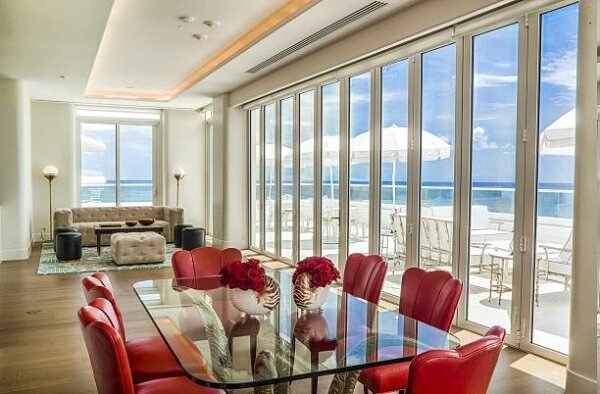 For $50,000 a night you can enjoy a five-bedroom, two floor pad that provides panoramic views of the ocean and Miami beach. The interior was actually designed by famous director Baz Luhrmann and his wife!
---
5

Hilltop Villa at Laucala Island – Fiji

You can snap up one of the 25 private villas on this island for a mere $45,000 per night. Each villa comes with a large infinity pool, chauffeur, nanny, and private chef! If you're feeling super fly, you can rent the entire island for $170,000 per night!
---
6

Grand Riad at Royal Mansour – Marrakech, Morocco

How do gold plated walls and onyx floors sound to you? This three-storey delight boasts three large bedrooms and rooftops views of the Atlas Mountains to die for. Luxury at its finest for $43,000 per night!
---
7

Penthouse Suite at Hotel Cala Di Volpe – Sardinia, Italy

For $41,000 a night, you can stay in this suite that offers a private rooftop pool, three bedrooms, and its very own private wine cellar! I wouldn't recommend mixing the wine with a pool dip though!
---
8

Royal Suite at the Plaza – New York, USA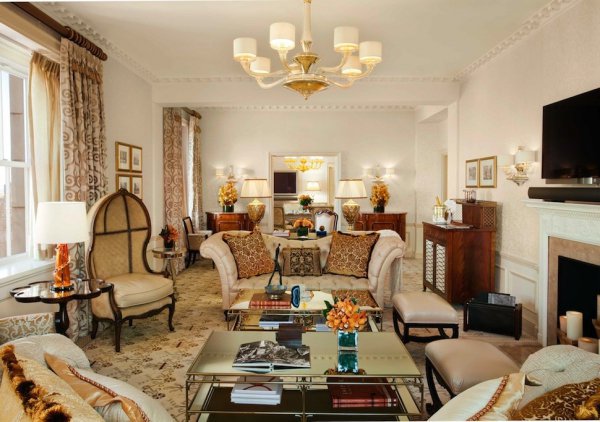 Royal by name and royal by nature! This $40,000 a night suite includes private elevator access that overlooks Fifth Avenue, and comes with a fitness room, powder room, library, chef's kitchen, and glove butler service!
---
9

Princess Grace Suite at Hôtel De Paris Monte Carlo – Monaco, France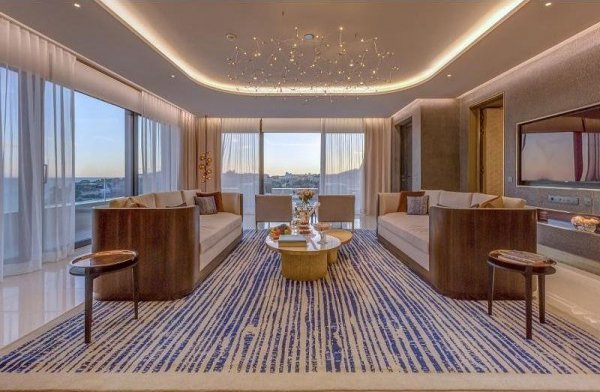 Named after one of the most glamorous women in the world, the Princess Grace Suite features multiple walk-in closets, a sauna, heated pool, Jacuzzi, and amazing views of the Mediterranean. All yours for $37,000 per night.
---
10

Suite 5000 at Mandarin Oriental – New York, USA

This suite really is something special. What do you get for your $36,000 per night? 50th floor views of the city, a luxury dining room that fits ten people, and a Swarovski encrusted wall installation! Not to mention an antique record player complete with a curated collection of vinyl for your enjoyment.
---
Popular
Related
Recent