Floating hotels are rising in popularity and availability. The concept has taken off with aplomb, and has become hugely popular with the high flying, trend setting circuit. For those looking for the ultimate in superior but unique holiday getaways, the rustic island cabin just doesn't cut it anymore, unless it is an exclusive rustic island cabin on water, otherwise known as a floating hotel. Hoteliers around the world are looking for ways to branch out and keep up with the allure and the demands that well heeled customers are making when wanting to embark on a sublime floating hotel holiday. To help you pick your favorite, we have put together a list of 8 Fabulous Floating Hotels for you to choose from.
---
1

Punta Caracol, Panama, South America
With just 6 highly coveted water cabins on stilts perched majestically on the glittering Caribbean Sea, Punta Caracol, is one of the ultimate floating hotel destinations in the world. Keep cool under rustic palm-leaf roofs, and look out on to the endless and charismatic Panama Sea, which watching the dolphins play in their natural environments as the surf rolls into the bay. Super eco-friendly, this entire string of floating hotels, has been built from naturally occurring bamboo, clay, leaves and wood found growing in the area.
---
2

Bora Bora Lagoon Resort and Spa, French Polynesia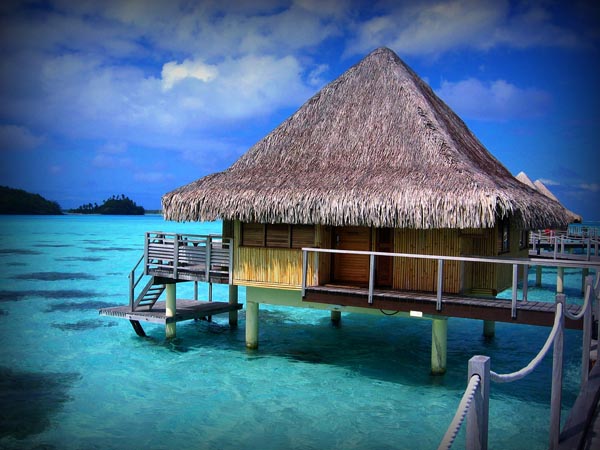 Bora Bora has made a name for itself as being one of the premier honeymoon destinations in the world. Weddings and romance are the name of the game here, and you will be forgiven in thinking the island had been set up by human hands, in order to just be the perfect wedding back drop for all the lovers that come to marry and honeymoon here. With more than 44 pristine water bungalows making up the floating hotel, guests will be able to enjoy unparalleled views of the picture perfect beaches and crystal clear azure waters, complete with every world class facility anyone could dream of.
---
3

Dragon Inn, Semporna, Malaysia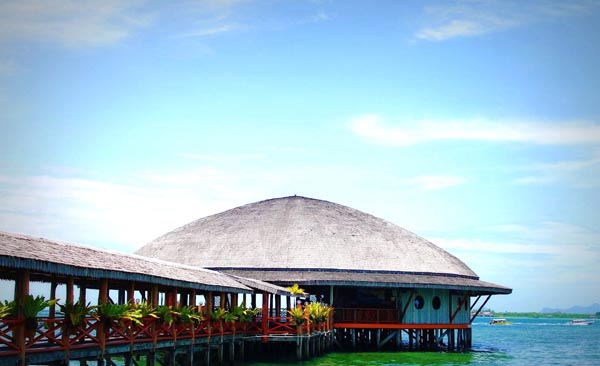 Situated right on the sea, near Semporna, you'll find the sumptuous floating hotel, the Dragon Inn, or Semporna Floating, as it is also known. Designed as a luxurious Bajau Water village, guests in this floating hotel will be able to enjoy some of the best daily diving trips all over the bay, including places such at the famous spot, Sipadan. With its palm fronded roof structures and oriental finishes, guest will leave after having an extraordinary experience, Malaysian style.
---
4

No 6 Floating and Rotating Hotel Tower, Dubai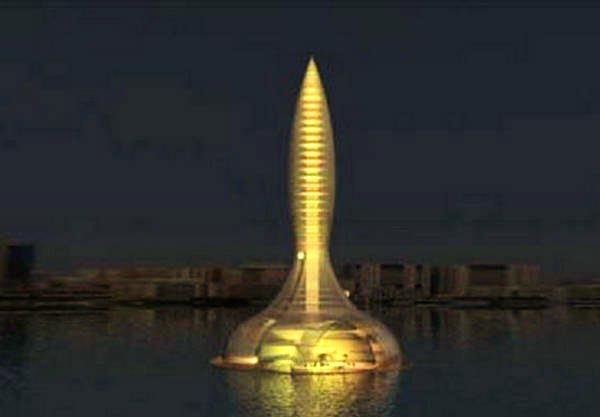 Standing a glorious 25 stories off the coast of Dubai, in the UAE, the Floating and Rotating Hotel Tower is the mastermind of the Dutch based architectural firm, Waterstudio. Specializing in floating hotels and all other waterborne projects, this project is an engineering feat like none other. When it's complete, not only will you have unbelievable views from any storey that you are on but every minute the hotel rotates one degree, making this an experience not repeated anywhere else in the world.
---
5

Conrad, Maldives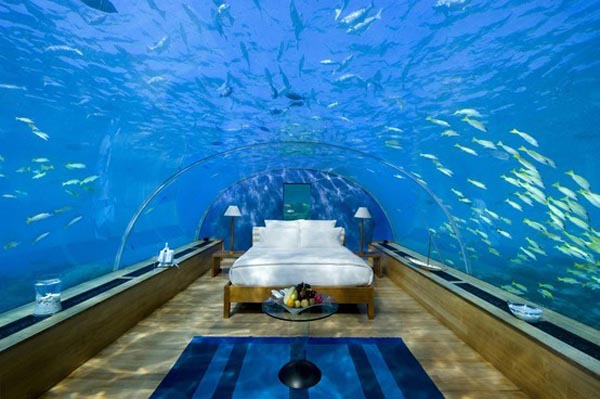 This picture perfect private island duo is a hugely popular playground among the rich and famous. With more than 50 luxurious and secluded floating hotel water villas to choose from, you will also have the option of choosing a relaxing spa treatment from more than 21 private spa water villas. The full on undersea restaurant, made entirely from glass, is a world class experience on its own. A premier destination more than 1600 feet out to sea gives visitors a truly unique opportunity to kick back and relax.
---
6

Oberoi Udaivilas, India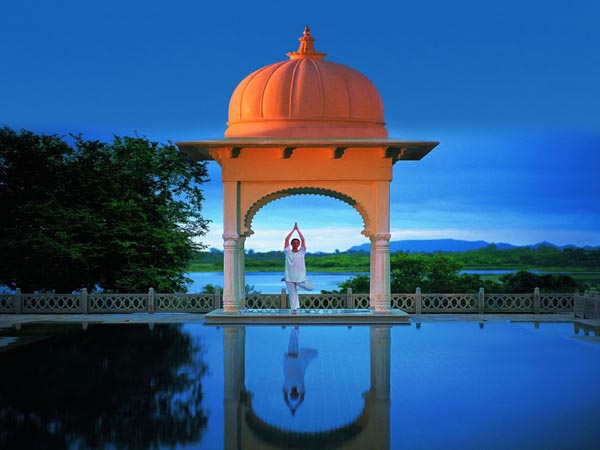 Perfectly situated directly in the middle of the shimmer of Lake Pichola, this 5 star wonder is without a doubt, the most vividly spectacular floating hotel in the world. With the romance of a traditional Indian Palace, the perfectly landscaped gardens, tiled courtyards and gushing water features are just some of the scenery that surrounds the floating hotel. The inside is lavishly adorned with hand painted frescoes, artefacts and embellished domes. Lap up the sunshine on a lounger overlooking the lake, or have a spot of champers after a rejuvenating yoga class.
---
7

Reef World, the Great Barrier Reef, Australia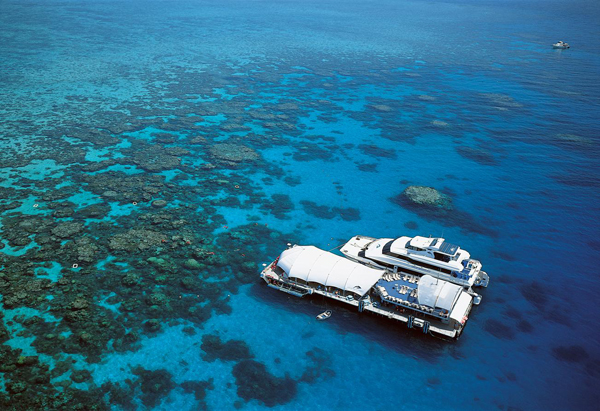 The controversial project is the world's first and foremost eco friendly floating hotel. It has the ability to generate its own electricity and heat, using a super environment friendly combination of solar panels, turbines and underwater generators, charged by trickle charges. Offering a full underwater spa, bathrooms entirely walled by glass as well as 8 completely submerged bathrooms, it also boasts a fully equipped research facility, right on the top of all of it.
---
8

King Pacific Lodge, British Columbia, Canada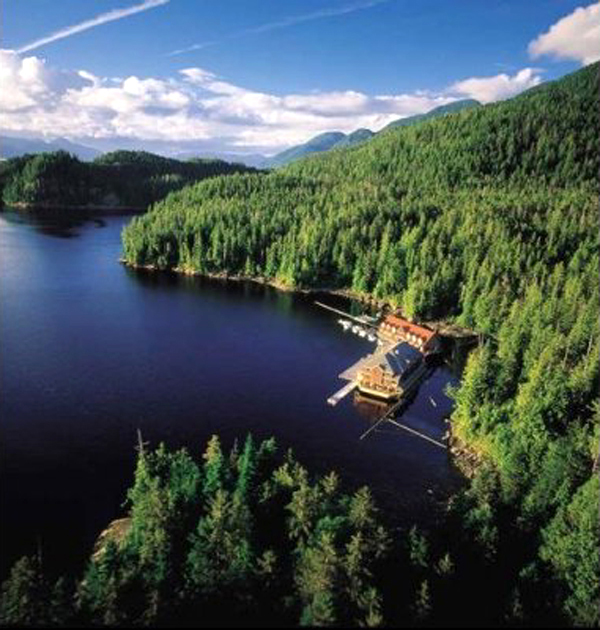 Accessed by floatplane, this unbelievable floating hotel appears at first glance to almost be other worldly. This 5 star extravaganza most certainly does not come cheap, with dining experiences worthy of Michelin standards and the choice of one of 17 super deluxe suites, complete with romantic hot tubs and almost regal sized beds, this floating hotel is one of the most exclusive in the world.
As more and more jetsetters are indulging in the option of a floating hotel holiday getaway, increasing numbers of absolutely stunning holiday destinations are pulling out the stops to accommodate them. Live out your deserted island fantasies, without having to resort to hunting for food and water, and just order your cocktails from the floating hotel bar. Enjoy the romance and the glorious scenery without sacrificing your privacy, as the aqua cabins in the floating hotels offer a romantic and intimate experience where you will not be disturbed. Out of this list of 8 Fabulous Floating Hotels, which one will you save up to go to first?
Top Photo Credit: pinterest.com
More
Comments
Popular
Recent