I constantly dream of the beaches of Hawaii. The islands are stunningly beautiful – jaw dropping in fact and this is reflected in the many different types of beaches. The diversity is amazing: world class surf spots; lava rock strewn coves only accessible by boat or clambering down a cliff; silver sand, golden sand, and black sand; huge public beaches; and tiny inlets backed by the lost lush vegetation covered mountains. Want to share my daydreams about the beaches of Hawaii?
---
1

Ala Moana Beach Park, Oahu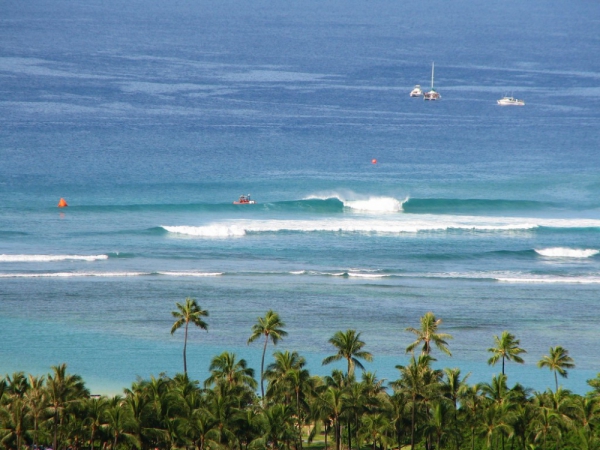 Ala Moana Beach Park is conveniently located just steps away from the world famous mall of the same name, between downtown Honolulu and Waikiki. This 100 acre beach park is one of the most popular beaches of Hawaii, loved by tourists and locals alike. An outer reef makes the water calm and good for children or novice swimmers. In addition to a wide swath of fine sand, the park offers lots of grass and trees for picnicking, a snack bar, restroom and shower facilities and lifeguards on duty. Go early in the morning or late afternoon to get the best spots. In walking distance from many Waikiki hotels and on a Waikiki trolley line.
---
2

Punaluu Black Sand Beach, Big Island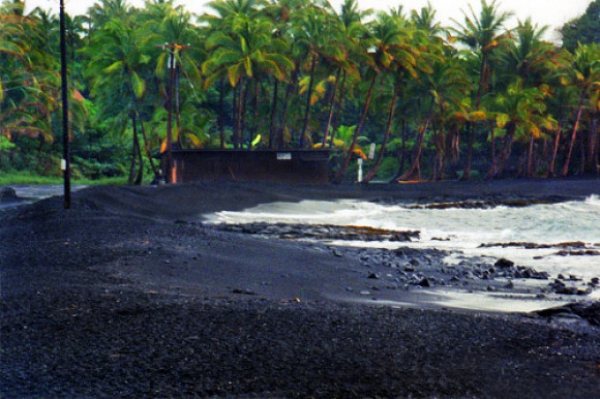 For a unique beach outing, be sure to visit this black sand beach about 59 miles south of Hilo on the Big Island. The sand is formed by basalt lava rocks and Hawaii Volcanoes National Park is nearby. Swimming can be dangerous here and is not recommended. Instead, look out for Hawaiian Monk Seals, Hawksbill Turtles and Green Turtles – all endangered, so keep a safe distance and remember it is illegal to touch or harass these animals.
---
3

Kaanapali Beach, Maui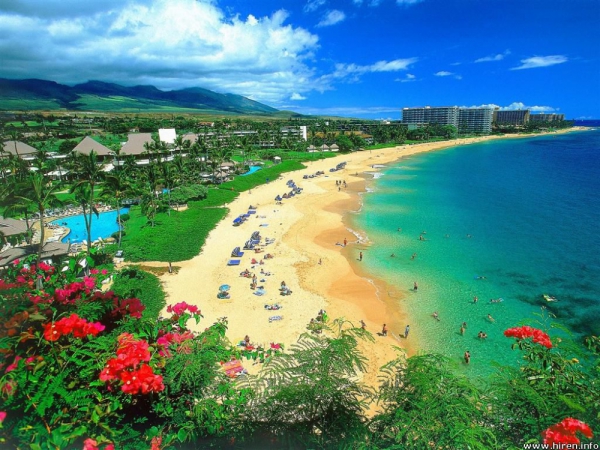 Known as West Maui's signature beach, this former retreat for Maui royalty is just 3 miles north of Lahaina. The beach fronts numerous Kaanapali hotels and resorts, but its white sands and pristine waters are open to the public. If you want your Hawaiian beaches to come with a side helping of Polynesian culture and traditions, catch the nightly cliff diving ceremony – a spectacular re-enactment of Hawaiian history!
---
4

Lydgate Beach Park, Kauai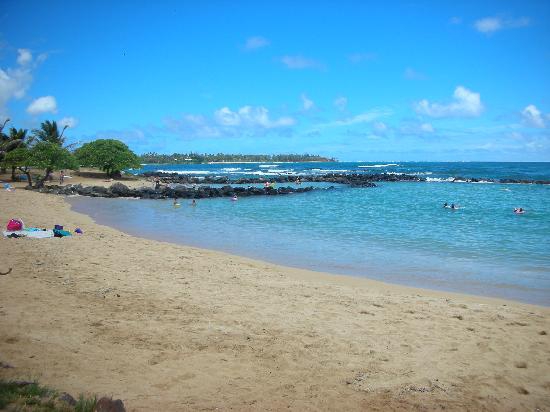 Classic Hawaiian beach features of calm waters, copious amenities and a gigantic playground make this the ideal family outing. The stone breakwater ensures an easy time for beginning swimming and snorkeling - schools of huge, gentle fish in the shallow pools are an unexpected delight here! Lifeguards, picnic pavilions, showers, drinking water and abundant parking combine to make the trip easy, and if all else fails there's the magical 16,000 square foot Kamalani wooden playground for kids (and let's admit it, adults) to burn off steam. Located 5 miles north east of the Lihue airport.
---
5

Pupukea Beach Park, Oahu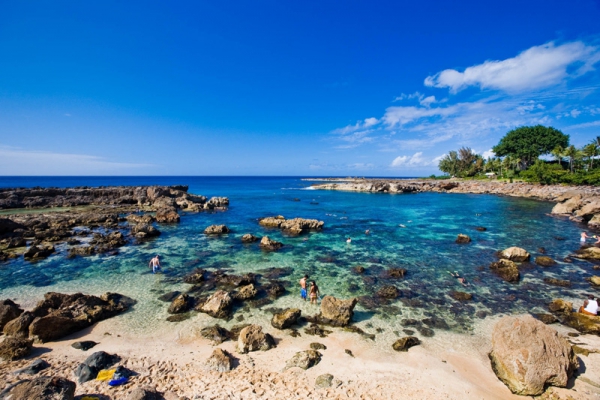 Oahu's North Shore is known for its surfing and laid-back lifestyle. Pupukea Beach Park is a great location for swimmers, scuba divers and snorkelers to get in on the action. There are two main swimming areas, Shark's Cove and Three Tables with tide pools and lava formations in between. Parking can be limited and it's a scramble down a dirt path to reach the water, but it is worth it! The entire area is a Marine Conservation District so the underwater sights are impressive, but don't plan on taking anything as a "souvenir". During winter the seas can be dangerous, so make a summer-time visit.
---
6

Hulopoe Bay, Lanai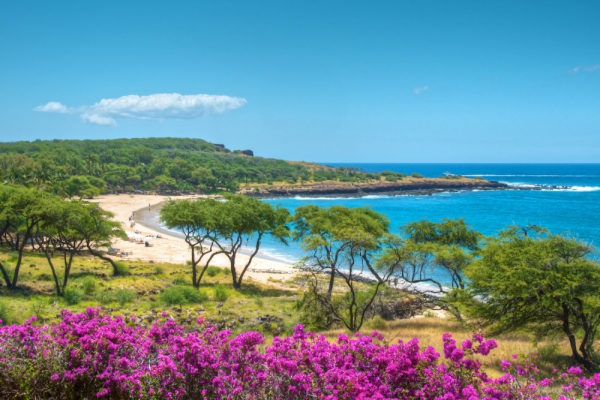 On the Pineapple Isle, Hulopoe Bay is the beach to visit. Located 8 miles south of Lanai city, this pristine white sand beach is known for swimming and snorkeling. There are impressive tide pools and a romantic landmark – sweetheart rock (or Puu Pehe) - is just a short hike away. Although it fronts a luxurious resort, this protected marine preserve is open to the public. As a preserve, visitors are prohibited from taking anything besides pictures. The beach park has barbeque grills, picnic areas and showers which make it easy to make this a full day excursion. Summer is the best time to go as this is one of the beaches of Hawaii where conditions can get rough in winter.
---
7

Yokohama Bay, Oahu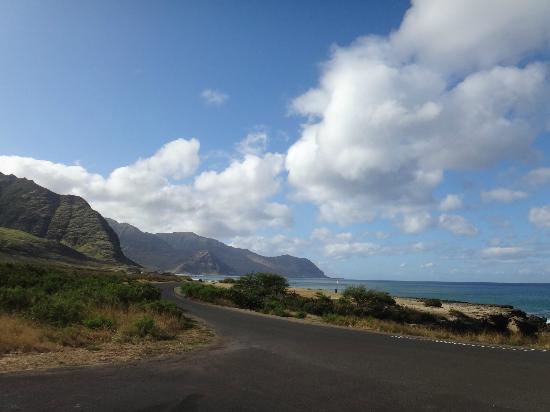 Ditch the tourist throngs and relax at Yokohama Bay, at the end of the road on Oahu's west side. Located about 43 miles west of Waikiki in Ka'ena Point State park, this hidden gem (also known as Keawaula Beach) is never crowded. There are lifeguards and restrooms, but little else by way of facilities. Bring your own shade. Start a hike into the state park or just soak up the sunshine; only experienced swimmers and surfers should test the waters here.
I could go and on with loads more beaches of Hawaii. Every one of them has something special. These are some of my favorites that I'd love to visit when I finally get to Hawaii. Have you been or are you craving to go, like me?
More
Comments
Popular
Recent