One of the perks of being wealthy is being able to choose to stay in the world's most expensive hotel suites. And, to be honest, you don't just have to be wealthy but super rich to be able to afford some of these incredible places, which, let's not forget, are only a place to rest your head, take a shower/bath and store your clothes when away from home. The world's most expensive hotel suites are, however, beyond the wildest dreams for most of us but hey, dreaming costs nothing so dream on!
---
1

The Ritz-Carlton Suite, Ritz-Carlton, Moscow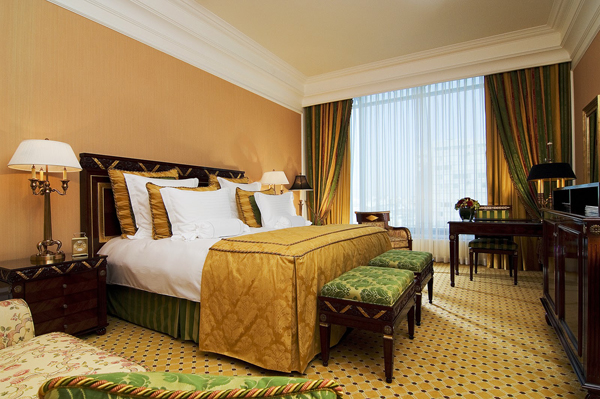 At $18,000 per night, you can bet that The Ritz Carlton in Moscow has some of the most expensive hotel suites in the world. With that price tag you can expect the 232 square metre of hotel suite to be dripping in luxury and opulence, and with that you would be right. Find heated flooring throughout the spacious apartment, with floor to ceiling windows peering out over a jaw dropping view of the Red Square, Christ the Saviour Cathedral and Kremlin. Tickle the ivories on your majestic grand piano or take your tea in your private library.
---
2

The Presidential Suite, InterContinental, Hong Kong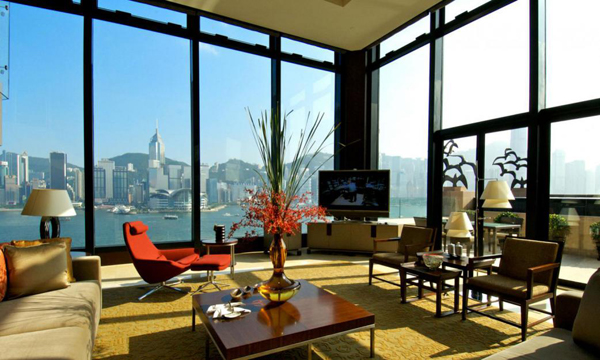 At just over $13,000 a night, the finest presidential Suite in Hong Kong may not be the most expensive in the list, but it still kind of leaves us mere mortals gasping for air at the reception desk when presented with the bill. Enjoy a libation on your 2,500 square foot terrace, or do a leisurely lap in your infinity pool on the rooftop or sink into your Jacuzzi and peer out over your private view of Hong Kong Island and Victoria Harbour. If you can manage it after all of that, there's your private gym and a Phantom VI Rolls to whip you down to the corner shop.
3

Royal Suite, Burj Al Arab, Dubai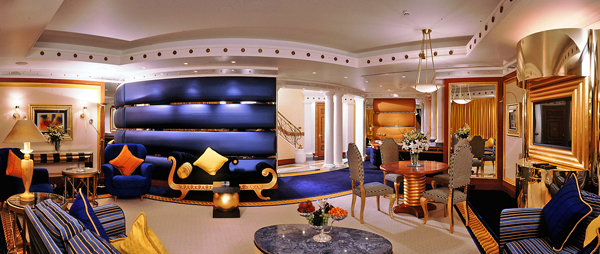 When it comes to the most extravagant hotel suites in the world, the folks in Dubai seem to be in a class all of their own. The Royal Suite in the Burj Al Arab has become something of a national icon, since it opened its doors in 1999. The distinctive sail shape of the supreme luxury hotel has set the bar supersonically high when it comes to the ultimate in opulence and pampering. Personal butlers ensure discerning guests have everything they could require in their 2 story suite, which includes lavish dining areas, peaceful living areas and top of the range whirlpool baths - and all this for the bargain price of just under $19,000 a night.
---
4

The Sultan's Suite, Çırağan Palace, Kempinski, Istanbul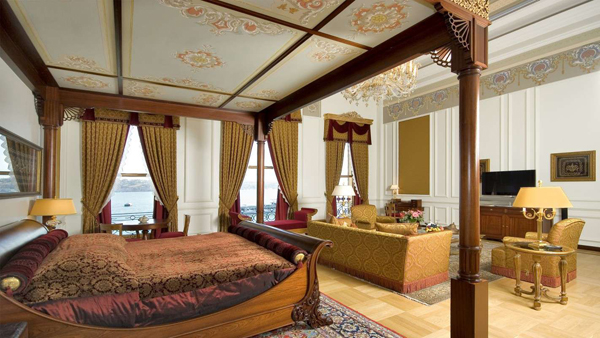 The epitome of world class luxury, unsurpassed beauty and majesty can be found in Istanbul, at this breathtaking 16th Century palace – the very home of the last remaining Ottoman Sultans. After being rebuilt in marble for a sultan in the 1800s, the Palace is now an exceptional 5 star hotel that boasts a star studded guest list of regulars. With an onsite boat and helicopter service just for their guests, a private butler, fine art and vintage furniture, this has to be one of the most luxurious hotel suites, at just $15,000 and some change for a night.
---
5

Royal Suite, Four Seasons Hotel George V, Paris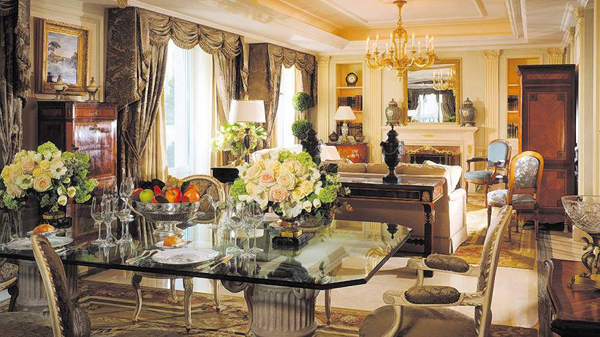 Rolling in at a whopping $24,550 a night, guests should be able to take the stunning French antiques, 19th century art work and crystal chandeliers home with them – never mind the towels. There are but 2 Royal suites at the hotel, both overlooking the statue of the Three Graces from their private balconies. Each suite is fitted with a sauna, steam room, marble bathroom, walk-in dressing room and are heaving with the palest pink roses. Nothing like seeing Paris while sleeping in serious style.
---
6

Ritz-Carlton Suite, Ritz-Carlton, Tokyo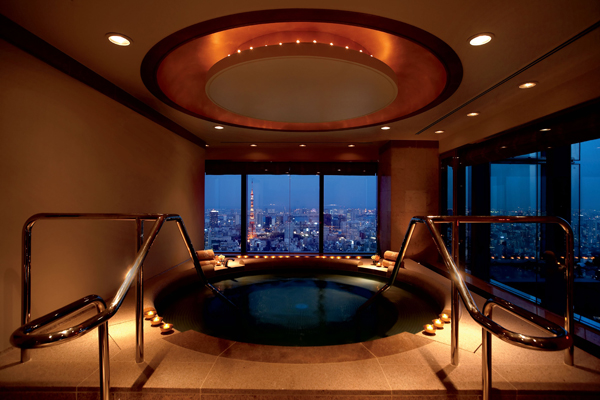 At around just $26,000 a night, a suite at the Ritz Carlton in Tokyo has unparalleled, almost surreal views that sweep right out over Mount Fuji, the Imperial Palace and the Roppongi Hills. It is higher than the highest sky scraper in all of Tokyo and each of the beautifully appointed private suites offer guests a whopping 300 square meters of ultimate luxury space. In one of the most expensive hotel suites in the world, guests enjoy massive marble bathrooms the size of the average Joe's apartment at home, showers that are called rain shower booths and Frette linen sheets that will make your dreams come true.
---
7

The Royal Villa, Grand Resort Lagonissi, Athens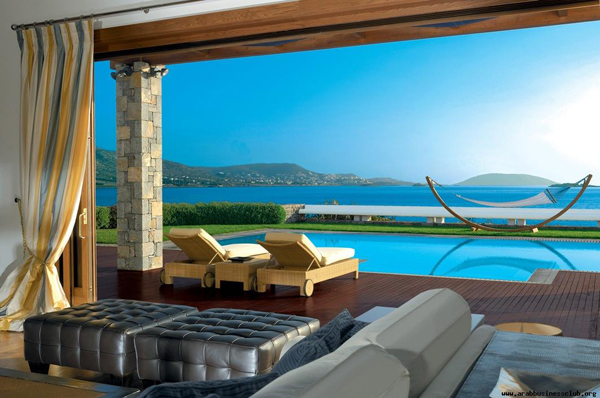 Overlooking your very own private beach – the white cashmere sands sweeping over to a mesmerizing turquoise breeze ruffled bay – your private marina awaits you just steps away from the Royal Villa at the Grand Resort Lagonissi in Athens. Your very own private concert pianist tickling the ivories in the background, your private chef whipping up your every wish in the kitchen, your private butler screening your calls and fluffing your towels – it's a wonder you can even lift your martini on your own. And at $34,356, really should you have to?
---
8

Royal Penthouse Suite, Hotel President Wilson, Geneva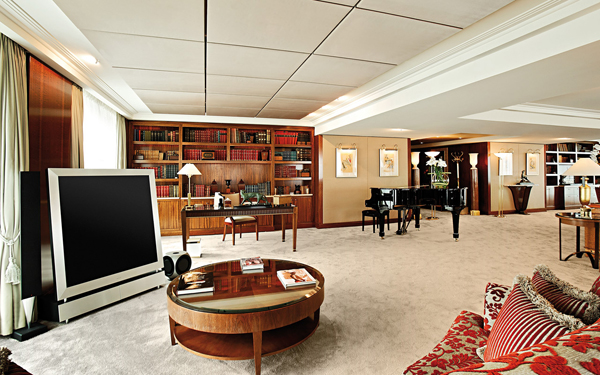 When it comes to the most expensive hotel suites anywhere, the Royal Penthouse Suite at the Hotel President Wilson in Geneva takes the cake. At a sensational $65,000 per night, they should give you the title deed to a small island if you stay more than a week. It's an excellent choice for the hyper-vigilant security conscious individual with bucket loads of moolah. With windows and doors that are bullet proof, the 12-roomed suite takes up the entire top floor of the hotel and there is even space for a private fitness centre, library, grand piano, billiard room. Your own private elevator will bring you up to your panoramic view of Mont Blanc and Lake Geneva.
Well – that's it! If you have enough money to feed a small African country for a year, you can probably afford to stay in the most expensive hotel suites and feel like royalty. Which would you choose?
---
Comments
Popular
Related
Recent