Have you ever wondered where the best honeymoon hotels in the world are? Designed to create that perfect newlywed atmosphere, combined with enough activities and spa treatments to keep you busy for your whole stay, these hotels are the absolute perfect places to go to have a perfect holiday with your other half. They aren't that easy to track down, though, and we've all heard the horror stories from people who picked wrong. Here's some of the most amazing honeymoon hotels around the world: pick one of these, and you can't go wrong.
---
1

Six Senses Hideaway, Phang Nga, Thailand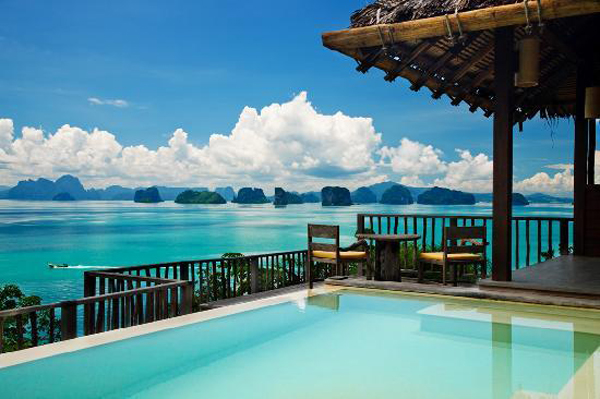 This is one of those honeymoon hotels that literally takes your breath away. The Six Senses Hideaway is perched on the top of a hill on the Phang Nga Bay, and has stunning views across the bays and islands. The views at dusk and dawn aren't to be missed! The hotel itself has 56 pool villas and pool suites, all with endless infinity pools, indoor and outdoor showers and plenty to do. It's no wonder this place is known for its subtle luxury! Spend the morning doing yoga before enjoying a freshly cooked breakfast and exploring the islands on a traditional long-boat. The evening massages in the spa are a great way to unwind, and there's a wide variety of cocktails on offer in the stunning bar. There's a selection of great Italian and Thai foods on offer, and living under a striking rainforest canopy doesn't get old no matter how long you stay. Dreamy.
---
2

Four Seasons, Seychelles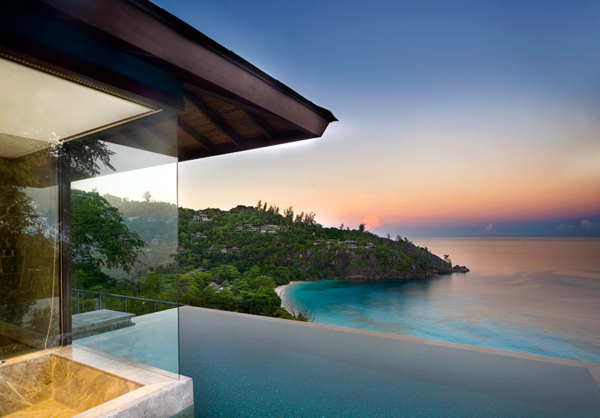 The Seychelles have always been on my "places to visit" list, and when the Four Seasons opened in 2009, it jumped up a few places. This is another hotel with a dramatic location, perching on the steep jungle hillside, and that castaway chic vibe continues right through the resort. There's 67 villas positioned down the forest hill, offering amazing views of the beach and beautiful turquoise sea, and they are perfectly positioned to give you that feeling of being utterly secluded and alone. The villas themselves are luxurious to the last detail, with huge indoor and outdoor spaces, private pools, a wrap-around terrace, outdoor showers and daybeds. There's a few restaurant options on site, including Zez, which offers big breakfasts and delicious Mediterranean dishes, and Kannel, which serves local and Asian dishes through the day, including fresh sushi. Even the beach is just perfect, with soft white sand.
---
3

Paradise Bay Island Eco Escape, Queensland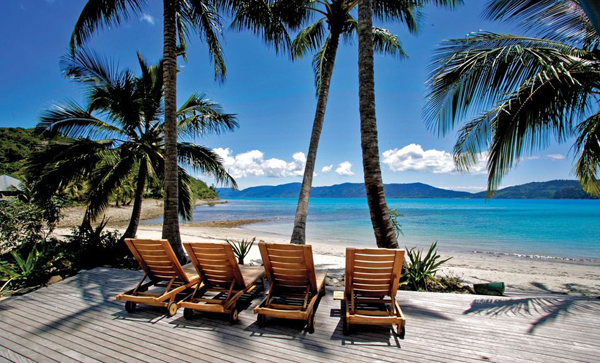 Located on Long Island in the Whitsundays, Paradise Bay is one place that completely lives up to its name. To get there, you'll need to take a short but very chic helicopter ride from the mainland, and its seclusion is well worth the effort. There's 10 wooden luxury bungalows here, stood along the shoreline with a beautiful view of the National park, and each is built with a terrace that's carefully positioned to be completely private. There's even hammocks to unwind in. There's a friendly, helpful team at HQ who can't do enough to help you have your dream holiday; they'll arrange private trips to beautiful beaches with a private picnic, or arrange tailor-made snorkel trips to the best spots around the island. There's even a Michelin-standard three course meal at the end of every day. This place is just perfect.
---
4

Baros, Maldives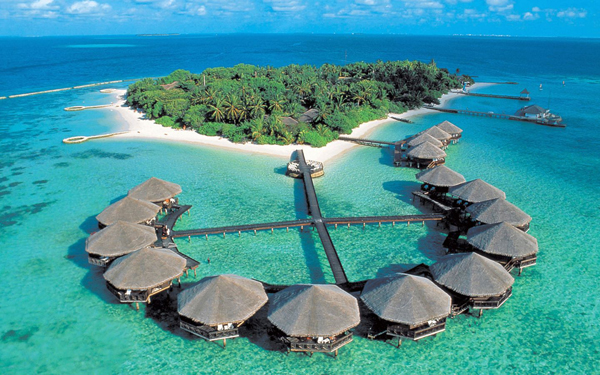 The Maldives are known for being luxurious, and Baros is the ideal place to go if you want to see everything that's on offer. Again you'll need to make a special trip to reach Baros, taking a 20-minute boat ride to reach the resort. The elegant villas are designed to be spacious and homely, and boast outdoor bathrooms, giant bathtubs, infinity plunge pools, large patios and beautiful views, all set along the stunning white beach. There's even some villas stood on stilts in the water! For activities, you can join in daily excursions to nearby islands to explore all of the Maldives, or learn to dive in the dive centre. There's even a biology centre, where you can help to look after wildlife, plant coral reefs and find out about reef sharks and turtles. There's even a boat trip that involves being dropped off at an exclusive, secluded bay for a gourmet supper under the stars, and don't forget the spa! You are sure to have a whale of a time.
---
5

Hotel Il San Pietro, Positano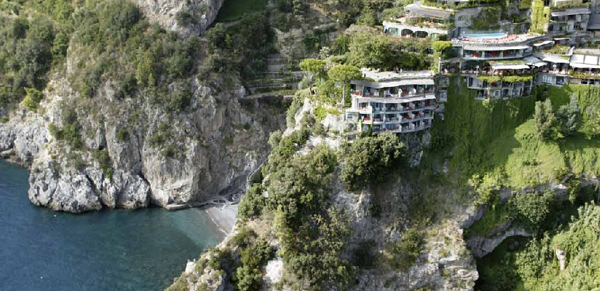 This hotel looks like something out of a Bond movie. It's breathtaking to see, being built into the side of a dramatic cliff above the ocean, and having amazing views of Positano and Praiano. There isn't a better place to enjoy the Amalfi coast from! The hotel is designed to match its striking location, with white walls and a minimalist theme, but don't think that means a lack of luxury. Enjoy breakfast while watching yachts literally 100 metres below your feet, or jump in the lift and visit the beautiful beach. The hotel has a private cove complete with sun loungers, snacks, a drinks bar and stunning water, and the restaurant is only a few steps away if you get hungry. Exploring Positano isn't difficult either, with the most visited city on the coast being just 10 minutes away.
---
6

The Chedi, Oman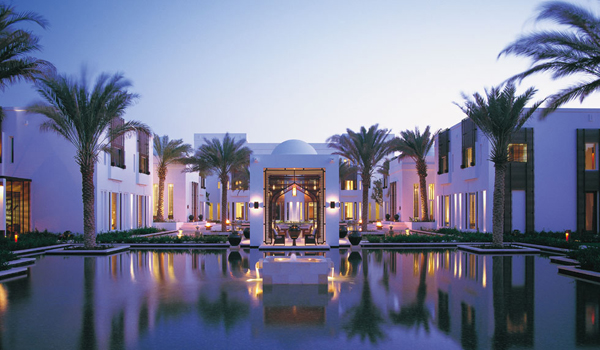 This is a modern hotel that epitomizes new, modern Arabia. The hotel chain behind this beautiful hotel runs a string of boutique hotels across the Far East, and their expertise clearly shows. The Chedi is clearly designed to be part Lawrence of Arabia and part Philippe Starck, and the club suites are stunning. Spacious white bungalows or villas, these residences are separated by palm trees and fountains, and have fantastic views. Inside there are four-poster beds, black marble sunken baths, satellite TV and a modern hi-fi system. Fresh fruit and Arabian pastries are delivered every day, and there's a vast room-service menu. The Balinese spa is excellent and much cheaper than you'd expect, and the restaurant regularly wins awards, offering a fantastic merge of food and design. The French pastry chef is a genius, and his bread and cakes shouldn't be missed! It's very different, and very chic. Win.
7

Anassa, Polis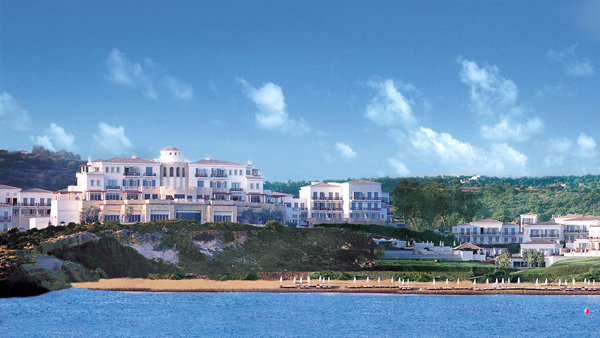 This is one of the honeymoon hotels I've actually been to: a friend got married here, and couldn't speak more highly of the place. It's located on the windswept north coast of Cyprus, around an hour's drive from Pathos, and it's a beautiful place for a romantic, secluded holiday. The houses and villas are relaxed and serene, and are arranged to look like a traditional Greek village. They all share beautiful views of the sea, and of nearby towns Polis and the Akamas Peninsula. If you feel like exploring, there are acres of vineyards and treks to explore. There's also an award winning spa on site, offering a variety of romantic single and couple treatments, and the pools are beautiful. Even the restaurants are tranquil and relaxed. Perfect for a dreamy start to married life.
Of course, there are plenty of other amazing honeymoon hotels too: I've been checking out the Shompole in Kenya for friends, and I love the idea of a honeymoon safari. Picking the perfect hotel for your special holiday can seem tough, but once you've got it right, it's well worth the stress. Where would you choose as your ultimate honeymoon hotel? Let me know!
---
Comments
Popular
Related
Recent