Do you see yourself swishing down the slopes, admiring beautiful scenery as your skis glide on the crisp snow and looking forward to some stellar après-ski? There is such a wealth of fabulous winter sports resorts in the Alps so you probably need some help in narrowing down where to go. Here's my pick of some of the best ski destinations in the Alps.
1

Off-Piste Skiing at Saalbach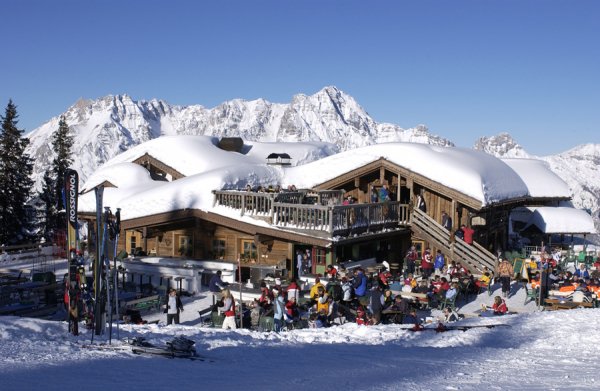 If you're looking for a great snow record, a wide range of groomed runs and extensive off-piste skiing opportunities, Saalbach in Austria is one of the best Alpine ski resorts to choose. Located in the municipality of Salzburg near the Austrian-German border, Saalbach is easy to get to. Close to neighboring resorts of Hinterglemm and Leogang, Saalbach is a great base from where you can go skiing on both sides of the valley. There are 200 kilometers of groomed runs and 10 kilometers ideal for cross-country skiing. You'll find carving slopes and speed courses as well as race courses. Here off-piste skiing is fantastic, for the valley's north side offers thigh-deep powdery snow close to groomed runs. Several international events have been hosted in Saalbach, e.g. the Alpine Ski World Championship. For night skiers Saalbach even offers a flood-lit slope and families can enjoy a trip to the Learn-to-Rise Park, Ski Movie Courses and Funcross adventures at this family-friendly resort.
2

Diversity is the Spice of Grindelwald Life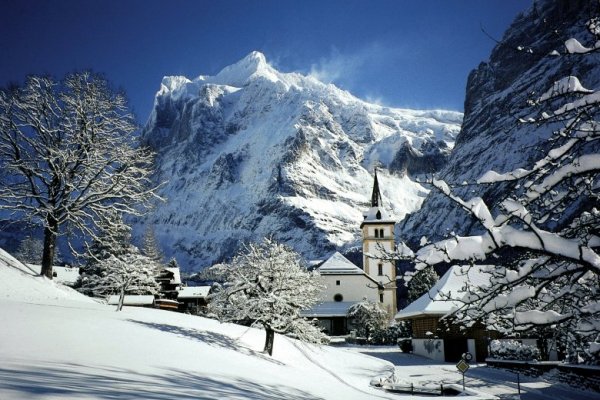 Grindelwald is a Swiss village that clings to the rock face of the Bernese Alps at nearly 3,500 feet above sea level. As one of the oldest Alpine ski resorts the tiny village has been around since the late 1700s, the time when intrepid climbers began to explore the Alps. Grindelwald is still a popular holiday destination for today's skiing fans, who come for the large diversity of runs the resort offers - some 213 kilometers of groomed pistes, including pistes ideal for night skiing. Although less challenging than some of the other Alpine resorts, Grindelwald can boast 12 impressive peaks. At heights ranging from 13,000 to 14,000 feet, Grindelwald's peaks are perhaps the most instantly recognizable rock formations in the Swiss Alps. The little village is also home to the world's longest downhill ski race course, the famous 4.2 kilometer long Lauberhorn World Cup run. Grindelwald also boasts some designated slow slopes which are ideal for beginners and less confident skiers.
3

Feel like an Olympian at Chamonix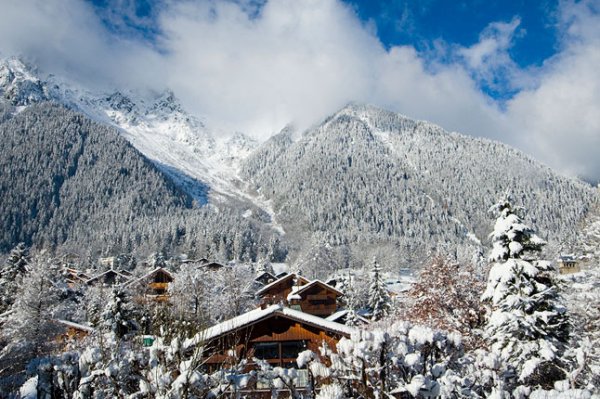 The Winter Olympics were born at Chamonix in France in 1924, when this prestigious event was held for the very first time. Home to Mont Blanc, at nearly 16,000 feet Europe's highest mountain and the highest peak of the Alps, Chamonix is one of the most famous ski resorts in the Alps and a favorite with celebrities. Today Chamonix counts around 5 million visitors every year, many of whom are adrenalin junkies who come to enjoy extreme skiing, ice climbing or summer time mountaineering, mountain biking or hiking. You don't have to be an Olympian to hike along the Haute Route to get to Zermatt. If you're getting footsore just thinking about it, take the cable car up to the Aiguille du Midi and enjoy panoramic views of this Alpine world from 12,500 feet up. Then be brave and ski the famous Vallee Blanche, which starts at the summit of Aiguille du Midi as well as the Mer du Glace glacier. Both routes offer skiers a fantastic thrill. Beginners will find several designated ski runs reserved just for them at Chamonix.
4

Go Celebrity Spotting at Kitzbuheler Horn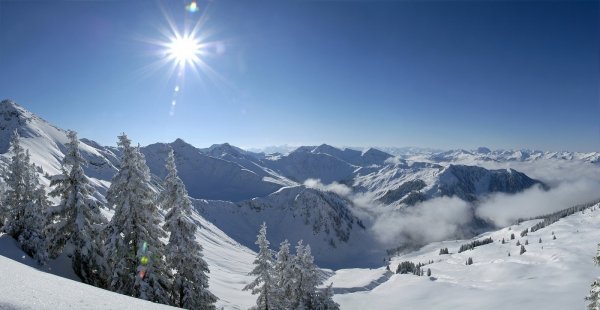 Kitzbuhel is one of the ski resorts in the Alps that attracts the largest number of celebrities and those that aspire to become one. Situated at the end of a stunning toll road that affords breath-taking panoramic views over a snowy Alpine world some 6,549 feet above sea level, Kitzbuhel is located in one of the most important group of peaks in the Austrian Tyrol. The ski resort offers skiers 56 gondolas and lifts as well as 40 km of cross-country skiing and more than 150 km of groomed pistes. Kitzbuhel is mostly famous for hosting the World Cup Ski racing on its 5,500 feet Hahnenkamm and Streif slopes every year, with the Streif downhill slope being one of the most difficult runs found in the Alps.
5

Identify Iconic Movie Locations at Cortina D'Ampezzo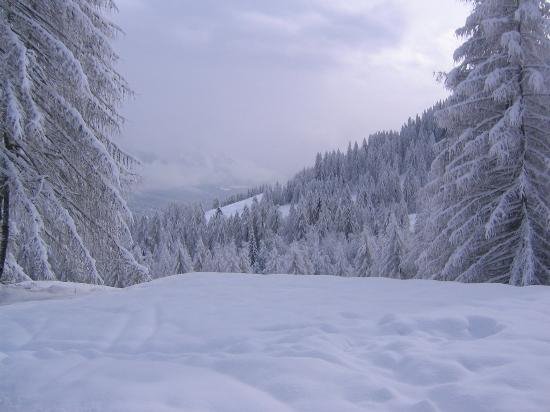 Few other Alpine ski resorts have played hosts to as many movie producers and their crews as the lovely resort of Cortina d'Ampezza, which has served as backdrop for amazing stunts in James Bond ( "For Your Eyes Only") and the comic capers of "The Pink Panther". Cortina d'Ampezzo is located in northern Italy, a ski resort in the Dolomite Alps which hosted the 1956 Winter Olympics and several Alpine and Nordic Skiing World Championships. Beloved by upmarket Italian tourists, British skiers and Europe's aristocrats and celebrities, the resort has welcomed such noteworthy names as Ernest Hemingway and Audrey Hepburn, who enjoyed not just the skiing here, but also the great après-ski scene. Located at approximately 4,000 feet above sea level, Cortina d'Ampezzo attracts sufficient numbers of affluent visitors to enable designers like Bulgari and Gucci to open stores here. Offering amazing 360 degree views of the Dolomites, Cortina d'Ampezzo is within a short hop and a skip of peaks like the 10,000 foot Tofane di Mezzo and Cristallo, a rock formation with four peaks boasting more than 10,000 feet each.
6

Les Trois Vallees Skiing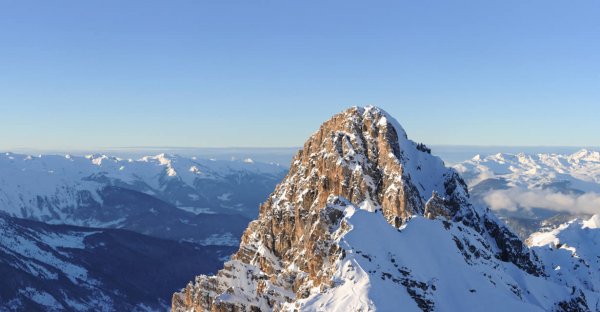 The Alpine ski resorts of the Tarentaise Valley in France are collectively known as the Les Trois Vallees, a ski region that boasts world-class runs and facilities and attracts the super-rich. Comprising of three interconnected valleys, the Allues, Belleville and Saint-Bon, the region is the largest ski region in the world and home to famous resorts like Val Thorens and Meribel. Buy a single ski pass and a weekly lift ticket and you can ski the slopes in any of the three valleys, which are connected by gondolas and lifts. This will even buy you a one-day access to either L'Espace Killy or Paradiski resorts, which are both part of the Tarentaise. There are more than 350 miles of ski slopes and 75 miles of cross-country skiing to choose from. The resort with the highest celebrity count and super-rich visitors is Courchevel in the Saint-Bon, while Val Thorens is renowned for offering two of the highest skiable peaks, namely Cime de Caron and Pointe du Bouchet, both heavyweights at nearly 10,500 feet.
7

Enjoy Year-round Skiing at Hintertux Glacier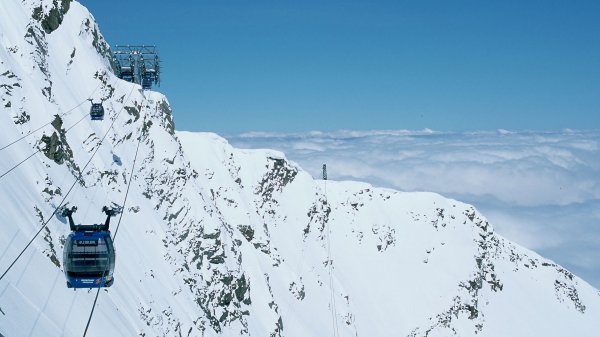 Located in the Austrian Tyrol region, right at the very top of the Tuxertal, Hintertux boasts good snow coverage even in summer. It is one of the Alpine ski resorts that lie in a side valley in the Zillertal mountain range of the Eastern Alps. According to locals, Hintertux has two glaciers, the Tuxer Ferner and the Riepenkees, both of which are only accessible with gondolas and lifts. The peaks of the two glaciers reach 10,660 feet above sea level and are popular with mountaineers, hikers and skiers alike. There are 40 groomed runs with varying degrees of difficulty and amazing off-piste skiing for everyone at the Larmstange ski run. Climbers come here to enjoy the breath-taking views of the Spannagel Cave, at 10 km length the longest found in the Austrian Central Alps.
I know you wouldn't be disappointed with any of these resorts but there are plenty of other alpine ski destinations to suit all tastes. Would love to hear of reader's favorite resorts.