COMMENT
Sunsets are glorious whatever time of year but they are even better when you've got a stunning view and someone special to share it with. Watching a sunset in a beautiful place is a great excuse to huddle up close. Check out some of these great places where watching the sun go down is a real romantic treat.
1. Vairou Bay in Bora Bora, French Polynesia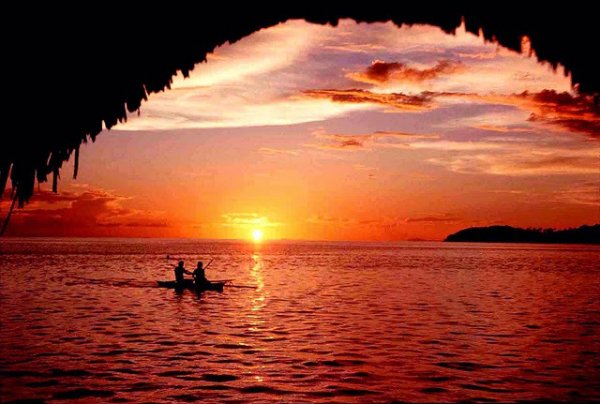 Why not take in some romantic summer sunsets in one of the most romantic places in the world? Not only do you get to enjoy balmy temperatures, white beaches and turquoise waters, but as you're sitting on a veranda sipping a pina colada or some other tropical concoction as the sun sets, you'll understand why it's a top destination for honeymooners. As the sun starts its decent toward the horizon, the sky comes alive with vivid colors. And best of all, it's free!
2. New York Harbor in New York, NY, USA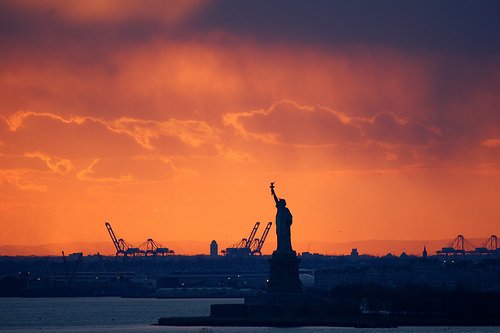 Spend a romantic evening on a boat, yacht or ship in New York Harbor - you can even ride on an old-fashioned Clipper ship if you're so inclined. Pour yourself a glass of champagne and wait as the sun begins to dip below the horizon. While you'll get a dazzling array of colors at times, the star of the show is actually the play of delicate light on the harbor itself. Lady Liberty is illuminated and the sun reflects brilliantly off the steel and glass skyscrapers of Lower Manhattan, creating a unique glow. So, even if the sunset is not colorful, it's still beautiful.
3. Oia Castle in Santorini, Greece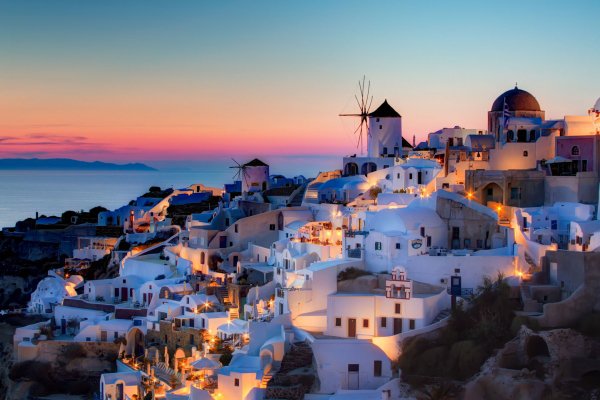 This is the place everyone sees on the postcards or advertisements beckoning you to vacation in Greece. The pristine white buildings with blue roofs, doors and gates are a sight to see even without the sunsets. But add a sunset and you've got the recipe for a thrilling view. As the sun lowers itself into the Aegean Sea, the vivid pinks, oranges and reds are reflected on the water and also off of the white buildings, adding even more to the colorful view. Stunning!
4. Clifton Beaches in Cape Town, South Africa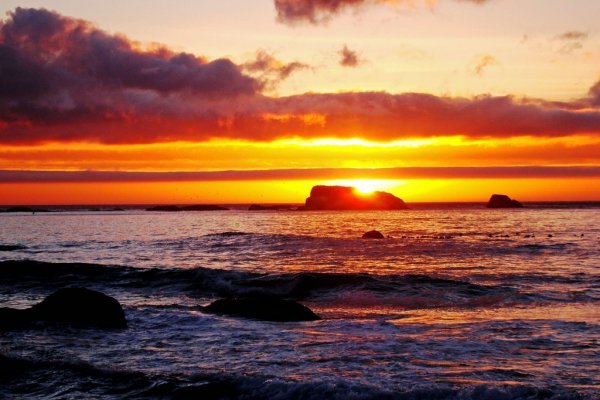 Spend a day enjoying the white sands and turquoise waters, then snuggle up on a soft beach blanket and wait for the sunset fireworks. They are popular beaches, so to avoid the hassle of trying to find a parking spot (which can be difficult), take one of the convenient shuttles and avoid the stress. As the surrounding buildings begin to turn yellow, grab your blanket and settle down for the blazing colors in the sky.
5. Halekulani Resort in Honolulu, Hawaii, USA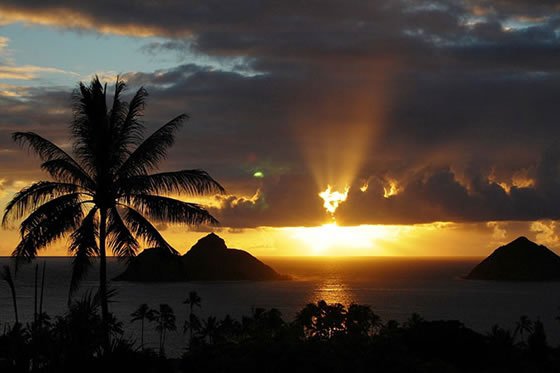 The list wouldn't be complete without at least one location in Hawaii, the land of the stunning sunsets. The views are classic Hawaii, and will not disappoint even the frequent visitor. Sit out on the veranda with a mai tai on your hands (it's the house specialty, after all) and enjoy the breeze coming off the water. Let the Hawaiian music lull you into relaxed mood, then prepare to be dazzled with the brilliant colors!
6. Uluru (a.k.a. Ayers Rock) in Northern Territory, Australia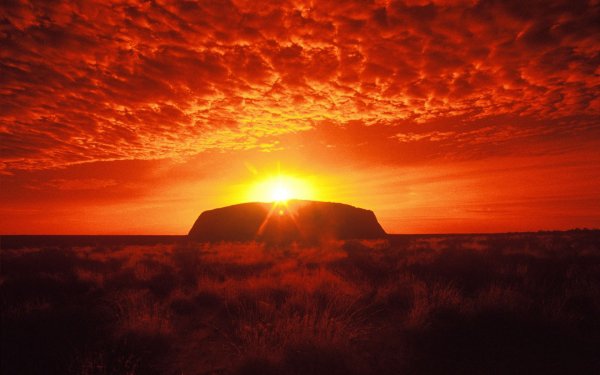 This UNESCO World Heritage site features a single rock that stands over 1000 feet tall and has a circumference of nearly 6 miles. Besides all the historical significance and the opportunity to learn about one of the world's most ancient cultures, it's also a magnificent place to take in a romantic sunset. While the rock is normally a dusty red color, it glows in brilliant deep rusty-red at both daybreak and sunset.
7. Torres Del Paine National Park in Chile
Jagged and rocky mountains jut into the air, glacial lakes shine a milky turquoise, and there's at least a dusting of snow nearly all year. Bring a heavy jacket (or a heavy snuggly blanket, for you romantics), because temperatures seldom rise about 60 degrees F. even in the middle of summer (around December). As the sun sets, the surrounding mountains and glacial lakes begin glowing pink, and become almost surreal in their beauty.
You don't really need an excuse or a stunning place to get romantic with your SO, but it certainly helps the love flow. Where's your favorite sunset?
How to Make Your Period 📍 End Faster for Girls Who Don't Have Time ⏰ to Have It ...