So what if the USA isn't old enough to boast the magnificent medieval cathedrals of elsewhere in the world – there are still some gorgeous American churches that will satisfy any lover of ecclesiastical architecture. They may not be as old as their European counterparts but they are just as grand, masterpieces of construction and intriguing, even to non-believers. Pray you get to see some of these gorgeous American churches on your travels.
---
1

Wayfarers Chapel, Los Angeles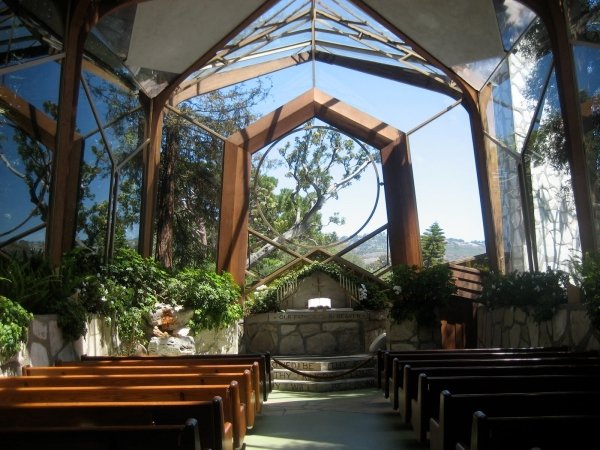 There are plenty of gorgeous American churches that are really photogenic, including Wayfarers Chapel in Rancho Palos Verdes, about 45 minutes from downtown Los Angeles. You'll like the architecture partly because it was designed by the eminent Frank Lloyd Wright, and also because it's inspired by nature, which is why it's also called the 'Tree Chapel.' It's in a forest so you'll see lots of glass to show off the beautiful Redwood trees and rose garden, but it also has a view of the ocean. The chapel was built so travelers had somewhere to rest and be thankful for nature and you'll love this; besides Sunday services it's now also used for evening candlelit weddings. How romantic is that?
---
2

Cathedral Basilica, St. Louis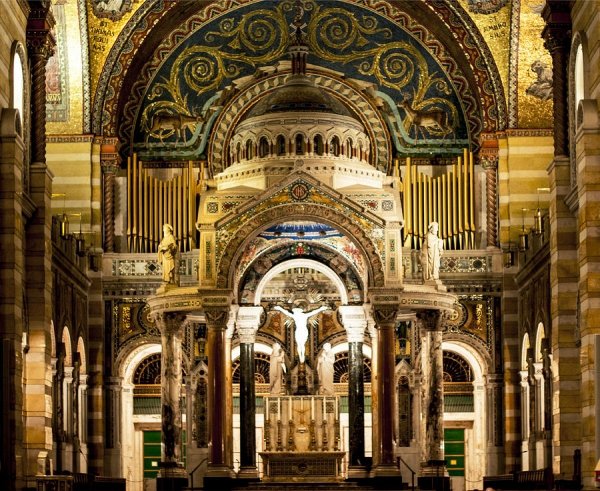 If you want to see one of the beautiful US churches that was visited by a pope (John Paul II) in 1999, then make time for the Cathedral Basilica of Saint Louis. In spite of a destructive tornado, the community went ahead and raised $1 million so the cornerstone was laid in 1908. This building shows off Romanesque and Byzantine architecture and is dedicated to Christ and King Louis IX. You'll want to take pics of the artistic Byzantine-style mosaics of the life of St Louis and you can do so during a free guided tour.
---
3

Thorncrown Chapel, Eureka Springs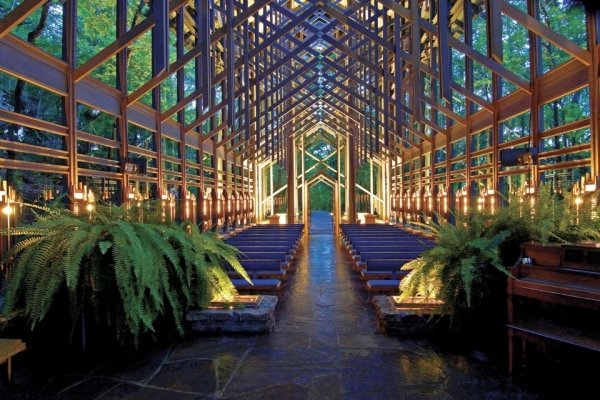 The Thorncrown Chapel in Eureka Springs, Arkansas blends seamlessly into the natural environment. It has a beautifully romantic name and you'll be amazed at how a 48 foot high construction can rest at the top of 100 tons of local stones. This unusual building was so inspired by the scenery that it has 425 windows. Even the wood used is native pine from the Ozark Mountain forests and was carried so the forest would not be disturbed by trucks. It's so peaceful here you won't want to leave.
---
4

The Cathedral of St. John the Divine, New York City
A 20 minute tube ride from Times Square will bring you to one of the gorgeous American churches that NYC can boast of. Sitting in 13 acre grounds complete with a Peace Fountain and live peacocks, the Cathedral of St. John the Divine is huge and the only church bigger is Saint Peter's Basilica in Vatican City. The original church, designed by Christopher Grand Lafarge and George Heins, was in the Romanesque and Byzantine style, but after fire damage it was changed into French Gothic style by Ralph Adams Cram. The Great Rose Window (the largest stained glass window in the USA) is made of more than 10,000 portions of colored glass and the building is tall enough to hold the Statue of Liberty!
---
5

St. Mary's Catholic Church, Nativity of the Blessed Virgin Mary, at High Hill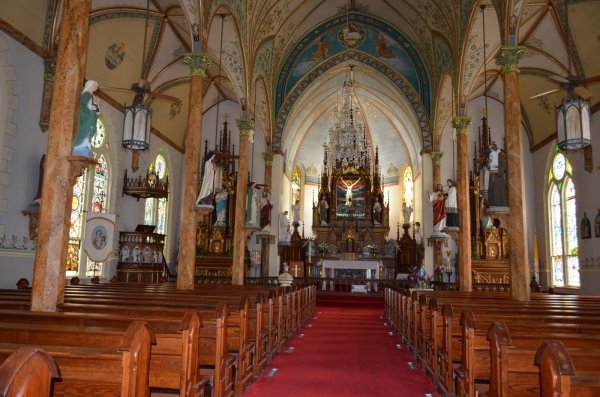 Located in High Hill, between Houston and San Antonio, there's a distinct, palpable atmosphere to the Nativity of Blessed Virgin Mary Church that was built by the German-Czech community in 1906. This pretty church has statues of Jesus, Mary and the saints and its fresco ceilings are decorated with grapes, vines, angels and birds. There are also colorful windows of biblical settings. It would be amazing if you could be there on Memorial Day because there's a picnic, German food and music played by German and Czech bands.
---
6

Memorial Presbyterian Church, St. Augustine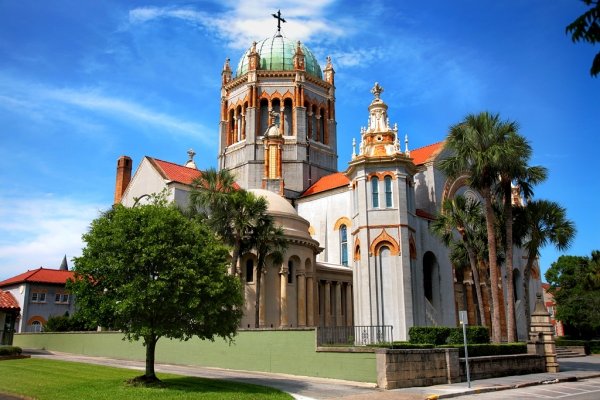 The Memorial Presbyterian Church is a clever combination of new architecture with pillars and a bell tower that already existed on the site. This church is a beautiful memorial to Henry Flagler's daughter who died in childbirth. You will appreciate the style inspired by the Venetian Renaissance. There are lots of marble and ornate mahogany wood carvings and you must take pictures of the stunning baptismal font carved from a single piece of Sienna marble, and the Venetian floor tiles. Even more beautiful are the stained glass windows showing lessons of the Apostle's Creed, also designed by Henry Flagler. Even though the Memorial Presbyterian Church was built in 1889 there has been a congregation in Saint Augustine since 1826.
7

Washington National Cathedral, Washington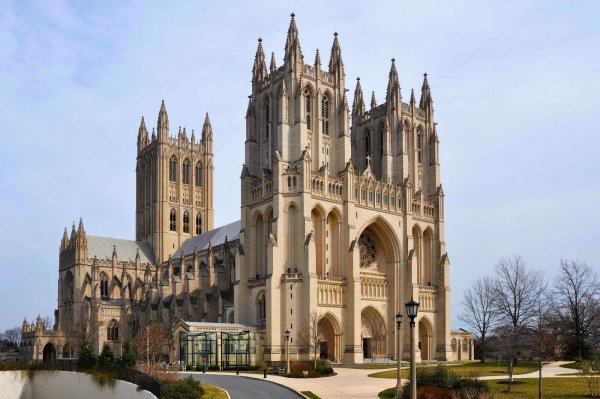 One of the most gorgeous American churches with great national significance is Washington National Cathedral. Many visitors from around the world spend time here because the cathedral has hosted 21 presidential funerals and other national heroes are entombed here. You get to see huge arches, flying buttresses and stained windows. The architecture is pure Neo-Gothic with angels and believe it or not, a statue of Darth Vader. How's that for different in a church? It's is a modern representation of evil! Standing as an anathema to evil Darth are 288 angels – you'd need some time to count them all and when done, head up to the Pilgrim Observation Gallery for stunning views of D.C.
Churches tell us so much and you don't need to be religious to enjoy them. When you have such gorgeous American churches, why wouldn't you want to visit them?
---
Popular
Related
Recent