I have always had a thing for beach bars. I don't mean those swanky hotels on the edge of the beach who add an extra room on or extend their property onto the sands. I mean real bars on the beach: those that spring up because of someone's passion or one that grows simply because a gathering place has been established. The best bars on the beach are those that open with the sunrise and stay open, well, until the next sunrise. They are where owners regale you with stories while cracking open a cold one, or a local fisherman shares his secrets of the best catch. The best beach bars chill by day and rock all night. Here's my pick of some of the best beach bars around the world.
---
1

Theros Wave Bar, Santorini, Greece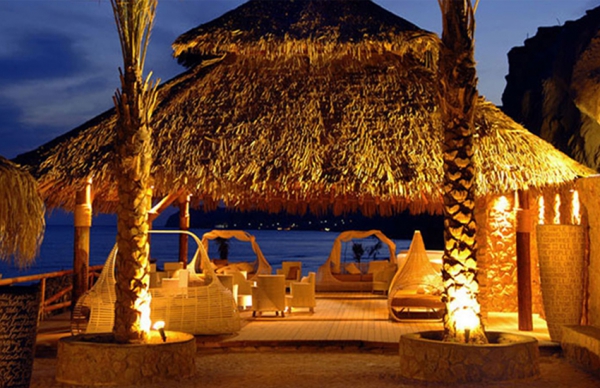 Santorini is one of the most celebrated Greek Islands and certainly deserves the title for the most romantic of them. It is also to one of the best beach bars in the Med. Theros Wave Bar isn't just a bar – it is a destination. The bar sits among the white rocks of the Eros beach on the southern coast of Santorini. The bar itself is hewn from the same volcanic rocks it sits on and it offers fabulous ocean views. Fabulous by day, it rocks da house with its regular full-moon parties.
---
2

Pierre and Friends, Batroun, Lebanon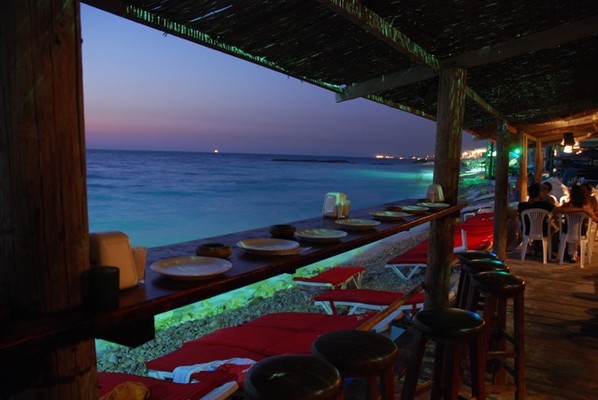 You know those times when you just want simplicity, no frills, just great drinks and great company in a great setting? Well, then it's time for Pierre and Friends, one of the most unassuming beach bars in the world. It's not flashy and it doesn't rock with the latest tunes, nor do the beautiful and good gather here. But Pierre and Friends occupies a darling little strip of pebbly beach between Byblos and Batroun (closer to Batroun than Byblos). There's no pretension here, so grab your favorite tipple and settle down to enjoy the company and the endless views of the sparkling Mediterranean Sea.
Trendinig Stories
More Stories ...
3

Hula Hula Beach Bar, Hvar, Croatia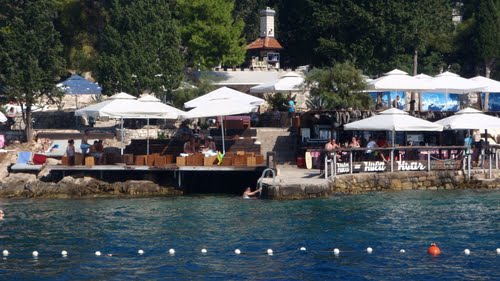 Croatia has some very underrated beaches and if you are looking for a party-time alternative to Ibiza and Ayia Napa, then Hvar is a brilliant choice. And if you like celebrity endorsements, then if the Hula Hula Beach Bar in Hvar is good enough for Jay-Z and Beyoncé, it's surely good enough for us. Pull up a deck chair and enjoy the lovely views of the Adriatic and wait for a stunning Croatian sunset. As the sun dips below the horizon, Hula Hula becomes a real party hotspot.
---
4

Badeschiff, Berlin, Germany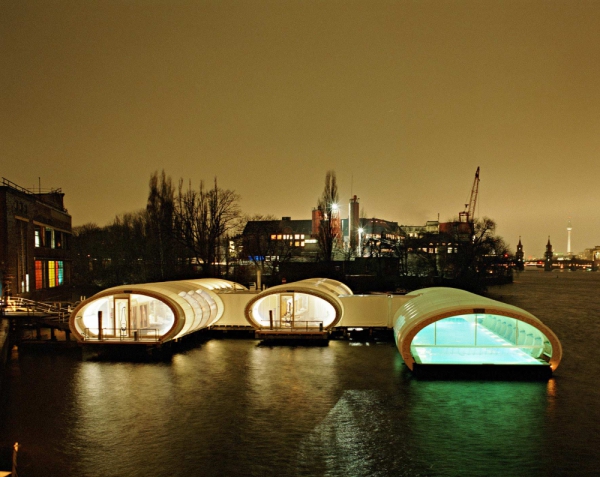 Yes! It does say Berlin. No one said the best beach bars had to be next to the ocean. Berlin is already one of Europe's hippest cities, so it's not so unusual to think that the landlocked German capital could find a way to have a beach and a beach bar for the summer. And that's why, they turn the River Spree into a beach resort, complete with deckchair lined banks and floating rafts in the water as bars. You can swim in the river or inside a vast ship's hull surrounded by sand and next to a huge open-air bar. And if that's not enough, you can get spa treatments, watch open-air movies and enjoy unplugged concerts.
---
5

Doyles on the Beach, Watson Bay, Australia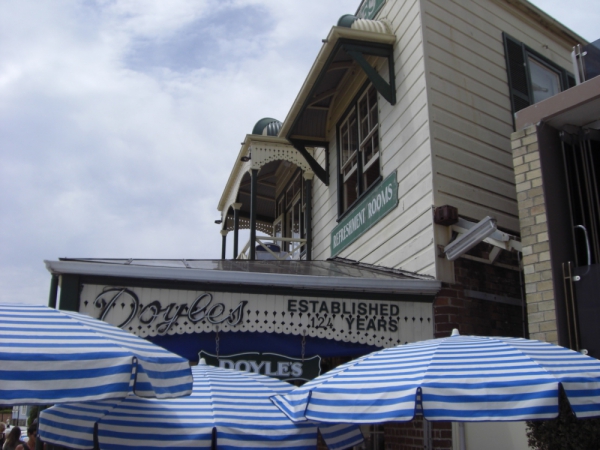 There are plenty of places in Australia with bars on the beach, but Doyles is claimed to be the oldest beach bar in not only Australia, but the world. It opened as Australia's first seafood restaurant in 1885 and has been family-owned since. Doyles is very understated as an Australian place of entertainment, especially given that it is located on a gorgeous strip of beach. Take a water taxi to Watsons Bay foreshore, crack open a frostie, and tuck into delicious fish and chips while enjoying stunning views of Sydney Harbor.
---
6

Pelican Bar, Treasure Beach, Jamaica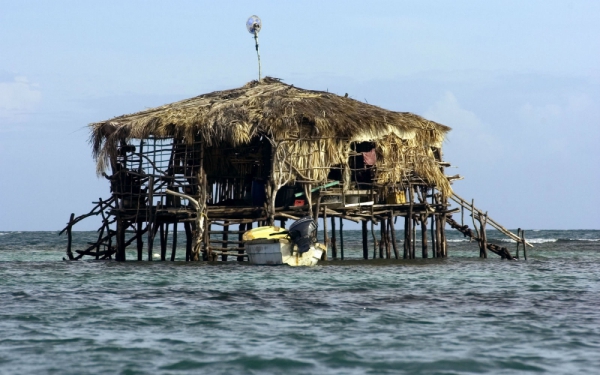 Now this is my idea of what beach bars should be. It's actually not even on the beach but in the ocean. The Pelican bar stands on stilts just off Treasure Beach in St. Elizabeth, Jamaica. Well, actually it's quarter mile from shore, sitting on a sand bank. It takes 20 minutes by boat to reach the Pelican Bar and when there you can sunbathe, swim, snorkel, tuck into delicious fresh caught fish or lobster for lunch (you can even catch your own and they will prepare and cook it for you) or just lie back, sip a cocktail and do nothing. Perfection!
---
7

Uxua Praia, Bahia, Brazil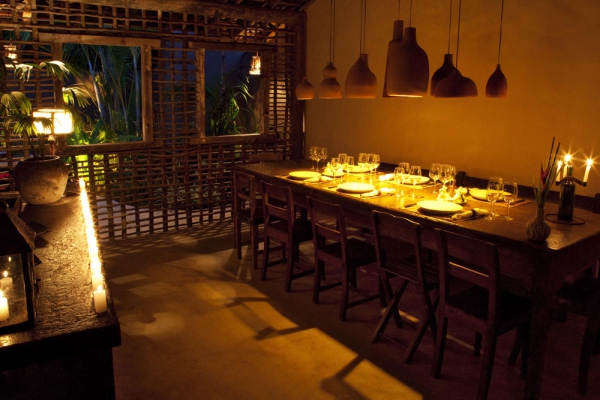 If your taste runs to the quirky, you are going to love this one. Not many beach bars can claim to be built from reclaimed fishing boats, but Uxua Praia can. Located on the Barra do Rio Trancoso in the Bahia province, you really do get served your drinks from an old fishing wreck. Take your traditional caipirinha and settle on one of the huge cushioned sofas under flat-roofed pergolas to watch the athletic bodies on the beach play volleyball or go through their capoeira exercises.
---
8

Flora-Bama, Florida, USA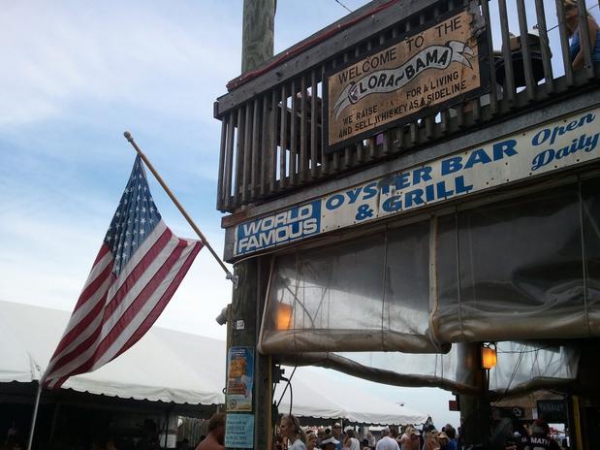 I struggled to find beach bars in the USA that weren't merely a bar in a hotel on the beachfront (in fact I discounted all of these around the world as I just wanted to bring you single, stand-alone beach bars). What I did find was this wonderful kooky example. The Flora-Bama Lounge – so named because it straddles the Florida/Alabama state line – can only be described as a dive, but it is an atypical beach bar: cheap cold beer that flows without end, fresh oysters shucked right on the beach and beloved by locals and out-of-towners. It also plays host to the Annual Interstate Mullet Toss in April, where spectators gather to watch alcohol-fueled competitors throw slippery fish across the state line.
---
9

Shipwreck Hut, the Cook Islands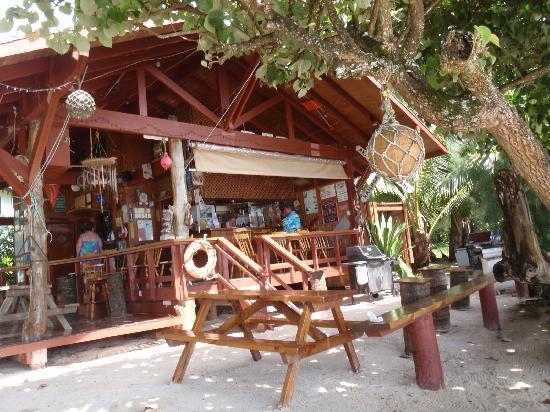 What is the beach bar you dream of owning when you retire? A gorgeous tropical beach, ice cold drinks, delicious food and a mix of locals and visitors? Welcome to the Shipwreck Hut. Located on the stunning Arorangi Beach on the island of Rarotonga, this is the domain of Jim. Jim is the owner and resident joker. He serves up his special magic cocktails in recycled jam jars, throws together luscious tropical fruit salads and omelettes for breakfast and afterwards leads you to Sunday church for sing-along with locals in their colorful muumuus and woven straw hats. Swing in hammocks, keep a watch out for whales, enjoy Jim's stories and just chill as you wait for the most glorious Southern Hemisphere sunsets (or sunrises, depending on how late you stick around).
So where are your dream beach bars? Do you dream of retiring to a tropical island and opening your own little bar on a slice of paradise?
---
Comments
Popular
Related
Recent