If the Christmas markets in the US are anything like the European Christmas markets, I highly recommend you visit one. The atmosphere, the sights and sounds, the wonderful smells so redolent of the season, the things to do, the things to buy as well as all the delicious food and warming drinks really make for a magical experience. Where to go?
---
1

The Great Dickens Christmas Fair in San Francisco, California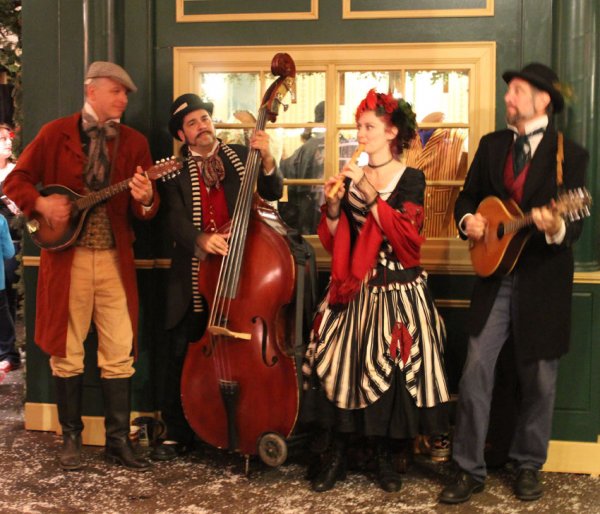 The Christmas Carol and other great works come alive in this fun tribute to 19th century author Charles Dickens. More than 120,000 square feet of space is transformed into London Town, complete with pubs, lamplit shops and music halls. Actors roam the winding streets in vintage clothing acting out the part of Dickens characters, including Ebenezer Scrooge. Tickets allow access to all entertainment, including plays and other activities. (I wanna go!)
2

Winter Village in New York City, New York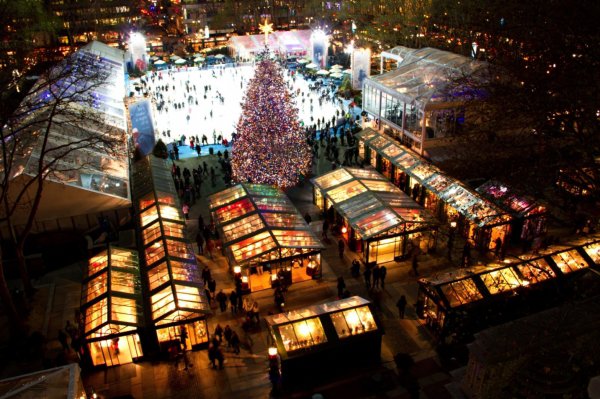 Located in Bryant Park near the Empire State Building, this Christmas market showcases the talents of 125 vendors offering anything from clothing and jewelry to seasonal foods. But that's not all. There's a great line up of high quality vendors. Nestled in amongst the tree-lined paths is an ice skating rink, which is free to the public (stake rentals are available if you don't have your own). And, there are also occasional skating shows for your holiday entertainment and fun.
---
3

Christkindlmarket in Bethlehem, Pennsylvania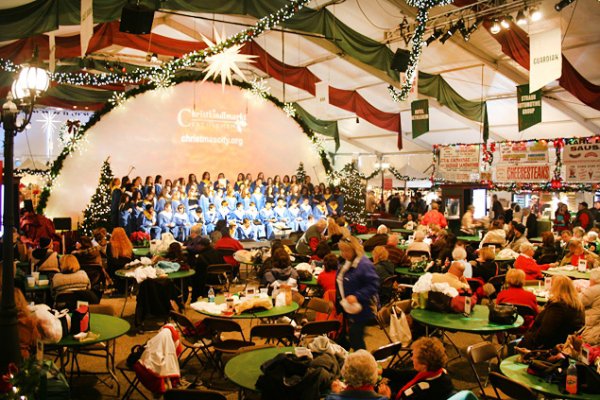 What better place to spend the holidays than Bethlehem, a city that prides itself as being The Christmas City? The Christkindlmarket offers handmade gifts, aromatic food offerings, and musical performances enough to get anyone into a holiday spirit. For a few extra dollars you can ride with your family or impress your date with a fun carriage ride, or take a walking tour. Eat breakfast with Santa or get a pic of young ones sitting on Santa's knee.
---
4

Georgetown Christmas Market in Georgetown, Colorado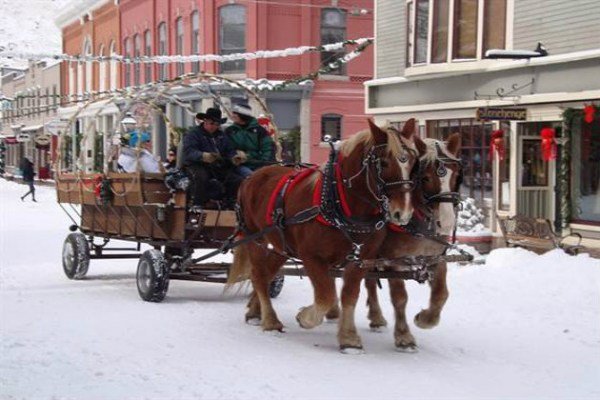 What a great way to spend the holidays; in the shadow of a showy mountain with a dusting of snow falling all around you. This town transforms itself into a historical Christmas venue, complete with roasted chestnuts, mulled wine, horse drawn wagons rides and handmade treats and gifts. Carolers, dancers, and Saint Nicholas are regulars along a magical street adorned with lights and blanketed in snow. Don't miss the Nordic St. Lucia Children's procession.
---
5

Christkindlmarket in Chicago, Illinois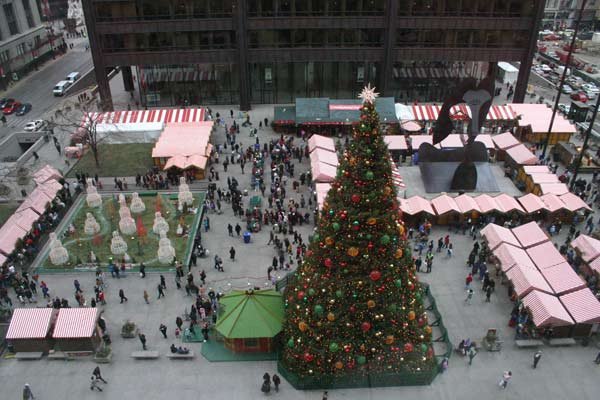 Transport yourself to Germany, where the heart of many of our Christmas traditions began. Many vendors, some coming all the way from Germany, offer nutcrackers, cuckoo clocks, and beer steins while food vendors offer yummy treats like strudel and schnitzel. One of the most popular events is the daily opening of a door on the advent calendar, where one lucky festival attendee can win an early Christmas present.
6

Christkindl Market in Arlington, Texas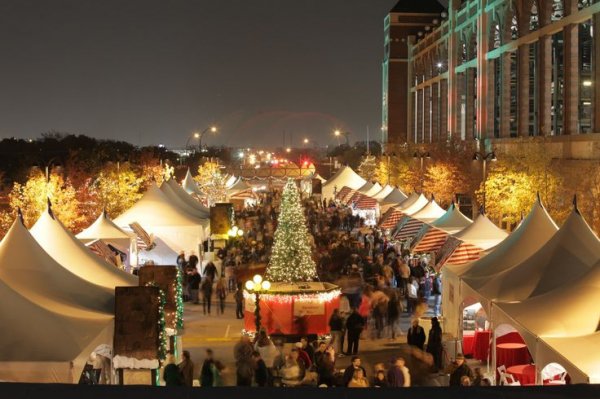 Arlington pulls out all the stops to honor its sister city in Bad Kingishofen, Germany and the more than 3 million Texas residents that share German ancestry. Vendors sell anything from Polish pottery to Alpaca wool clothing. The venue is very family friendly, and offers a puppet theater where the toys seem to come to life, as well as a Bavarian themed petting zoo. Both the young and the young at heart will enjoy dancing elves, snowmen and teddy bears.
---
7

Union Square Holiday Market in New York City, New York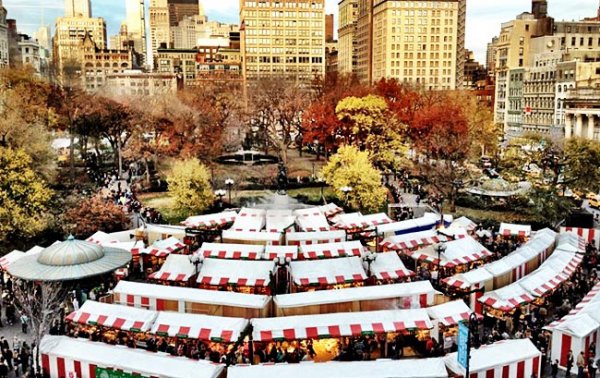 This market is a veritable New York institution, where nearly one million shoppers go every year to enjoy the atmosphere and offering of more than 150 vendors. Many vendors specialize in New York based fare, like artisan crafted jams and locally sourced goodies, particularly in the Little Brooklyn section. Enjoy handmade jewelry, holiday ornaments, children's toys and so much more under the iconic red and white striped tents.
---
8

Downtown Holiday Market in Washington, DC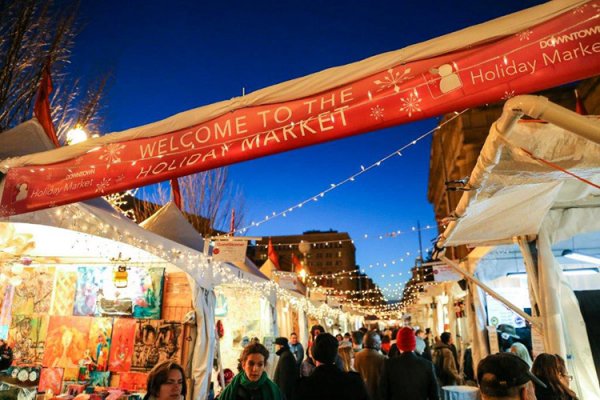 Located in front of the Smithsonian American Art Museum, this market takes on a worldly flair, which becomes apparent as you peruse the food vendors, who offer anything from German sauerkraut chocolate cake to Peruvian empanadas. With over 150 vendors, you'll find something for everyone on your shopping list. While you're shopping, you'll enjoy carolers and other seasonal performers.
---
9

Christmas Village in Philadelphia, Pennsylvania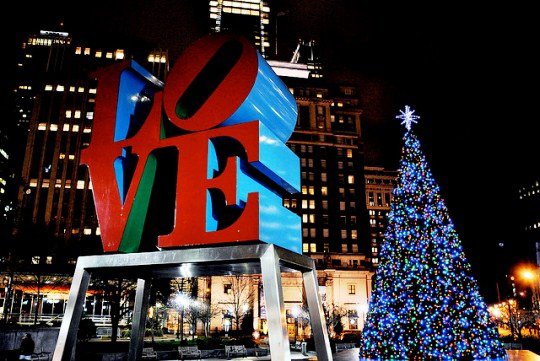 Modeled after the German Christmas celebrations, Love Park is magically transformed into Germantown with delightful twinkling lights and the wares of more than 60 vendors. Not only will you be treated to German delights such as Bratwurst, waffles, and mulled wine, but traditional crafts and ornaments reflecting German traditions. The market's management staff partners with the City of Nuremberg in Germany to get the authentic German flavor.
They sound great don't they? If you haven't got the seasonal feels yet, a visit to any of these Christmas markets will kick start your holiday spirit. I'm going to Bath Christmas Market this year. Have you made plans yet?
---
Comments
Popular
Related
Recent