Ahhh, Turkey. And, I'm not talking the ugly bird, but the very beautiful land with one foot in Europe and the other in Asia. Turkey is a delight- if you forgive the pun. And, after letting me off for the pun, you'll need to forgive this cliché – there's a mass of places to visit in Turkey, Although with us Brits, it has gained a bit of a reputation for being another Mediterranean holiday destination, for those cognoscenti who recognize a good travel destination, the places to visit in Turkey offer so much more than just a sun-kissed beach. So, grab a kebab or a chunk of Turkish Delight as we run through 7 Tantalising Places to Visit in Turkey:
Table of contents:
1

Istanbul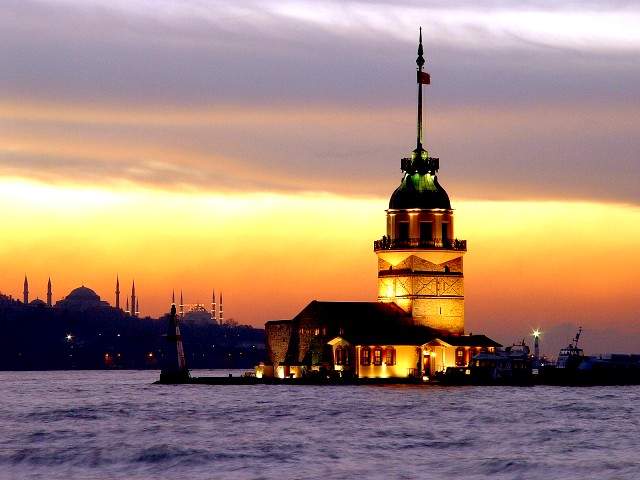 Enigmatic, mystical, and stunningly beautiful, Istanbul is one of the great cities of the ancient and modern worlds. The city, previously known as Constantinople and Byzantium, is Turkey's largest city but not the capital (that honor belongs to Ankara). There are two magnificent personalities to Istanbul. It straddles the Bosphorus Sea and half the city is technically in Asia, the other in Europe. Istanbul is crammed with monuments, monasteries and mosques, churches and citadels, palaces and piazzas, markets and modern malls, walls and water features, statues and sites of historical import. Istanbul is not only one of the best places to visit in Turkey, but in the World.
2

Patara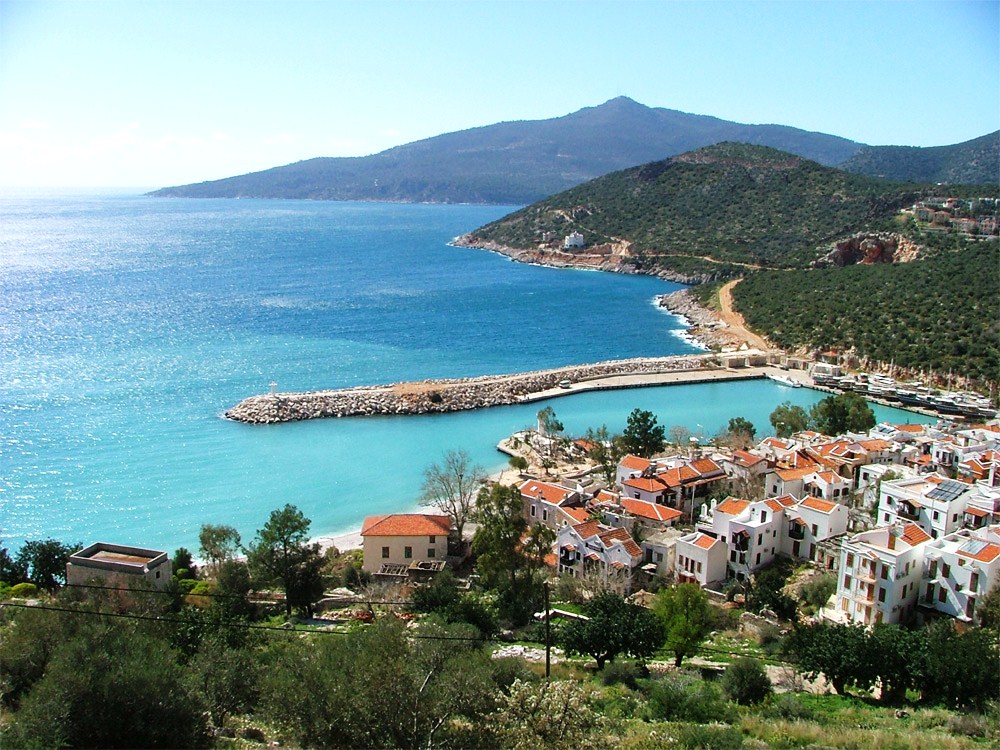 There are many beaches in Turkey that claim to be the best. The one that actually receives awards crowning it as Top Turkish beach is Patara. But, it isn't just the stunning white sand beach lapped by the cobalt waters of the Med that makes Patara one of the top places to visit in Turkey. Patara has a history. Although somewhat ramshackle and bohemian now, the village was the birthplace of St. Nicholas (who later 'became' Santa Claus). Before that illustrious figure's time, the locals built a huge temple and oracle dedicated to Apollo. Some of the ruins still remain. There are also connections with St. Paul and St. Luke. Whatever the roll call of famous historical figures, Patara's 21st century setting is a beauty of traditional life.
3

Cappadocia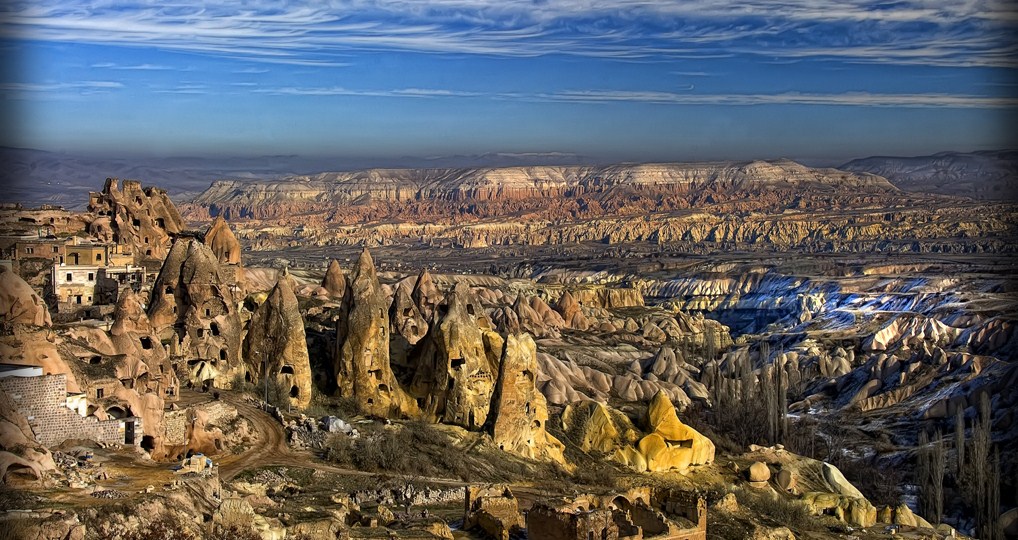 Turkey has two of the most amazing landscapes on the planet (see Pamukkale in next point). Cappadocia is a weird and wonderful scene of rock formations, many of which have been sculptured into houses, churches and other buildings. Incredibly, the constructions continue underground, some going as deep as 50+ meters. The rock formations are made of Tufa (a soft lava rock) and their twisted, magical shapes have led to them being named Fairy Chimneys. The huge number of trekking tours, hot air balloon flights, horseback treks and jeep safaris going in, around and over Cappadocia are testament to it being one of the major attractions in Turkey.
4

Pamukkale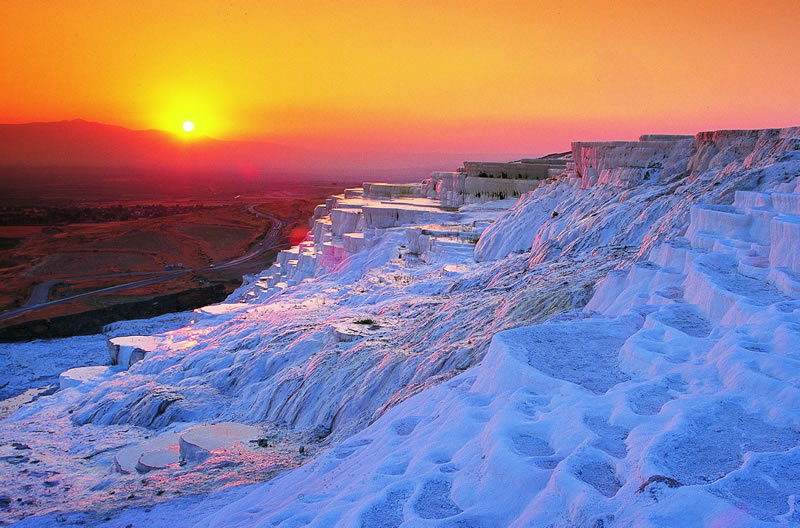 From one alien-esque landscape to another, Pamukkale is another out of this world site. It's actually quite hard to describe Pamukkale. Imagine snow white terraces carved out of cliffs, richly scattered with pools that look like footprints made by a giant with feet shaped like clouds, dustbin lids and flippers. Fill those pools with calcium rich thermal waters that reflect the interminable blue of the cloudless sky overhead, and you might just have the right picture in your mind. From a distance you can be forgiven for thinking it was a sight more akin to the Antarctic until you realize the temperature is probably around 40 degrees. Pamukkale in English means Cotton Castle – you'll see why.
5

Trabzon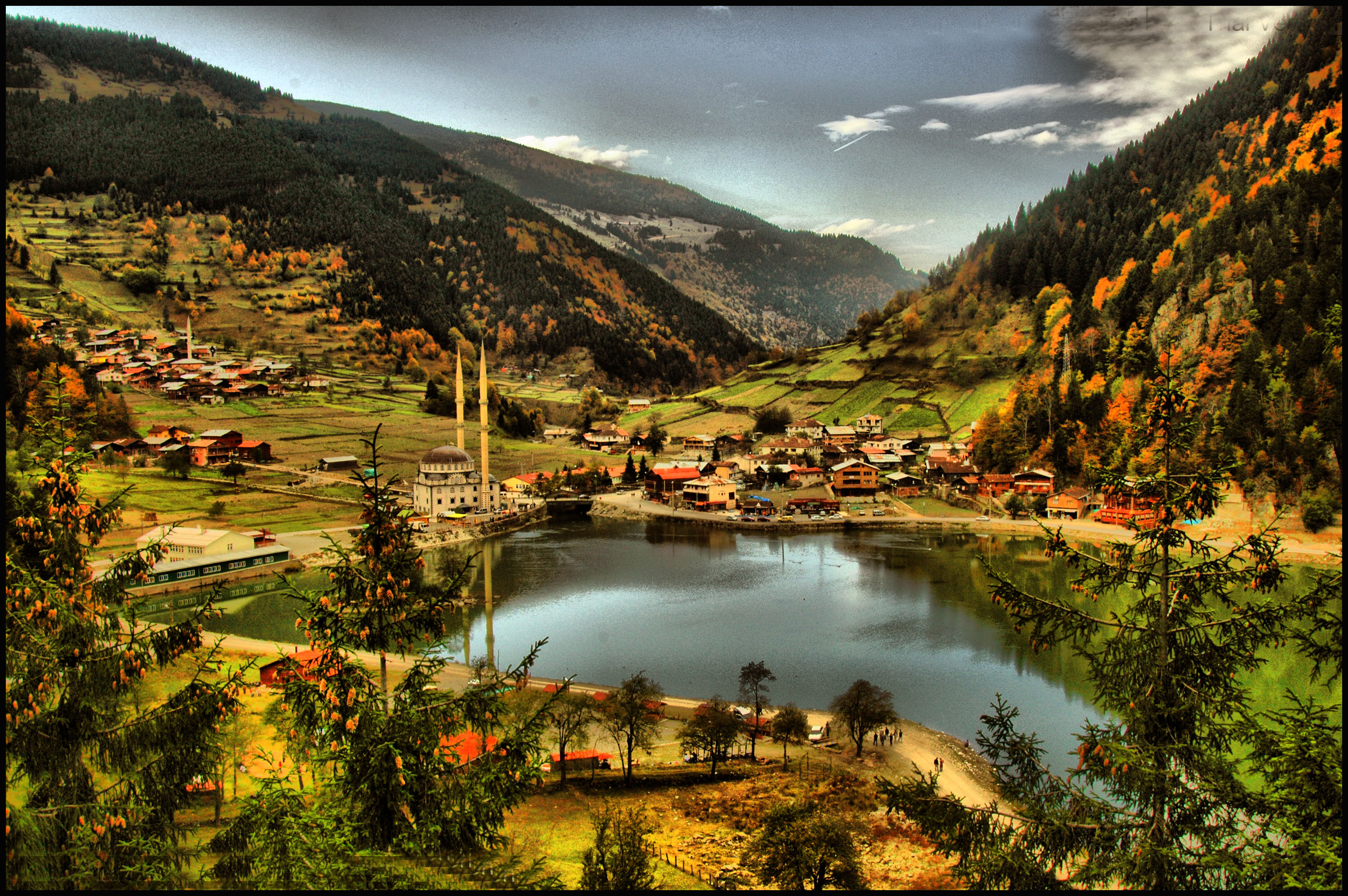 I've chosen Trabzon to represent the places to go in Turkey on the Black Sea Coast. This is one very busy place. It has always been that way. It grew up on The Silk Route and is still a major trading port today. It's loud, it's fast, it's chaotic – perfect for those who love city life. It can seem slightly seedy but that's part of its allure. The Old Town has retained its antique feel and there are some key sites most visitors want to see. These are the beautiful byzantine church of Hagia Sophia, Boztepe Park and the Ataturk Villa Founder of Modern Turkey). A must do excursion from Trabzon is Sumela. Here you'll find a dramatic monastery which has been carved out of a sheer rock face.
6

Ephesus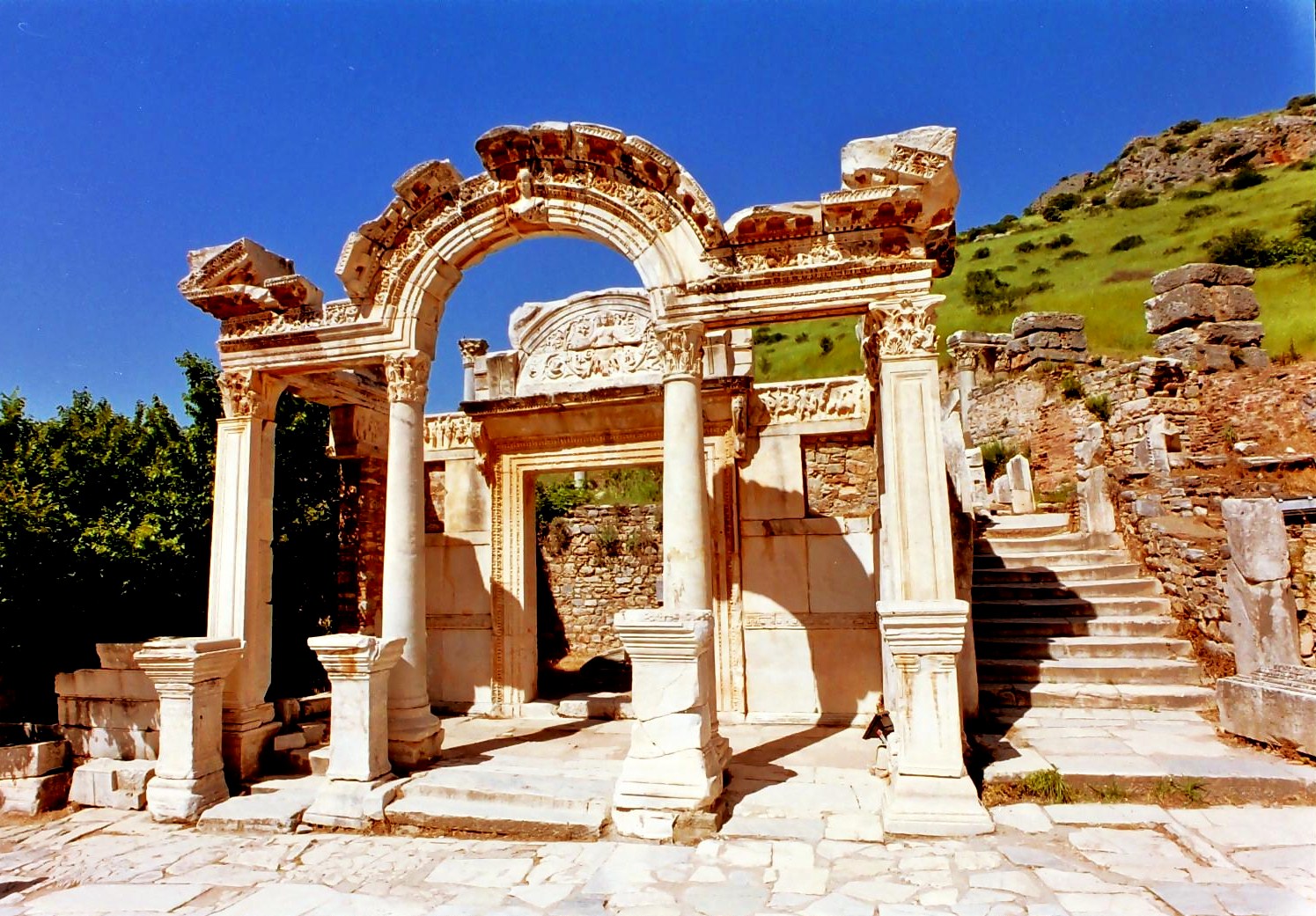 When we think about the Ancient Roman and Greek Empires, we naturally think of the major cities of Italy and Greece. Some of the greatest cities of these realms however, were scattered around the Mediterranean, like Carthage in Tunisia, and Casearea in Israel. The fabled city of Troy was actually in Turkey, as is Ephesus. Ephesus has been both Greek and Roman and bears many fruits of its conqueror's labors. The Temple of Artemis in Ephesus, dating from 550BC, is one of the Seven Wonders of the Ancient World. There are also other major archaeological sites here that make Ephesus one of the most important places to go in Turkey, for lovers of all things ancient. Check out the Temple of Hadrian, the Library of Celcus, the Gate of Augustus, the Basilica of St. John, the Odeon and the Temple of Domitian.
7

Kalekoy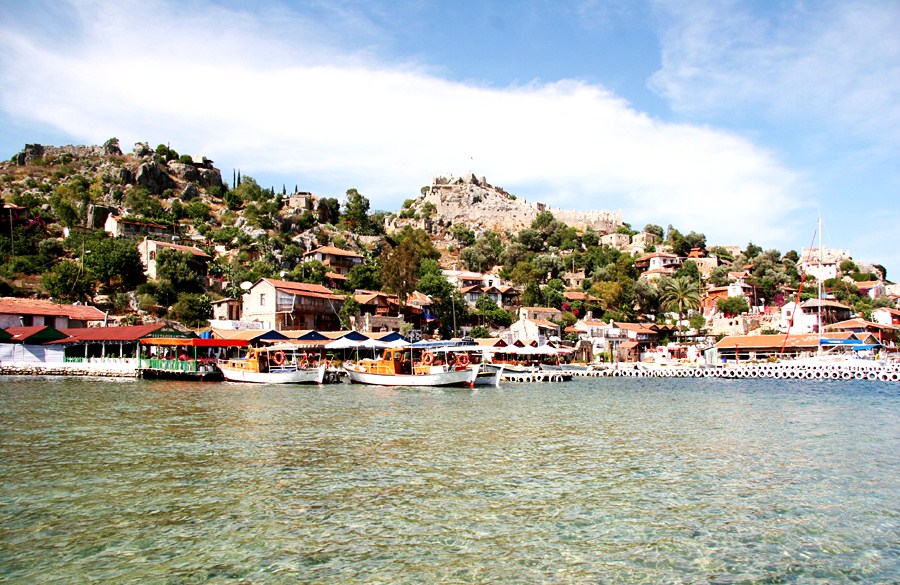 If you want to combine coastal beauty with sightseeing without having to travel too far, Kalekoy is one the best places to visit in Turkey., Kalekoy lies on Turkey's Mediterranean coast and can only be reached by sea or on foot. This makes it a very popular yachting destination. It sits in a partially sunken Lycian necropolis overlooked by a small Byzantine castle which has interesting crenulated ramparts. A trip up to the castle is definitely worth the effort. As well as having a small theatre cut out of the rock, there's a scattering of ancient tombs and sarcophagi and a Roman wall. The Views from the castle are amazing. You can see out across the Med and to the island of Kekova. The town harbor is a little gem and the seafood restaurants excellent. Kalekoy lies between Kas and Kale, so you certainly won't lack places to go and things to see and do.
This is just a very small selection of fabulous places to go in Turkey. Why not go and see for yourself.
Please rate this article