There are so many gorgeous attractions in Yosemite National Park. With 95 percent of the World Heritage Listed park area designated as wilderness, it's obvious Mother Nature has had a major hand in painting this picture. Whether you want to hike, take photographs or merely gaze on the beauty of our world, the attractions in Yosemite National Park are waiting.
---
1

The Waterfalls
Some of the most memorable attractions in Yosemite are the waterfalls. Fed by snowmelt, the amount of water present can vary depending on the time of year-May and June will have the highest water volume, while by August some falls are reduced to mere trickles. The crown jewel is Yosemite Falls, the 5th highest waterfall in the world at 2,425 feet. Bridalveil Falls is the most prominent waterfall on entering Yosemite Valley, and the Vernal and Nevada Falls are stair steps as the river falls toward the valley floor. Other notable falls are the Horsetail Falls, Ribbon Falls, and Illilouette Falls.
---
2

The Hiking Trails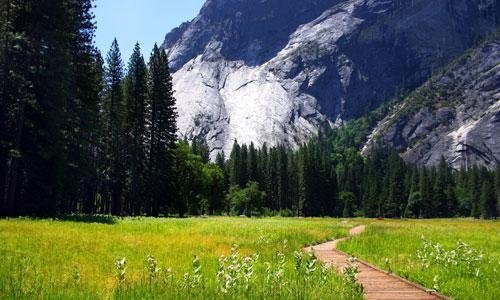 Yosemite boasts more than 800 miles of trails, ranging from paved paths for easy strolls to difficult and remote pathways that are designed for a more experienced hiker. Some if the easier hikes include the Bridalveil, Mirror Lake, Happy Isles and Sentinel trails, while some of the most difficult include 4-Mile, Half-Dome, Snow Creek and Upper Yosemite Falls trails. Those desiring a little challenge might take the Columbia Rock or Mist trails.
---
3

The Cliffs and Rocks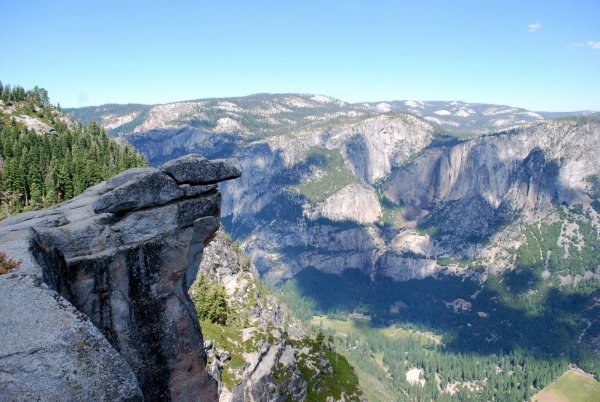 The cliffs and rock formations in Yosemite are mostly created by plutonic rock from long-ago volcanoes that cooled below the Earth's surface, but are now exposed. The Half Dome, towering at 8,842 feet above sea level, is one of the most recognizable of Yosemite's attractions. Sentinel Rock is a sharply jutting formation that reaches 7,038 feet, and El Capitan, at 7,569 feet above sea level, is a favorite of rock-climbers.
---
4

The Trees and Plants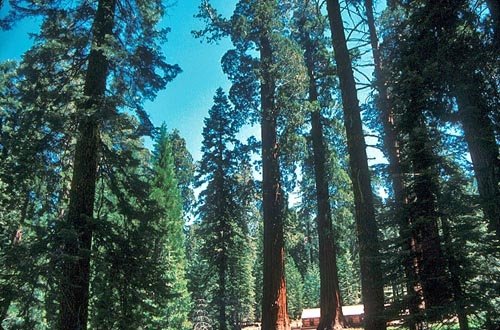 Probably the most awe-inspiring trees and some of the prettiest attractions of Yosemite National Park are the Giant Sequoias, found in three groves -the Merced, the Tuolumne and the Mariposa groves. Considered the most massive living things on earth, these trees can live to be 3,000 years old. There are hundreds of wildflowers that bloom at different times of the year, so flowers can be enjoyed for nearly 6 months of the year. Yosemite has several species of trees and flowers unique to the park.
---
5

The Wildlife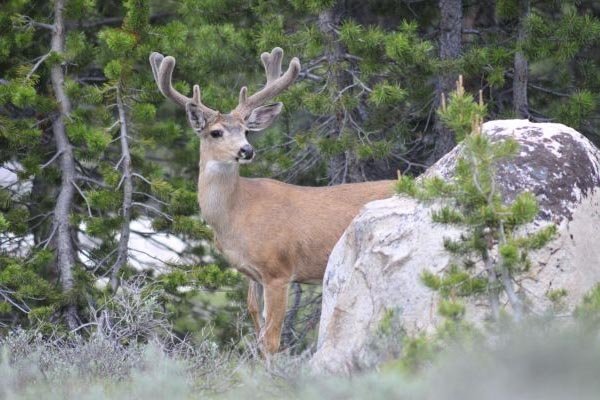 Those that enjoy wildlife will find an abundance of it at Yosemite. Hikers or campers are likely to come across some magnificent creatures, such as black bear, mule deer, mountain lions, coyotes, squirrels and chipmunks, hawks, falcons and owls, for example. Because of the black bear population, travelers are advised to practice safe food storage so bears don't come into camps or break into cars. Along roads you may see signs with a red bear and the words, "speeding kills bears," which are placed where a bear has been struck by a vehicle. Under no circumstances should you feed wildlife.
---
6

The Ansel Adams Gallery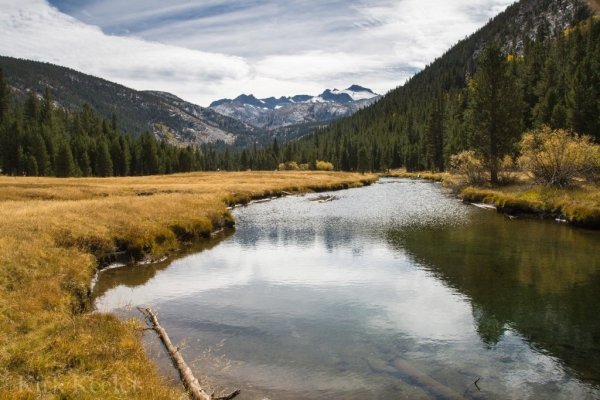 Located in Yosemite Village, one of the few man-made attractions of Yosemite, this gallery showcases the work of the famous photographer who spent a great deal of his photographic career snapping pictures of well-known features such as the Half Dome, El Capitan and Vernal Falls. His work may have been part of what made the park as popular as it is today. During the summer, take one of the gallery's free camera tours.
---
7

Yosemite Village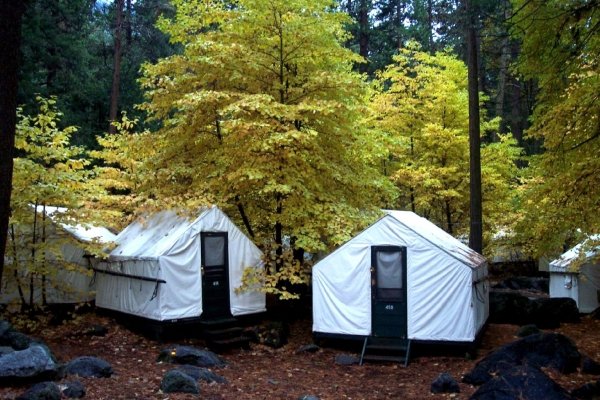 Often used as a stopping place for travelers en route to camping or hiking trails, it's also just a great destination to relax. There are many useful services and amenities available for the traveler, such as restrooms, a post office, garage, souvenir shops, galleries, a visitor center and a medical and dental building. Museums and education centers welcome travelers wanting to learn more about the area. Food, lodging and shuttles are available.
We have some gorgeous national parks in the UK, but nothing on the scale of Yosemite. The pictures look fabulous and I've always been a fan of Ansel Adams. It's definitely somewhere I want to visit. How about you?
More
Comments
Popular
Recent