Do you love beachcombing? Maybe you were inspired by all these lovely shell crafts and now you need to find some shells? So where do you go?
Table of contents:
1

Best US Place for Shelling: Sanibel Island, Florida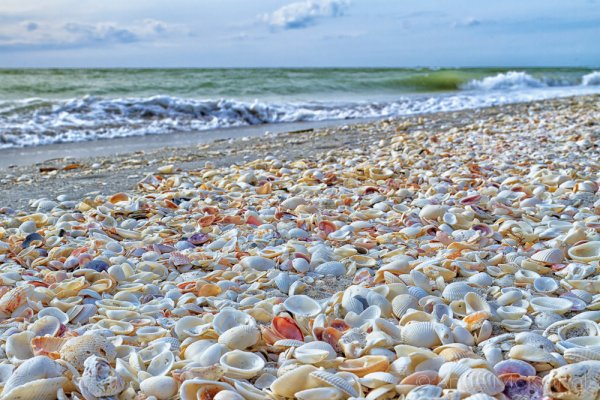 According to expert shell hunters, Sanibel Island, which lies just off Fort Myers in the southwest of Florida, is the nation's best spot for shelling and among the very best shelling beaches in the world. The beach is simply littered with seashells and, as the wind caresses and the surf scatters them, the shells turn into wind chimes, emitting eerie tinkling sounds. You'll see abundant wildlife as Sanibel has thankfully not been over-developed. Try some of the local restaurants, they are excellent and reason enough to come all year-round. On a rainy day, head to the Bailey-Matthews Shell Museum. In March shell hunters can enjoy the annual Sanibel Shell Fair and Show.
2

Try a Scotch Bonnet on Ocracoke Island, North Carolina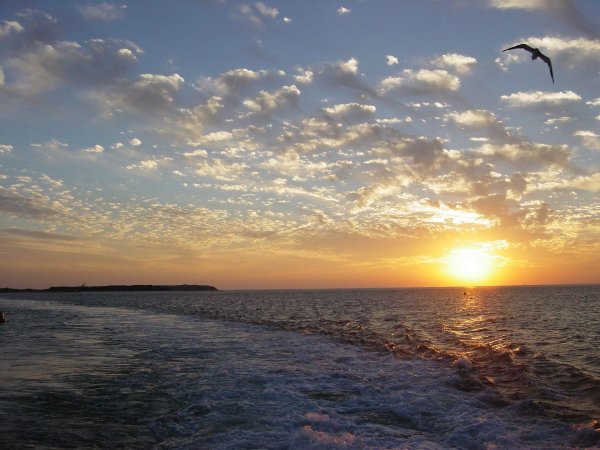 Unspoiled by development, the wetlands, marine estuaries and marshes of Ocracoke are a wonderful place to see birds, turtles, shellfish and other wildlife in their natural habitat. More than 400 species of birds alone are living on the island. One of the best beaches for shelling on the island is entirely National Park Service owned, belonging to the Cape Hatteras National Seashore. Seasonal closures for bird and turtle nesting may prevent you from hunting for shells all year-round, but this is one of the few places were the rare Scotch bonnet, the state shell of North Carolina, makes an appearance. Ranked third by Stephen "Dr. Beach" Leatherman in his 2006 "top beaches" list, Ocracoke is also a great place to come and watch bottle-nose dolphins.
3

Prime Pickings at Galveston Island, Texas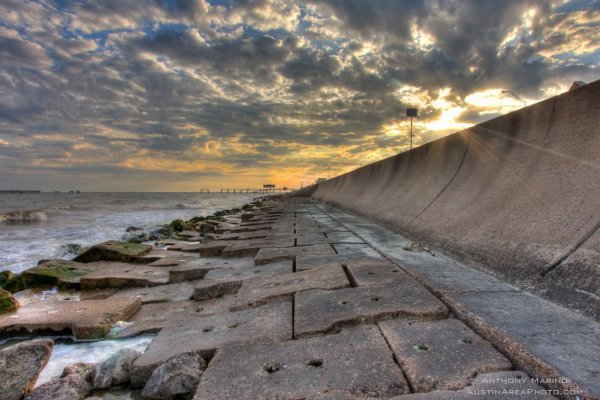 According to the U.S. Environmental Protection Agency's own website, "Gulf beaches are considered the best shelling beaches in North America". And it's no idle boast, for the shores of the Gulf of Mexico are renowned for being blessed with every conceivable type of shell. When cold fronts from the north hit the western end of Galveston Island, experienced shell hunters dress up warm and make their way to the beach. As the strong winds drive the water from the shore, large areas of fresh sand are exposed, ready for prospecting and filling your bucket with rich pickings. And in summer, Galveston's East Beach is the hippest beach in Texas; a fabulous place to show off your new bikini and talk about your vast shell collection at a Galveston beach party.
4

Meet the Shell Ancestors at Flag Ponds Nature Park, Lusby, Maryland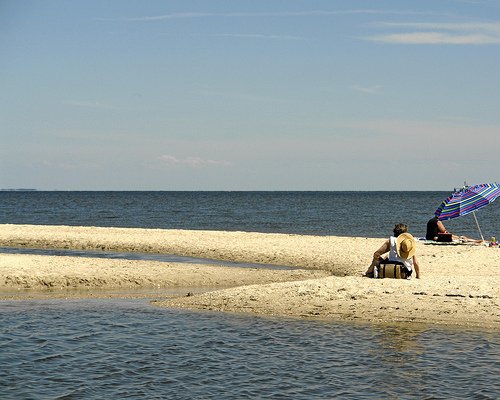 Millennia of erosion has washed shells that lived millions of years ago from their final resting place at Calvert Cliffs State Park to Chesapeake Bay south of Annapolis. Stretching for ca. 30 miles along what used to be the bottom of the ocean during the Miocene Epoch, the Calvert Cliffs hold a rich deposit of fossilized shells. As the sea bites into the cliffs every day new fossils, among them shark teeth and shells, are washed ashore. The park opens to the public every day in summer and on weekends for the rest of the year. Within the park lies a small public beach where you can prospect for shells - be sure to stay clear of the unstable cliffs or some future beachcomber will find your fossilized remains in a million years or so!
5

Prospecting for Dollars at Cumberland Island National Seashore, Georgia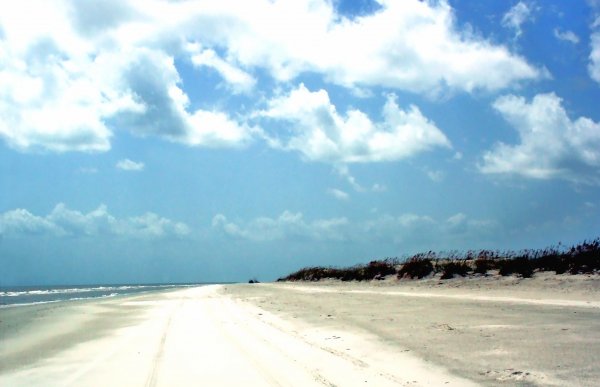 No, not the US Treasury minted variety - we're talking sand dollars here! The practically deserted 17-mile stretch along the island's Atlantic coast offers shell hunters unrivalled access to specimens that are still pristine and haven't been picked over by some tourist or beady-eyed gull. The National Park Service strictly controls access by ferry and there's no bridge across, so you can beachcomb for hours without being disturbed by rival shell hunters. Cumberland Island is not just one of the best shelling beaches in the US. It's a wonderful place to come and observe wildlife. Go to the marshland on the western side of the island - with a bit of luck you may find shark teeth. Cumberland Island is home and nesting ground to the highly endangered loggerhead sea turtle, so please mind your manners and respect their marked nests.
6

Nostalgic Shells and Hippies at Tunnels Beach, Kauai, Hawaii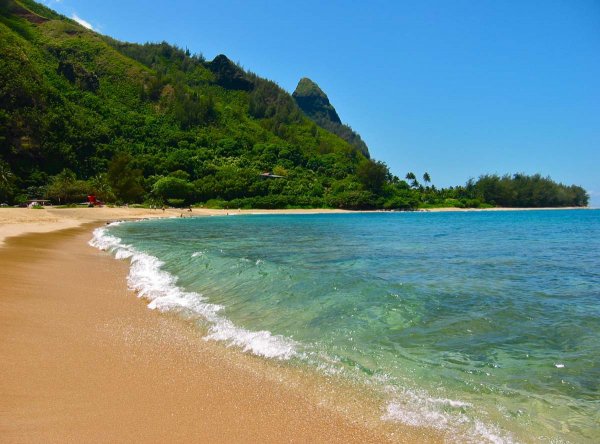 Tunnel Beach shells are single-handedly responsible for starting the shell necklace craze of the 1960s, condemning every female hippie on the planet to wear one or be denounced as totally uncool. Today's shell prospectors regard the beaches of the northern shore of Hawaii's "Garden Isle" as one of the best shelling beaches in the archipelago, particularly the sandy harvest grounds of Haena, close to the road that doesn't quite manage to embrace Kauai. If you like snorkelling, this is the place for you, for the island has a protective reef that ensures waters are shallow and tranquil for a multitude of marine life.
7

Shell Harvests on Eluthera Island, the Bahamas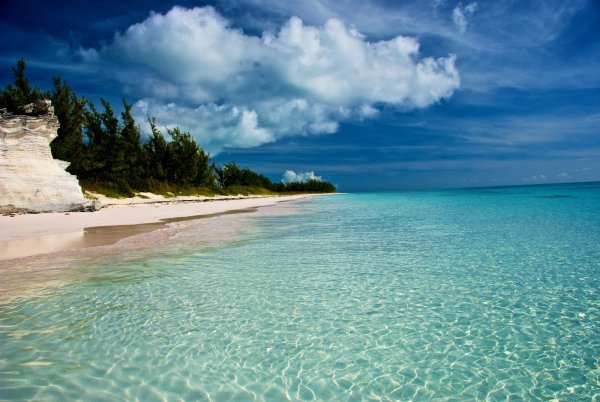 The sensible thing is to avoid hurricanes but on Eluthera Island stormy weather deposits veritable hills of shells on the beaches, so beachcombers practically pray for storms. Ok so not a US beach but situated just an hour by air from Fort Lauderdale or Miami, Eluthera Island is a popular place to come for snorkelling. Accommodation on the island is basic and without frills, although there are some fine New England style houses. No shops to speak of, but local restaurants serve excellent seafood, so who cares! As part of an archipelago, Eluthera Island floats in shallow waters that appear baby blue instead of the usual deep dark blue of the Exuma Sound, which stretches thousands of feet deep. A gentle current below the surface creates an otherworldly wave pattern in the sands. Known as the pineapple capital of the world, the island has been farming pineapples since the mid-18th century. An annual Pineapple Festival held in Gregory Town in June honours this tradition.
Got your pail handy? You'll need something to carry all those lovely shells in!
Please rate this article