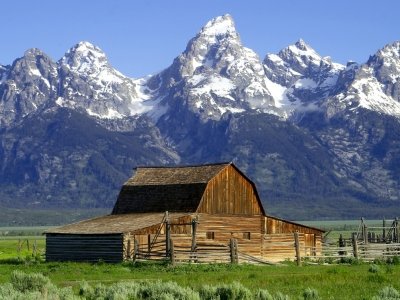 Jackson Hole is a beautiful tourist town in Wyoming, and if you want to know the ways to explore Jackson Hole like a local I can help you. I was blessed to grow up in Jackson Hole and have many fond memories of living there. I was lucky to experience Jackson Hole as a local, and I would like to share some of the great places locals gather with you. If you are planning on visiting Jackson Hole, or Yellowstone National Park for that matter, I can give you some tips on the best ways to explore Jackson Hole.
1.

String Lake

String Lake is one of many lakes in Grand Teton National Park, but it is less crowded than some of the other lakes. Jackson Lake and Jenny Lake are larger lakes and more popular for tourists to see. However, String Lake is very beautiful and was one of my favorite places to have a picnic and spend an afternoon when I lived in Jackson, and visiting String Lake is one of the great ways to explore Jackson Hole. It is a narrow lake, hence the name, that you can hike around and swim in. Although, I should warn you that all the lakes in the area are very cold. Children don't seem to mind, but the chilly temperature did bother me when I got older. If you want to really picnic like a local, grab some fried chicken at Albertson's before going to the lake.
2.

Miniature Golf

I am sure you are thinking that you are not going on vacation to play miniature golf. However, this isn't just miniature golf. This is miniature golf with a view. Alpine Mini Golf is located at the base of Snow King Mountain and has views of the town and the Teton Mountains. It is a cute little course that is fun. When you finish with your game of golf, you can go on the Alpine Slide, which is quite a rush!
3.

The National Museum of Wildlife Art

I was pretty young when the National Museum of Wildlife Art was built, but I can remember watching as the beautiful structure went up. It was built to look like a stone castle, and it sits on a hill overlooking the National Elk Refuge, which is where the elk go when the winter comes. It is a great place to go on a rainy day. The art is absolutely breathtaking, as are the views. The Sleeping Indian Mountain is one of the many spectacular sights you can see from the museum. There is also a nice restaurant that you can stop in for lunch after you have toured the museum.
4.

Merry Piglets

One of the more popular restaurants among the locals is Merry Piglets. It is a Mexican restaurant with fabulous food. Merry Piglets is located in downtown Jackson and is a great place to go after exploring the shops in the town square. It does get very busy because of how great the food is, so, you might want to have an early lunch or dinner to avoid the crowd.
5.

Calico Italian Bar and Restaurant

This is a great Italian restaurant to take the family, especially if you have young kids. It is outside of Jackson near Teton Village. You may want to call ahead for reservations just to be sure you have a seat. One of my favorite things about this restaurant is the beautiful porch you can have dinner on. It overlooks a large yard that kids can play in and sits next to a vegetable garden that is used by the chefs. The food is also wonderful and shouldn't be missed.
6.

Camp Creek Inn

To really experience Jackson Hole like a local, you have to go to the Camp Creek Inn. It is a restaurant located in Hoback Junction just outside of Jackson. The drive to the restaurant is beautiful, and very few tourists go there. Like the previous restaurant, you will want to make reservations. When you do get there, you have to order the beer battered mushrooms. They are absolutely delicious.
7.

The Million Dollar Cowboy Bar

This is a bar that is frequented by locals and tourists, and for good reason. It is the best bar in Jackson. Unfortunately, I never had the opportunity to go in the bar because I left before I turned 21. However, I do plan on going the next time I visit. I have wanted to sit on the famous saddle bar stools for quite a long time. Almost my entire family has pictures of themselves on these stools, and I want to join the party. Speaking of a party, this is a great bar to go to for a night on the town.

I loved living in Jackson Hole, and have a special place in my heart for the town. If you are visiting, these are great places to include in your itinerary. If you go to these places you will get a little taste of some of the local's favorite spots. Have you ever been to Jackson Hole?