7 Tips for a Smooth and Easy Airport Experience ...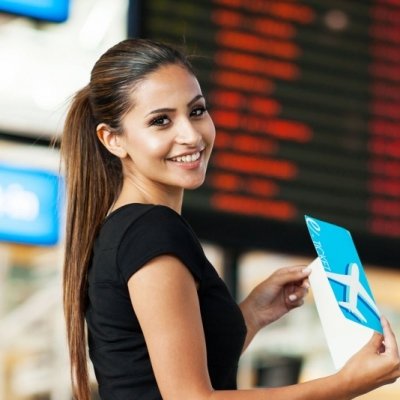 Airport travel can be stressful, but it doesn't need to be with these tips for an easy airport experience. Whether you're a frequent flier or simply someone who's looking to make things easier the next time you travel, these tips for an easy airport experience will make your life, and your trip, so much more relaxed!
1.

Organize Your Carry-Ons Accordingly
You know what you're going to need in the airport. Don't pack what you'll need (ID, boarding pass, passport) at the bottom of your bag. You'll only have to tear your bag apart in line. Not only will it be a hassle for you, but it will hold everyone else up. In my opinion, this is one of the most important tips for an easy airport experience. If you have more than one carry-on, pack what you know you'll need on the plane in the smaller of the two carry-ons. If you're asked to check your bigger carry-on, it won't be nearly as big of a deal because you won't need anything on the plane!
2.

Be Prepared for Anything
Airlines are tricky. You never know what could happen. You could get stuck spending the night in an airport, or even worse, lose your luggage. In a worst case scenario where that happens, be prepared. Keep at least one outfit that doesn't take up too much room in your carry-on, especially if you're traveling to a place where you can't necessarily buy new clothes.
3.

Print off Your Boarding Pass
I'm one of those few people who love to just send my boarding pass to my smartphone in a text message. It saves paper, saves you from having to fish around your bags for your boarding pass, and most of all, it's convenient for those trips that you don't have a printer handy. That being said, it's also important to have a printed boarding pass on hand, just in case. Recently, I was in an airport with very little 3G service, wireless Internet that wouldn't connect, and worst of all, a boarding pass that needed to load. It eventually worked out, but since then, I won't send my boarding pass to my phone without also printing one off.
4.

Streamline the Processes
You know what you're going to have to do when you get to the airport so do anything you can to make those processes easier for yourself. Check into your flight on your computer beforehand to avoid the lines at the airport. Wear shoes that slide on and off easily, and do anything else that you know will help you out at the airport.
If you're at an airport that's big enough to have trams available to transport you across the airport, utilize them. They're there for a reason. A lot of people tell me that they refuse to use trams because they think it takes longer than running does, but in the long run, if you have a short layover, trams will get you there in a matter of minutes, and running could take at least ten.
6.

Prep Your Favorite Devices Accordingly
Whether you prefer to read books on your Kindle, watch movies on your iPad, or simply like to listen to music on your iPhone, make sure your devices are ready. Especially with Apple's "Cloud" feature, you may think your favorite shows and movies are downloaded, but when you don't have service or wireless Internet, you may learn that they're actually in the Cloud. It's also important to properly charge everything the night before your flight. You never know when you'll get stuck in the airport due to delays!
7.

Look into the Pre-Check Option
If you're beginning to travel more than you ever have before, look into the pre-check option. In the long run, it will save you so much time and waiting in lines at the airport during all of your many trips.
What are your tips for making airports easier? Help each other out in the comments!
{{#comments_count}} Show Commnents ({{comments_count}}) {{/comments_count}}