Summer is almost over, and if you're planning a last minute overseas vacation, Thailand is an amazing place to visit – there are so many things to do in Thailand to enrich your cultural experience! For over 6 years I spent my childhood there, and I have so many memories to share with you ladies. I'm sure lots of things have changed since then, but these 7 things I'm sharing with you are activities and attractions that have lasted through time to prove it's really a cultural experience. I didn't include many Historical landmarks or every great vacation destination within Thailand, but I listed several specific places and activities that you do not want to miss. Here they are ladies, 7 things to do in Thailand to make the most of your experience.
Table of contents:
1

See the Floating Market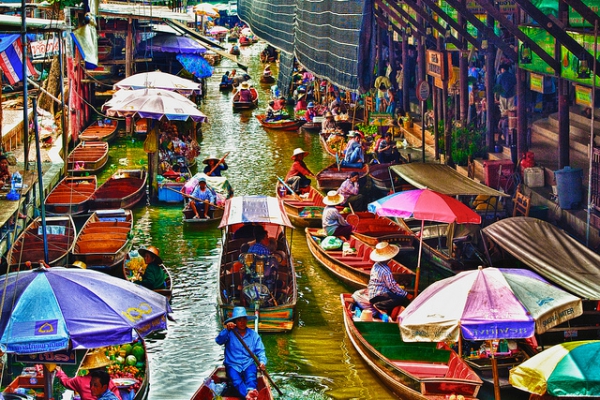 This is a must-see in when you visit Thailand! If you haven't heard of it already, a floating market is a market in which people sell goods on boats. The scene of colorful boats filled with cool trinkets or fresh, tropical fruit is not something you can see every day. Floating markets are very popular to both locals and tourists. Amphawa, Damnoen Saduak, and Khlong Lat Mayom are some popular floating markets in Thailand. Let's examine the next attraction for more of most awesome things to do in Thailand…
2

Visit Chatuchak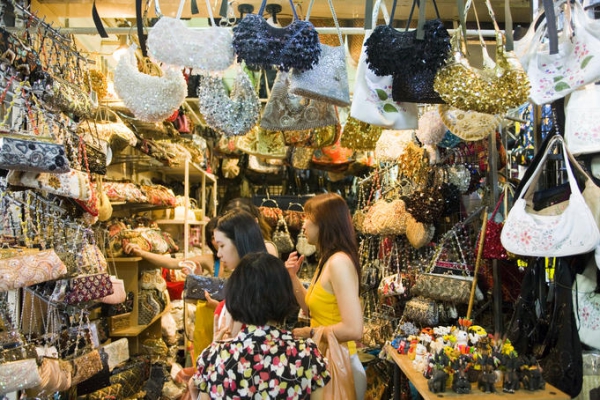 Speaking of markets, here is another flea market that is worth your time. The Chatuchak weekend market in Bangkok is one of the biggest markets in Thailand, and the biggest weekend market in the world – yes, in the world! The market covers 35 acres and sells a wide variety of things including clothing, animals, food, and handicrafts. You won't be able to see every store, but a walk through the market may find you some cool souvenirs to take home and remember your experience.
3

Have a Mini Beach Vaca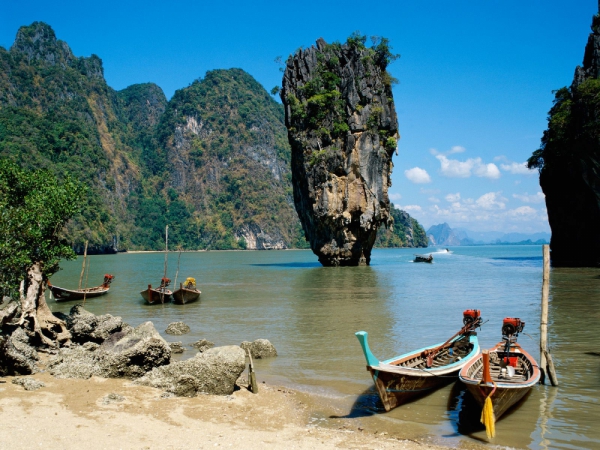 There are lots of things to do and see in Bangkok alone, but if you are interested in having a relaxing time away from the city, a mini tropical beach vacation will give you a chance to see some beautiful beaches in Thailand. Some places to consider are Phuket Island, Phi Phi Island, Koh Samui Island, Hua Hin, and Krabi. Sip a coconut while you sunbathe in the tropical sun! Try on a sarong — a long wrap skirt — and find some frangipani flowers for your hair! If you want to be more active, make sure to ride a speedboat or banana boat and keep cool from the hot sun.
4

Don't Miss the Grand Palace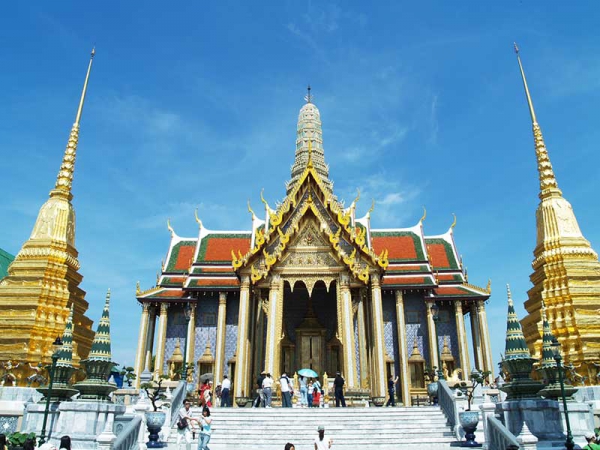 Like I said earlier, I'm keeping historical landmark suggestions to a minimum, but the Grand Palace in Bangkok is a spectacular sight you don't want to miss. It's easily the city's most famous landmark and home of the Thai king for 150 years, since 1782, when it was built. Inside the palace grounds are several buildings, one of which include the Wat Phra Kaew (Temple of the Emerald Buddha), which is considered the most sacred Buddhist temple in Thailand. Absorb the beautifully crafted architecture and feel the spirit of Thailand.
5

Shop at the Legendary MBK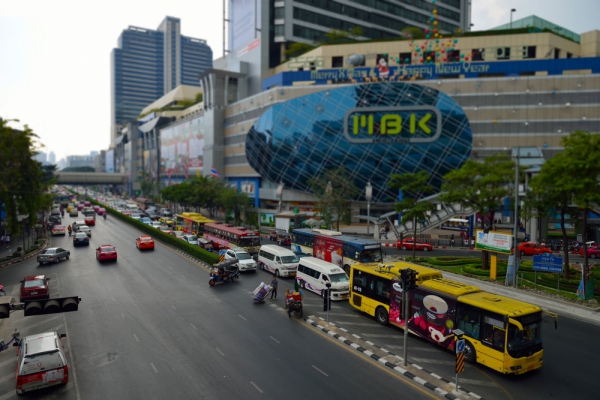 You might be inclined to look for high-end brand stores when you think shopping in a foreign country, but check out MaBongKrong (MBK) for the full local feel. MBK is an 8-story mall that attracts both locals and tourists alike. The mall offers affordable goods and pretty much everything you can imagine – it's a whole new world in there! Practice bargaining with local store owners and get great deals on things like leather goods and accessories.
6

Ride an Elephant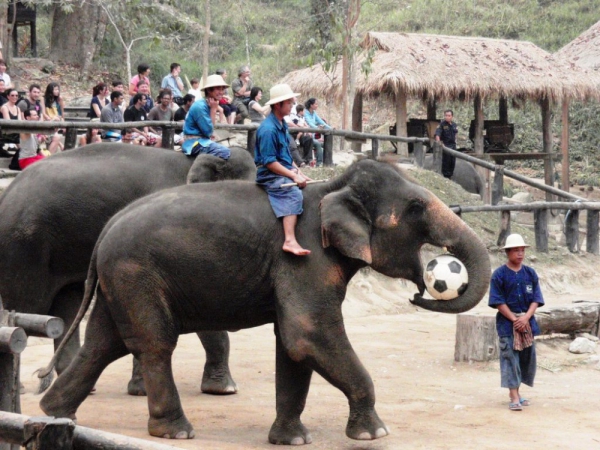 Go to the Khao Yai National Park to explore the jungles of Thailand and trek through on the back of an elephant. If you're not too into wildlife, you can visit a zoo or find elephant-riding tours in several different cities. Thailand's got alligator and snake farms, and will likely have many exotic and tropical animals you don't see at your local home. If you are in for the full wildlife experience, you should consider a safari excursion to meet Thailand's wild animals.
7

Try Some Authentic Food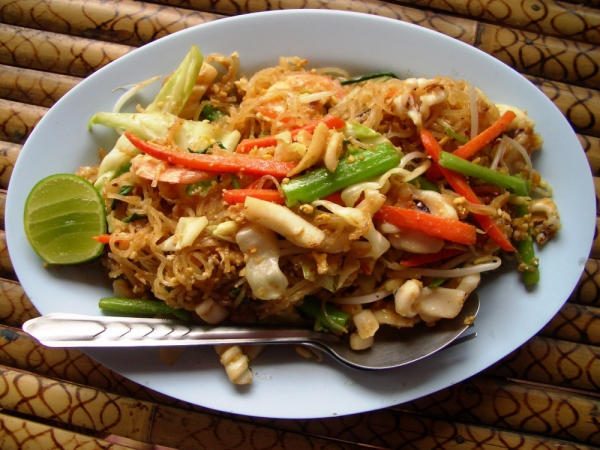 Try some authentic street food if you dare, instead of sticking to restaurant and hotel foods. If you want to be on the safe side, you can go only for cooked foods, but I assure you that eating a traditionally cooked meal in a tent within a market after a long walk of sightseeing will be a different and cool experience from sitting in a high-end restaurant with your waiter serving your food. Not to mention the food – unlike what you might think from the looks of the place - is amazing. If you're looking to enjoy a Thai dinner with friends or family, there are Thai dinners with classical Thai dance shows combined, which will allow you a fuller experience.
If you are scheduled for a short trip, this will be a good guide for which attractions to see. Visiting some of the more popular beaches may take some time, but remember that Thailand is surrounded by beaches if you can't go far. If you are on an extended trip, you should consider traveling to farther cities like Kanchanaburi and Chiang Mai for more attractions. Even though I've lived in Bangkok for so long in the past, the richness of Thailand's culture, the friendly locals, and most of all, its' incredible cuisine has been so memorable that I cannot wait to go back someday. Have you been to Thailand or have experienced some of these activities first-hand? Tell me about your experience!
Please rate this article