You are going to need to know some good ways to survive Oktoberfest if you are attending one of Europe's greatest festivals. Every year, Germany has a massive celebration of beer and all things German, but it is in Munich where the true and original Oktoberfest happens. Others are a pale imitation of the monster Bavarian beer gathering and to really make the absolute most of this incredible fun experience, follow these ways to survive Oktoberfest.
---
1

Go in September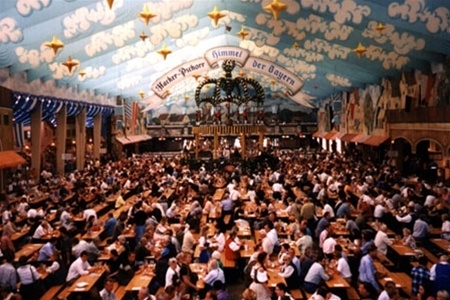 As one of Germany's most popular annual events, Oktoberfest draws masses of international tourists, not to mention the hordes of Germans, who also flock to the festival. Something that many international tourists don't realize however is that Oktoberfest actually begins in September! If you want to get into a tent and really enjoy a stress-free beer festival, you may therefore find that visiting the festival during the last 2 weeks of September, in addition to arriving there early in the morning, is a great tip for how to survive Oktoberfest!
---
2

Watch Your Spending

Pacing yourself is one of the most important ways to survive Oktoberfest, although it's definitely something that most party goers fail miserably at. With a liter of beer (known as a Maß) costing roughly 10€ - $13 (including a tip, which you have to pay if you ever want to see your waitress again), it's extremely easy to spend all your cash in one hit. A great way to make sure that you don't bankrupt yourself on the first day however, is to make a strict budget and leave your credit cards safely back in your room.
---
3

Beware of Drunken Arguments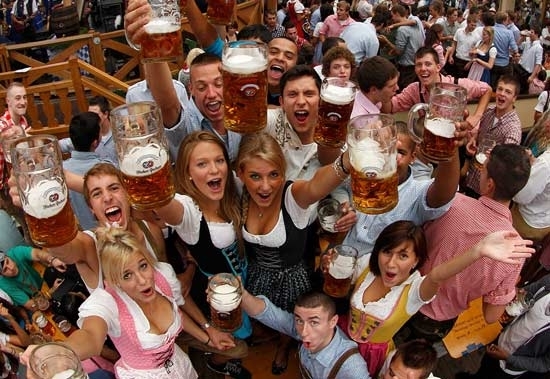 Anywhere there are excessive amounts of alcohol there's bound to be a few tiffs, although Oktoberfest seems to have a way of quickly escalating even the tiniest of quarrels. One of the most effective ways of surviving Oktoberfest is therefore to simply relax and walk away from any issues that may arise. You'll find that you don't need to walk far, before you find a whole new group of like-minded, fun loving drinking buddies.
---
4

Order an RADLER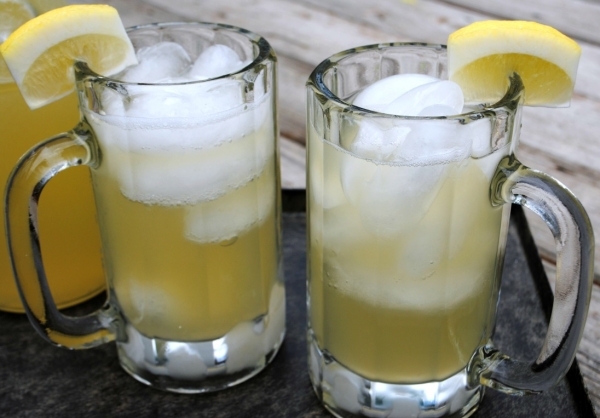 One of the sneakiest ways to survive Oktoberfest if you're partying with a group of friends is to order an "Radler" (beer with lemonade) instead of a full strength beer. Most people don't realize that this is actually an option, causing them to drink far too much too quickly. You on the other hand, will still be the life of the party long after your friends have stumbled home to bed.
---
5

Learn a Little German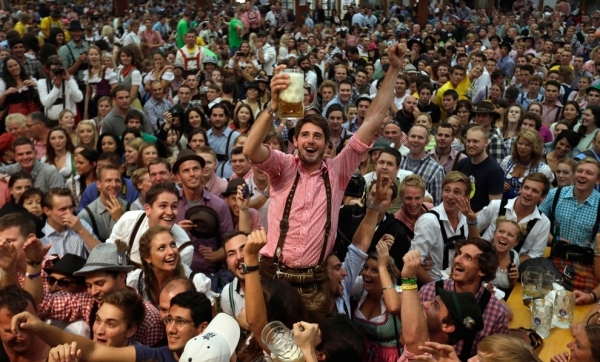 Learning a little German is a great way to make the most of Oktoberfest experiences. Although the majority of Germans can speak English, they are generally impressed when an international traveler is actually interested in their culture and language, as well as their beer. You also never know when you may get terribly lost and need to read a sign or ask for directions after a day of heavy drinking, so learning the language is certainly a helpful tip for surviving Oktoberfest!
---
6

Eat!

Eating is not cheating when it comes to Oktoberfest! Many partygoers skip meals, or forget to eat whilst attempting to keep up with the locals, which generally makes for an extremely messy experience. One of the most sensible ways to survive Oktoberfest is consequently making sure you drink enough water, and take breaks now and then to grab some food. Eating in the tents is not recommended however, as the food is very salty (which only serves to dehydrate you further) and extremely expensive. The festival grounds outside the tents in comparison can certainly provide you with some traditional, quite reasonably priced German dishes.
7

Give Yourself a Few Days Extra in Munich to Recover

Trying to fit a visit to Oktoberfest into a short stay in Munich really isn't the best idea. Firstly it can be quite difficult to gain entrance to the beer tents depending upon which tent you'd like to visit and what time of day you go; and secondly you'll definitely need a few days of down time to recover from the excessive drinking you'll no doubt be doing during your time in the beer tents. One of the best ways to survive Oktoberfest is consequently to give yourself at least a week in Munich; who knows, maybe you'll even have time for some sightseeing too!

Oktoberfest is a fabulous experience that should be enjoyed and remembered. It seems pointless going if all you remember (if you remember anything at all) is some beer fuelled days of pretty much doing nothing but sitting in a tent. Being sensible doesn't mean boring! You can still have the time of your life. Have you ever been to Oktoberfest?
---
Comments
Popular
Related
Recent