7 Top Shops for Fashion in Cape Town ...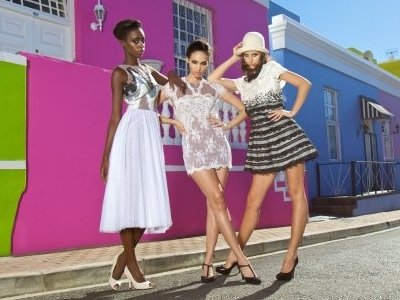 South Africa is one of the greatest travel destinations of recent times and if you want to do some extra damage to your credit card on vacation, you can head to the fashion shops in Cape Town. This wonderful city has it all – the most incredible scenery (it's overlooked by Table Mountain and sits on a stunning bay), historical attractions (including trips to Robben Island) and a diverse and eclectic culture which is reflected in all aspects of life and living in the city. Here are the fashion shops in Cape Town every stylish girl on vacay (or living in the city) needs to know about.
1.

Coco Li at Green Point
One of the fashion shops in Cape Town since 2004, it was established by Leigh Tzouvanni and Lana Goslett, who put their design and architecture qualifications into choosing fashion designs. The two fashion sisters are on the same wavelength when sourcing the loveliest locally-designed and produced items for you to look great. Their racks and shelves are stocked with lots of unique fashion, including fun baubles by mainly South African designers. The beautifully wrapped and presented items make this a great boutique experience for all fashion conscious travelers. Find out more at cocoli.co.za.
2.

Think! Shoes at Victoria & Alfred Waterfront
You're eco-conscious but you like leather goods, so this shoe boutique is definitely for you. All leather used is a byproduct of food processing and the raw hides are not preserved with chemicals. You can rest assured all shoes, belts and bags are made to such strict organic and ecological ethics that even carcinogenic AZO colours are never used – only natural, toxin-free, plant based colour is used and even shoe soles are of natural cork. The Aida shoes and Balla bags have an unmistakable fashion look that is healthy and comfortable to wear while you're checking out other Cape Town fashion shops and cosmopolitan venues. You can learn more at capequarter.co.za.
3.

Errol Arendz at Hout Street, Cape Town & 18 Hope Street, Gardens
Add a label to your fashion collection that is local African and world renowned by couturier Errol Arendz. He became an overnight fashion sensation when socialite Barbara Barnard wore his first collection. Errol is adored for his old-school attention to detail, cut and quality; all skills he picked up in London and Paris in the 1970s and which helped put Cape Town fashion shops on the map. The great thing about an Errol Arendz, whether haute couture or off-the-rack, is that it's so classic it looks on trend season after season. His boutiques are a haven for local and international celebs wanting special pieces and even backpackers have been known to find a place for an original Errol Arendz before heading back to the States. See what you like by visiting errolarendz.co.za.
4.

Hilton Weiner at Cavendish, Canal Walk, Berg
If you want to experience some world class shopping, then Hilton Weiner fashion shops in Cape Town are waiting for you. Their elegant, airy shops sell sophisticated clothing that is comfortable but still fashionable. You get to try and buy luxury separates like shirts, pants and cocktail wear that won't date. You'll be tempted to accessorize with their jewellery, shoes and leather goods. Hilton Weiner is a premium South African fashion brand that's been around for thirty years. Discover it for yourself at platinumgroup.co.za.
5.

Mungo & Jemima at Long Street & Claremont
You are determined to go home with a load of fashion by South African designers, right? That's why the Mungo & Jemima concept fits you. You'll find this boutique overflowing with designs if you want to be trendy and unique because they nurture new designers. Here, it's easy for you to follow your individual style because of the variety of labels, bags, accessories and shoes – all under one roof. This is a fun way to get in touch with trendsetting designers without having to visit too many Cape Town fashion shops. See for yourself at mungoandjemima.com.
6.

Just Cruizin at Long Street & Green Point
When you're anywhere in Africa, you want to be cool and comfortable and you can be, if you wear pure cotton. At Just Cruizin you can kit yourself with possibly the most loved and trusted cotton clothing range in the city. The muted natural tones of the cotton and linen knitwear look like they are straight out of Africa and you'll fit right in. When you get back home, everyone will want to know where you got your fresh looking cotton and linen pieces because they look so classy and comfy. Learn more at justcruizinclothing.com.
7.

Babette Clothing Store at Church Street
After you've done the rounds of some of the trendy fashion shops in Cape Town, it's time to be a bit quirky. There's an unusual little vintage shop that would add zing to your wardrobe. Babette Clothing Store reworks beautiful vintage finds like skirts, blouses and dresses into unique, trendy and one-of-a-kind fashion pieces. The work is done by qualified fashion designers who also team up your pieces with vintage boots, shoes, bags, hats, costume jewellery and other retro treasures. Check out babetteclothing.co.za to find out more.
You may not think of it as one of the major style capitals of the world, but the fashion shops of Cape Town will not disappoint. We'd love to hear of any other great shopping destinations in Cape Town. Please, do share.
{{#comments_count}} Show Commnents ({{comments_count}}) {{/comments_count}}