9 Things to Pack in Your Carry-on Bag to Keep Your Blood Sugar Stable ...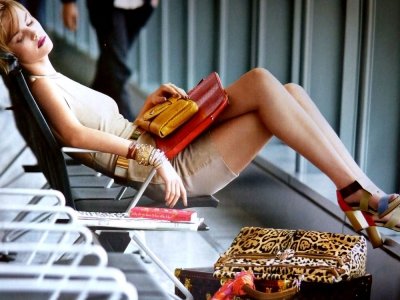 Traveling is not the time to test your blood sugar ladies, so be sure to keep in mind some of these things to pack in your carry-on bag to keep your blood sugar stable the next time you're get ready for a trip. It's easy to just assume you'll have plenty of access to food during a trip, but that's not always the case. Plus, let's be honest - unless you're flying first class, the meal choices on planes are less than stellar. So be prepared with some healthy and satisfying things to pack in your carry-on bag to keep your blood sugar stable and you'll be a pro at healthy traveling! Just be sure they're all in baggies or sealed containers so they pass TSA regulations.
Mini snack packs of baby carrots are one of the best things to pack in your carry-on bag to keep your blood sugar stable. They're sweet, crunchy, and hydrating which is important to prevent dehydration during flight. Plus, carrots are loaded with fiber and natural sugars that help fill you up and satisfy you without the need for a candy bar!
Raw trail mix is both filling and healthy, especially if you make your own at home. Toss together raw almonds, walnuts, raisins, goji berries, cacao nibs, and cashews for a nutritious, satisfying, and blood sugar friendly snack.
Protein bars get a lot of bad rap, but there are a few good options out there such as Think Thin bars, which are gluten-free and non-GMO. They're extremely filling, high in protein that stabilizes your blood sugar, and have absolutely no sugar whatsoever.
Individual packs of raw nut butter, such as Artisana brand coconut, almond, or cashew butter are great ideas to keep in your carry-on bag during travel. Since they're raw, they're a bit lighter on your stomach than roasted nuts and they can be paired with carrots as a more filling snack!
You can buy Greek yogurt at the airport or you can bring your own if you're picky about the variety. Greek yogurt makes for an excellent protein-rich snack to stabilize your blood sugar and help tame your stomach due to the high amount of probiotics, magnesium, and potassium it contains.
What could be easier than throwing a banana in your bag, right? Plus, you can pair them with nut butter or yogurt for a more filling snack. Choose bananas that are more yellow in color, which are lower in sugar and better for your blood sugar than their sweeter brown counterparts.
Whole grain crackers are easy to digest, which is important for those jittery nerves you might get during flight. You can also pair these with nut butter packs for a more filling snack and there are plenty of gluten-free options if you're gluten-sensitive.
Apples are so filling and full of fiber! They're also hydrating, which is important during a flight when the body's water levels decrease due to atmospheric pressure changes, causing dehydration. Red or green, they're both great options!
Let's not forget the most blissful option - dark chocolate! Just be sure to keep it at 85% cacao content or higher to minimize the sugar. Have an ounce or two mid-flight to satisfy your sweet tooth and even out your blood sugar all in one.
Be sure when you pack your iPad and your latest novel in your carry-on that you don't forget about some necessary snacks along the way too! These things to pack in your carry-on to keep your blood sugar stable will be yummy little lifesavers if you get stuck on a plane, or even worse in the airport and don't want to waste your money on airport food. Do you have a favorite snack to pack in your travel-on bag?
Source: tsa.gov
{{#comments_count}} Show Commnents ({{comments_count}}) {{/comments_count}}