You might put a street on your sightseeing itinerary cos there's great shopping or because there's a coffee shop you've heard raved about. Some streets are simply destinations of repute – Les Champs-Élysée, Madison Avenue, Oxford Street, Rodeo Drive, Las Ramblas etc. Then there are streets that are more than just streets. They might even be called works of art. Like these …
---
1

La Orotava's Magic Carpet Streets, Tenerife, Canary Islands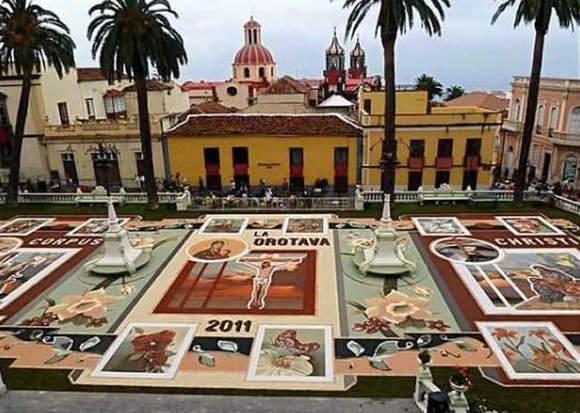 In 2007, the sand tapestry that has made the magic carpet streets of La Orotava in the Canary Island of Tenerife one of the world's most stylish streets made its entry into the Guinness Book of Records as the planet's largest sand painting. Every June the historic town of La Orotava decorates the streets with delicate, ornate flower carpets during their Corpus Christi celebrations. Lined by lovely 17th and 18th century houses that still boast beautiful carved wooden balcony railings, the narrow cobbled streets of the town present a feast for the eyes at any given moment. However, when those cobbles are hidden under evocative pictures made with rose and geranium petals, the effect is magical. Take a closer look and you'll discover these are not actual petals - the whole flower carpet is created from volcanic sand that originated from Las Cañadas del Teide in the Mount Teide crater.
2

Águeda's Floating Umbrella Street, Portugal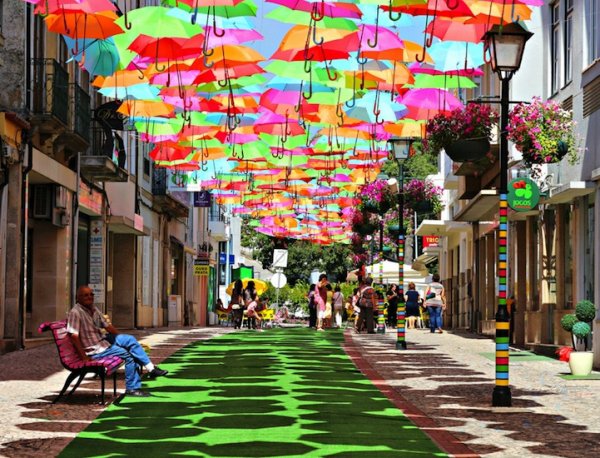 Sextafeira created the charming Floating Umbrellas installation above the streets of Águeda in Portugal as part of the Agitagueda Art Festival for the second time this year. Not only is does this installation offer residents and visitors a colorful sight, it provides shade on hot days. It proved such a success that the artist was asked to create the idea. Nobody thought it boring to repeat it - it's already turning into a local tradition!
---
3

Enschede's Cracked Stones Street, the Netherlands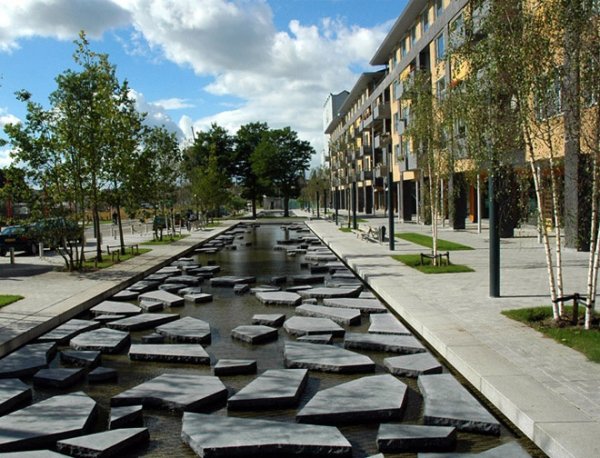 The Roombeek is a small stream that burbles through a district that carries its name has also lend its moniker to a commercial street in Enschede. In the past the little stream ran underground, but newly restored and brought to the surface, it now gives new focus to urban landscapes, zigzagging cheerfully through the district in asymmetrical patterns that sometime get wider or narrower.
---
4

Wuxi's Knockoff Street, China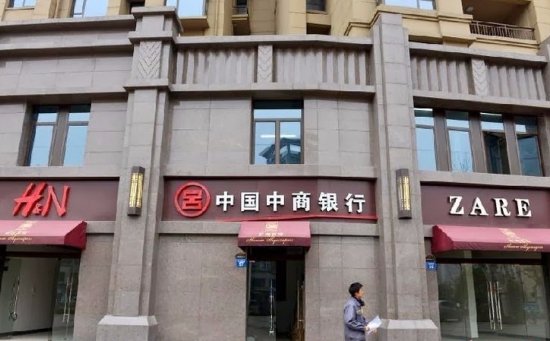 Lovers of tea will be delighted to see the SFFCCCKS coffee shop in Wuxi, a street that has turned knockoffs of brand names into an art form. After you've sniggered at coffee drinking at this place, turn to the store windows of H&N, which is just across from the Appla Store. You may want to ask around if the world has suddenly entered a parallel universe at this point. It may feel like it, but you really are in a commercial street in China's Wuxi, where all the store signs are like this. No rip-off is intended though of original brand names. The signs grace empty shops only and aim to show people what their district could look like with investment and support from the town's residents. Unfortunately, this well-meant idea backfired as the Internet community took it up and turned it into a big joke.
---
5

Barcelona's Vila De Gracia, Spain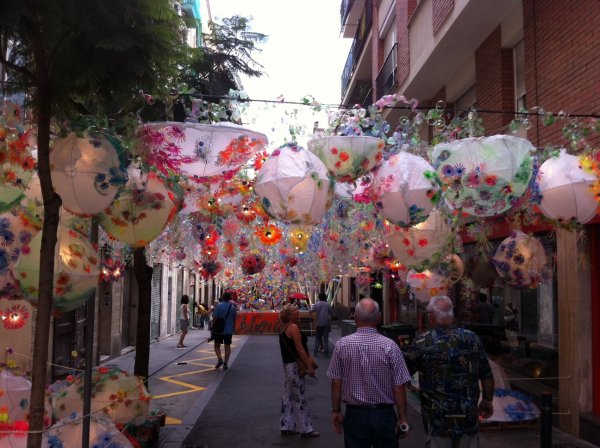 Vila de Gràcia may be the historic old center of Barcelona, but today it's arguably the coolest, trendiest suburb anywhere in the city. The main hives of activity are located in Gran de Gràcia, Torrent de l'Olla, and Travessera de Gràcia streets, but the neighborhood squares are really the places to hang out and be seen. The old town's layout means this is an amazing place for hosting street parties, for example the Festa Major in August. Local competitions for the Best Decorated Street are entered into by residents with great enthusiasm and determination to win. The really big stages are built in the main squares, where visitors and locals can enjoy some of the best bands playing in Barcelona.
---
6

Chefchaouen's Blue Street, Morocco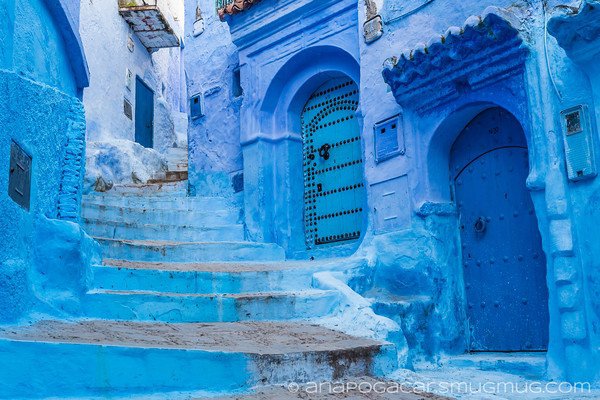 Showing every conceivable hue of the color blue, streets in Chefchaouen will make you feel like a mermaid floating through a town below the surface of the ocean. This blue spectacle can be seen mostly inside the medina, where walls, doors, balconies and whole streets are painted in different shades of blue. This tradition goes back to the 1930s, when Jewish refugees lived in this part of Chefchaouen.
---
7

Vercorin's Geometric Streets, Switzerland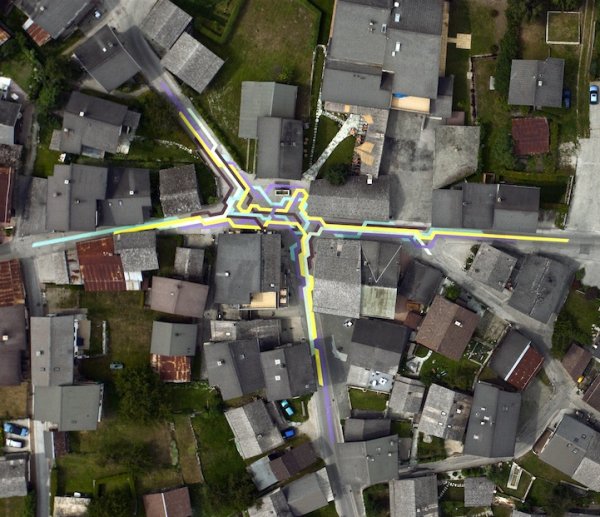 This small Swiss ski resort doesn't miss a trick when it comes to creating the world's most stylish streets. Every summer the village of Vercorin asks artists to create something that will incorporate the entire village. In 2010 for example, Lang/Baumann was asked to come with something special. The result was a maze of geometric lines in bright colors following the grid lines of the streets and leading to the village square.
Aren't they great? Do you have a favorite street? It doesn't have to be artsy or unusual; just tell us why you love it.
---
Comments
Popular
Related
Recent