7 Sights You've Got to See in San Francisco ...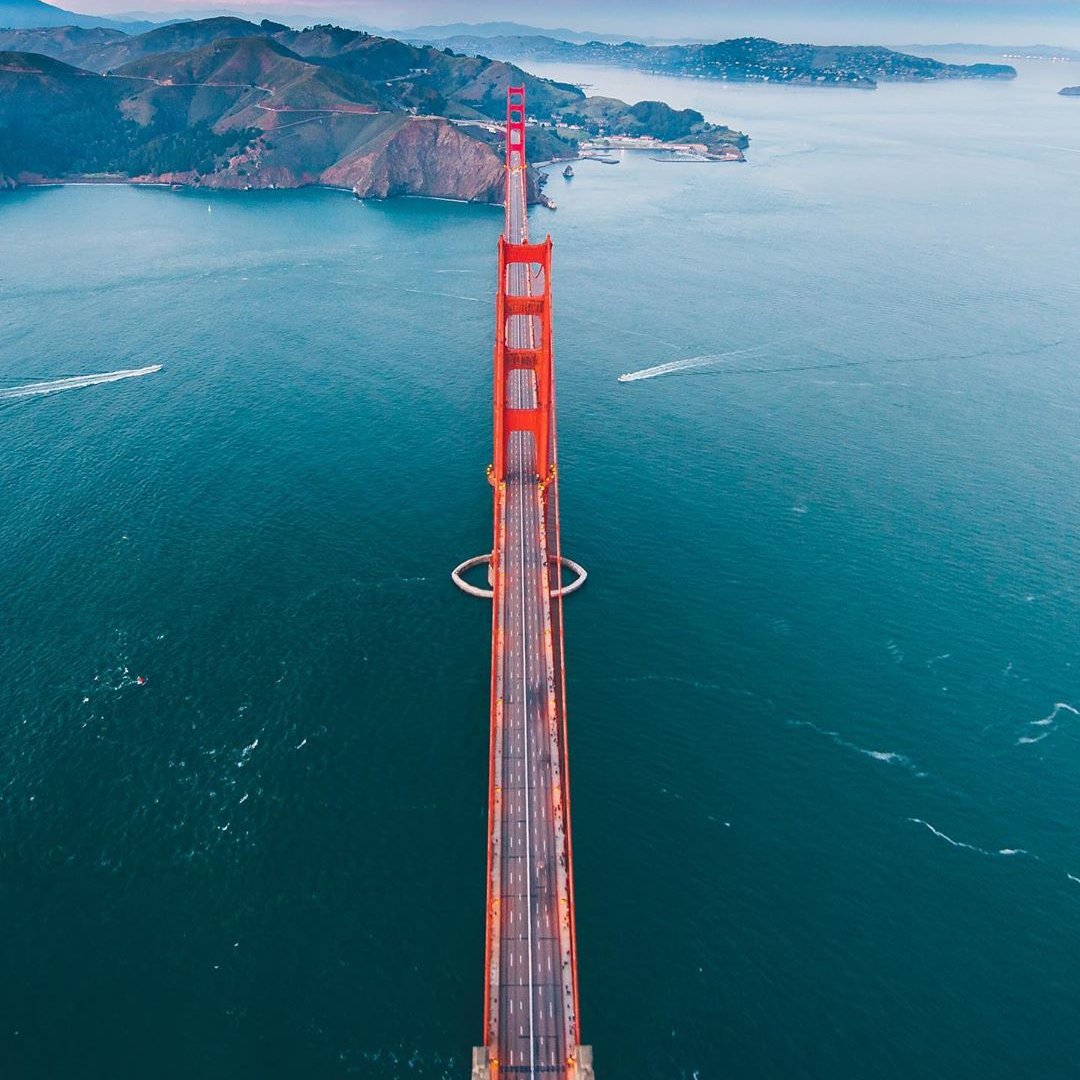 If you have never visited the City by the Bay, these are some touristy sights in San Francisco you've got to see! The city of San Francisco as well as the surrounding areas (East Bay and beyond), all have some worthwhile attractions that any passing visitor should see, however, I am going to touch on just a few sights in San Francisco you've got to see.
This is of course one of the most famous sights in San Francisco and many images associated with this city, depict the orange painted bridge as its backdrop. It is not necessarily easy to get to, nor can you see it from downtown San Francisco. I had literally been commuting to San Francisco for four months, before I finally drove out to visit this sight, and boy, was it worth it! You can rent bicycles, walk, or drive across the bridge; whichever method you choose and there are some stunning views while crossing the bridge as well as to either side. To find out more, visit goldengatebridge.org.
Union Square is the central shopping district of San Francisco, and you have to check out. It is technically the hub of San Francisco, but in my mind, it is kind of small, yet still worth checking out. Many tourists stay in the vicinity of Union Square, as it is pretty central to everything. You can enjoy an afternoon meandering through the alleyways near the square, or you can shop Macy's, the one and only Gump's, Banana Republic's flagship store or grab chocolates from a Ghirardelli shop. There are plenty of restaurants, theaters and nightclubs for evening entertainment. The world's last manually operated cable car heads from downtown at Union Square to Fisherman's Wharf and it is mainly used by tourists, although you might catch a couple of commuters on it too! Learn all about it here: visitunionsquaresf.com.
Fisherman's Wharf spans a large area, where you can walk, shop and dine. The wharf area offers stunning views of Alcatraz Island (the former federal penitentiary, which you can tour during the day or night), the Bay Bridge (that connects the San Francisco peninsula with the East Bay), and the infamous Pier 39 sits here too. Fishing boats, sea lions, local chocolate houses (TCHO and Ghirardelli), are all here. At the southern end of the Wharf area, the Ferry Building on Saturday houses plenty of market stalls, with farmers and crafts-people selling their goods and wares. If interested, there are free daily walking tours at the Fisherman's Wharf area, even in the winter, as well as other parts of the city. The tours last two hours and you'll get to learn some behind-the-scenes revelations about this world-famous location you never knew existed. Want to know more? Check out sfcityguides.org.
4.

Boudin Museum and Bakery
Passersby are able to peek in through the street-level windows of the demonstration flagship bakery, which is housed in the Fisherman's Wharf area. The famous Boudin Bakery dates back to 1849, and it is well known for its sourdough variety of bread. Bread buffs out there will want to head to the Boudin museum, located upstairs. And, of course anyone can dine at the Boudin Bakery Cafe, located on the ground level, for a sandwich or chowder that comes in a bread bowl, and they'll give you $1 off the museum admission price. More info at boudinbakery.com.
Lombard Street is in the Russian Hill district, it is supposedly the crookedest street in the world, that runs east-west, and is pretty steep (although Filbert Street is really the steepest in San Francisco). Locals know it as 'crooked' or 'zig zag' street. People walk down its eight hairpin turns, while others drive down them (cars can only drive down, not up). Each turn is lined with trimmed hedges and this street is particularly beautiful to see in the spring and summer, when the chrysanthemums are in full bloom. The Powell-Hyde cable car stops at the top, where you can catch views of both Alcatraz Island and the Fisherman's Wharf area.
This is the largest Chinatown outside of Asia, the second largest being in Vancouver. The famous Dragon Gate and the oldest dim sum teahouse in the US, are both located here. Most signs and buildings are written in both Chinese as well as English, and you will find plenty of authentic restaurants on every corner. You don't necessarily need an itinerary here as you can wander around aimlessly, visiting shops, dive bars and the interesting live markets that line Stockton Street and are busiest on Saturdays. I'd also recommend the oldest handmade fortune cookie factory, located on Ross Alley, where you can pick up a bag of 40 cookies for $3.
This is located on the western edge of the city's peninsula, in a neighborhood called Outer Richmond, close to Lincoln Park. Here, you can either prowl the epic ruins of the Sutro Baths or head into the Cliff House for a pricey ocean-view meal!. If you walk north-east for about a mile, you will be able to raise a sweat along the longer Coastal Trail, amid large trees and rocks and catch another glimpse of the Golden Gate Bridge and Marin Headlands! More info can be found at parksconservancy.org.
If you haven't yet visited, definitely add San Francisco to your travel agenda. Early springtime and fall are the best times to visit, and don't be caught off guard without a sweater in the summer or umbrella in the winter. These are the touristy sights I recommend you seeing, but this is by no means a finite list! Have you been to San Francisco? If so, what are some of the sights you think others should see?
{{#comments_count}} Show Commnents ({{comments_count}}) {{/comments_count}}