While never boring, "regular" beautiful scenery of alpine mountains, meandering rivers and tropical beaches can become a bit same-y for the seasoned traveler, so it's great to know there are some seriously surreal places to visit around the world. If you want to see landscapes that are so surreal they look more like a scene from a sci-fi movie you won't be disappointed. Let's go on a short trip to another dimension with some truly surreal places.
---
1

Ice Cave in Skaftafell, Iceland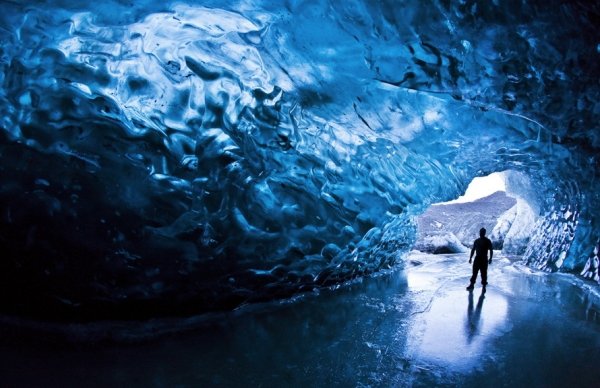 Iceland is full of surreal landscapes and Ice Cave in Skaftafell is amongst its greatest. Resulting from glacial mill, this cave glacier is formed by streams of rain and melt water which flow into the crevices, throwing indirect sunlight into the tunnel and across the ice bubbles. The streams also create holes in the glacier, which form long hallways of ice caves with beautifully crafted walls and ceilings. Iceland's chilly wind freezes the job in place, and thus, onlookers can observe a transitory attraction, which might collapse at any moment due to glacier movement. Those brave enough to enter can hear a cracking noise echo throughout the cave.
---
2

Fly Geyser, Nevada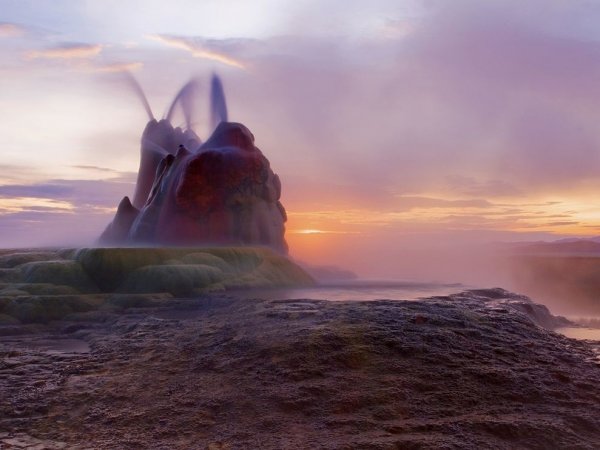 Situated on a private ranch in Nevada, Fly Geyser is difficult to access, making this surreal place virtually unknown even to Nevadans. The owners guard the rainbow colored geyser with a tall fence and a spiked gate. Created during well drilling, Fly Geyser is not an altogether "natural" phenomenon; however, the odd formation, the pools of water, and the beautiful medley of colors results in a seriously surreal must-see. After many decades of operation, the well had gone out of order after geothermal water began to leak through a weak spot and onto the surface. Nature's sculptor was, and continues to be, the dissolving minerals, forming the geyser's shape and also blending its coloration.
3

Chand Baori, Rajasthan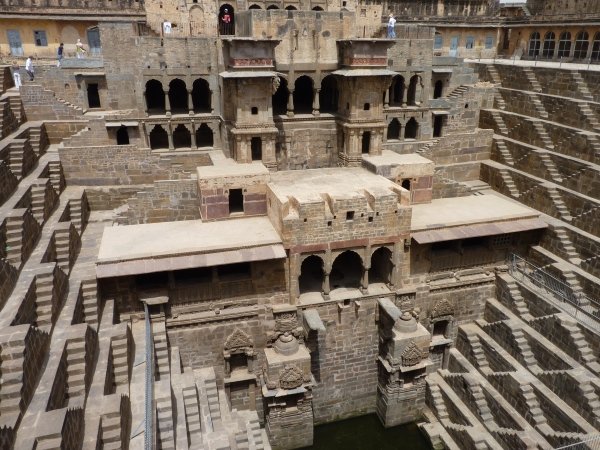 In the Indian state of Rajasthan, this famous step wall, lying near Jaipur in the village of Abhaneri, looks surreal as an Escher drawing. Opposite the Harshat Mata Temple, Chand Baori is one of the deepest stepwells in India, built in 800 CE. With 13 stories of over 3500 steps, Chand Baori falls 100 feet into the earth, creating a crazy optical illusion for anyone who dares look down.
---
4

Lake Natron, Tanzania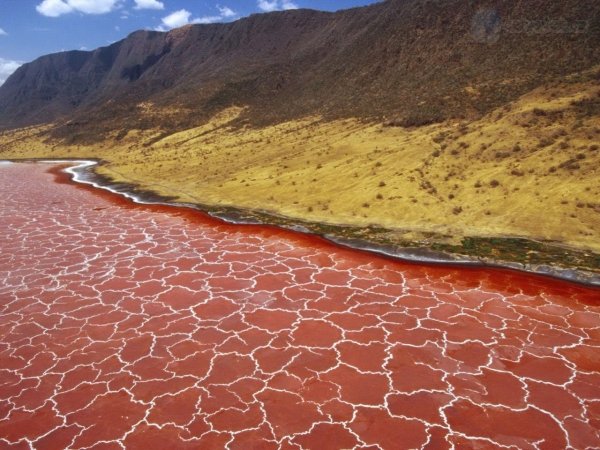 Crater basins with incredibly high evaporation rates normally produce a similar surreal hue as is found in the waters of Lake Natron. The water evaporation during the dry season results in maximum salinity level increase, in which salt-thriving microorganisms flourish. Some of these microorganisms produce red pigment, which colors the water like egg dye, turning it into a strange cracked blood-red Easter egg.
---
5

Glen Brittle, Scotland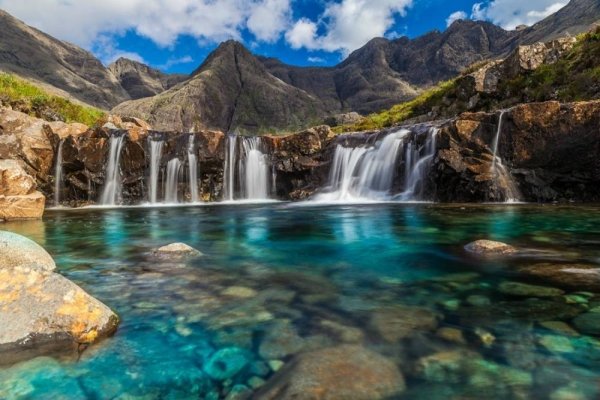 Like a fairytale wonderland, Glen Brittle lies in the Isle of Skye in the magical country of Scotland. Popular amongst bikers and hikers, this large glen includes lovely Fairy Pools, which trickle down the mountains, as well as enchanting lilac slopes above the Fairy Pools, rife with thick forests chock full of rare animals and plants...along with fairies, elves and a number of other magical creatures.
---
6

Mount Roraima, South America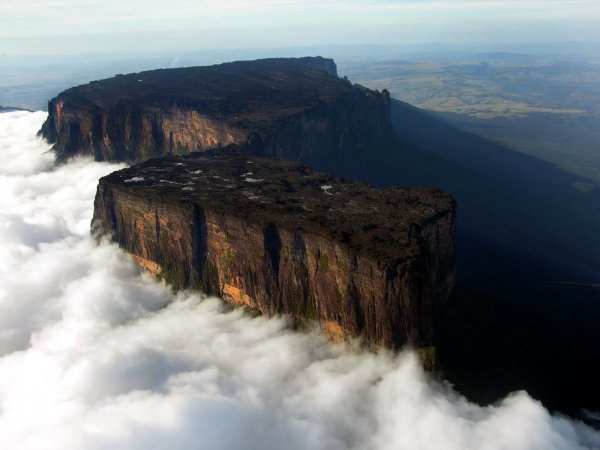 Soaring thousands of meters into the heavens, it's no wonder that Mount Roraima ranks amongst the world's top seriously surreal places to visit. Located in South America's Pakaraima chain of Tepui Plateau, Mount Roraima is the tallest mountain, whose highest point is Maverick Rock in Venezuela, reaching 2810 m. With clouds licking the cliff face at all sides, the mountain converges the borders of three countries – Brazil, Venezuela and Guyana. The flat tabletop surface of the mountain dates back two billion years, remaining amongst the oldest geological formations on Earth.
---
7

Derweze, Turkmenistan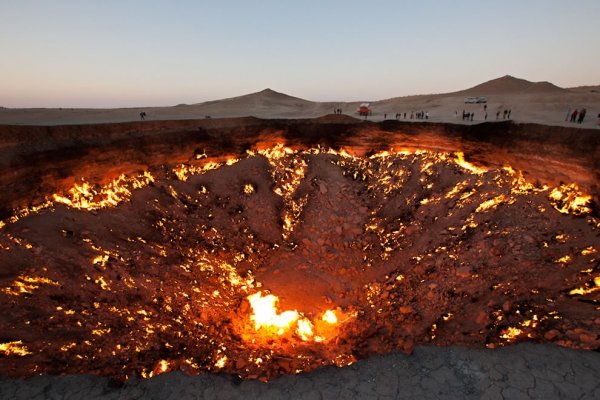 Now that you've glimpsed heaven on earth, perhaps you'd like to glimpse hell as well. Derweze village in Turkmenistan, and you'll either confirm your belief in Satan's fiery pit or be converted. Derweze, meaning "The Gate" in Turkmen, is an awe-inspiring and all-around terrifying hotspot (literally), situated about 260 km north of Ashgabat, in the midst of the Karakum Desert. Rich in natural gas, the Derweze area was being excavated by Soviet geologists when the ground collapsed while drilling and a large hole was created. They decided to burn off the natural gas that filled the cavern, but the flames have yet to die. The inferno continues to breathe to this day, like an ever-lit pitch-fork flame, scorching from the depths of the earth.
Stunning aren't they? Do you have a favorite you'd like to share?
---
Comments
Popular
Related
Recent