7 Places to Hang out with the Yachting Crowd ...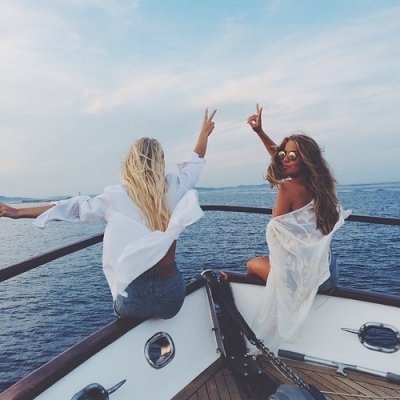 Do you have a mind to join the sailing fraternity? Or maybe you dream of meeting a millionaire with his own luxury yacht? If you want to join them, you have to hang out with them! Here are some favorite haunts of the yachting crowd
1.

Look out for Special Events at Foxy's, Jost Van Dyke, British Virgin Islands
Foxy Callwood runs this tumbledown open-air beach bar, which overlooks the Great Harbor on the island of Jost Van Dyke. It's one of the most popular drinking dens in the British Virgin Islands and hosts many special events for an international yachting crowd, such as St. Patrick Day's celebrations, for example. Try the flying-fish sandwiches or nibble on a grilled lobster if your travel budget allows it. The bar serves a pleasing range of rum-based drinks and beers Foxy Callwood has created in his own microbrewery. His beers are far better than his guitar playing or calypso style songs he composes for his clientele, but this is a sailing bar where you're guaranteed to have a good time. foxysbar.com.
2.

Showing off at the Pink Pony Patio Bar & Grill, Mackinac Island, Michigan
Some of the greatest show-offs belonging to the international yachting crowd gather in the otherwise peaceful Victorian resort of Mackinac Island in Michigan, where the Port Huron to Mackinac Island competition and the Chicago to Mackinac yacht races finish. The Pink Pony Patio Bar & Grill provides a platform for all those keen to exaggerate the speed of their boat and the force of the wind that filled their sails during the competitions. It's a great venue for braggarts, but also for live music. Enjoy the stunning Lake Huron views while you tuck into delicious Pink Pony food. The bar is so popular with the sailing crowd, the proprietor provides them with a private dock at the Chippewa Hotel waterfront. chippewahotel.com.
3.

Feasting Fish-free at the Harbor Pub, Honolulu, Hawaii
For 32 years the family-owned Harbor Pub Honolulu has provided the Oahu community and the world's yachting crowd with breakfast, lunch and dinner from Mondays to Sundays. The menu is surprisingly fish-free, given this sailing bar overlooks Ala Wai Marina, where fishermen unload their catch of the day every morning. Nachos, spicy wings, pizza and platters of sandwiches are the usual fare here. Apart from the locals and visiting yachtsmen and women, the pub attracts occasional tourists who step off their blue-water cruisers to interrupt their island-hopping for a spot of lunch. harborpubhawaii.com
4.

Top Billing for Boatyard Bar & Grill, Annapolis, Maryland
Founded by former investment banker Dick Franyo, the Boatyard Bar & Grill in Annapolis aims to please all those who adore the Chesapeake lifestyle and sailing. Attracting local fishermen, Chesapeake landlubbers and sailing crowds alike, this is one of the world's top 12 sailing bars and the best one in the US, according to Sail, Coastal Living and What's Up magazines. Beautifully rigged out with ship models, yachting photos and maritime paraphernalia, the bar is a great place to hang out and tell fishy tales of heroic ocean voyages. Open daily, the bar serves a wide range of seafood, including specials like Crisfield Crake Bake Platter and Full Moon Saloon Key West Fish Sandwiches. boatyardbarandgrill.com.
5.

Enter Sailor's Heaven at Fiddler's Green, San Diego, California
Run by Steve and Debi Rock, the Fiddler's Green legend lives on year after year, pleasing locals and international yachting crowds alike, who have likened this place to a "yacht club without the membership fees". According to maritime lore, common 18th century seafarers, who repaired their lines with a splicing tool called a fid, would dream of a sailor's heaven, where their every desire would be fulfilled after a life spent at sea. Steve and Debi's bar tries to provide just that. Decorated with nautical paraphernalia and half-hull boat models, Fiddler's Green boasts a wide range of seafood and offers sailors from far flung places a home-from-home in one of the world's busiest ports. fiddlersgreensandiego.com.
6.

Join the Club at the Sloop Tavern, Seattle, Washington
Open seven days a week from 11.00 am onwards, Sloop Tavern is home to the Sloop Tavern Yacht Club, which runs a series of sailing races throughout the year and facilitates recreational cruising for locals and visitors alike. Unlike other yacht clubs, this one despises snootiness and embraces fun to the full in accordance with its beer-soaked founder's day tradition. Located in Seattle's Ballard neighborhood, this sailing bar boasts the famous "Super Mug" on its menu; a 33.8 oz glass of the coldest beer you've ever tried. You'll need to wolf down platters of their hand-breaded fish and chips or tacos to soak up that much liquid! It doesn't matter if you're a member or not, you can still enjoy their pool tables, darts and pinball machines. theslooptavern.com.
7.

Drop Anchor at Sam's Anchor Cafe, San Francisco, California
Voted the Bay Area's best outdoor restaurant, Sam's Anchor Cafe overlooks the waterfront of Tiburon in Marin County. Serving excellent American style dishes and seafood cuisine, this hangout's fun atmosphere and stunning views of Angel Island, San Francisco's skyline and the infamous prison colony of Alcatraz are very popular with the yachting crowd. The bar serves a great brunch on weekends and has gained a reputation that decrees, if you'll stay long enough, you'll eventually meet everyone you've ever known.
Do you see yourself donning your best nautical stripes and heading to any of these places over the summer?
{{#comments_count}} Show Commnents ({{comments_count}}) {{/comments_count}}