Join the Jet Set: Stay in One of These Favorite Celebrity Hotels ...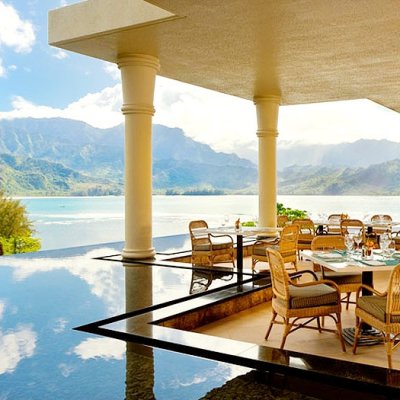 There's no doubt the trappings of fame are attractive. The jet set lifestyle of celebrities is beyond us mere mortals but hey, a girl can dream! We will probably never get to stay in the same fabulous hotels as the rich and famous (do they have an app for last minute deals?), but let's take a peek into what makes them fabulous.
1.

Roar like a Lion at Skylofts MGM Grand, Las Vegas
Waking up at the Skylofts at MGM Grand in Las Vegas may prompt you to roar delightedly like the legendary movie lion, when you discover the suite next door is occupied by Jimmy Fallon or Jennifer Aniston. They are just two of the many famous faces who have made the Skylofts at MGM Grand one of their favorite celebrity hotels.
2.

Surfing with the Stars, St. Regis, Hawaii
Dreaming of white sandy beaches where the perfect surf is beckoning you every morning? Fly to the St. Regis resort in Hawaii, an exotic celebrity hang-out that's clearly ideal for you. But wait, isn't that where Ben Affleck and Jennifer Garner top up their tan? Better practice your surfing skills before you get on that board, or you'll never get casting directors to accept you for the next installment of "Jaws"!
3.

Romantic Getaway at Esperanza, Cabo San Lucas
If it was good enough for lovebirds LeAnn Rimes and Eddie Cibrian as their honeymoon destination in 2011, Esperanza in Cabo San Lucas is certainly romantic enough for you and your love-muffin to tie the knot. Even the name "Esperanza" conjures up childhood memories of old pirate movies, dashing heroes swashbuckling for the honor of your hand.
4.

Join the a-listers at the Beverly Wilshire, Los Angeles
One of the favorite celebrity hotels in the world, the Beverly Wilshire has starred in numerous classic movies as a location, and is practically a star in its own right. A magnet for Hollywood A-listers and glitzy rock stars, the hotel's guests have included Rihanna and pretty much everybody who's anybody in the entertainment industry. Be a pretty woman in pink or a rebel in knee-length boots, the Beverly Wilshire's manager has seen it all.
5.

Floating like Penelope Cruz at the L'Ermitage Pool, Los Angeles
The L'Ermitage in Beverly Hills is one of LA's most luxurious hotels and a preferred hang-out for celebrities like Penelope Cruz. Float in the hotel's legendary swimming pool and feel like a movie star. Smile, the camera's pointed at you!
6.

Enjoy Poolside Pleasures at the Sandy Lane, Barbados
Although it will be hard to tear yourself away from the opulence and splendor of the Sandy Lane's luxurious interiors, the poolside is where Barbados visitors with celebrity status want to be seen. Having housed stars like Gwyneth Paltrow and Rihanna, the Sandy Lane hotel on occasion permits lesser mortals to book rooms - like Simon Cowell for example, so there's hope for you yet. Book with a surly snarl, hoist up your trousers upon arrival and they might let you in. Don't start voting negatively on the receptionist's performance at the desk though or the porter might chuck your baggage out before you've made it to your room.
7.

Be the One & Only for Your Loved One at Los Cabos, Mexico
You may end up sunbathing right next to a controversial former "Two and a Half Men" TV star, if you take your loved one to the One & Only tropical resort in Los Cabos in Mexico. However, the romance of this exotic place makes this a hot spot among favorite celebrity hotels of the world, so don't cross it off your list just yet. As long as you don't copy the bad behavior of TV celebs, they'll be proud to have you.
Deep sigh! A magnificent hotel doesn't make your holiday, but a bit of luxury sure goes a long way. What jet setting luxury do you most hanker after?
{{#comments_count}} Show Commnents ({{comments_count}}) {{/comments_count}}