7 Interesting Facts about Paris' Moulin Rouge ...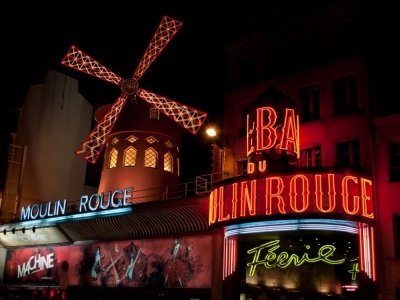 On our honeymoon in Europe, I insisted that we visit Paris' Moulin Rouge. I heard about the place in the movie starring Nicole Kidman and Ewan McGregor, but I was informed (by friends who have been to the place) that the movie is a love story and is not even close to what Paris' Moulin Rouge really is. Three months after making our reservation – and arranging an interview with the PR manager and one dancer because I was doing a write-up for a newspaper – Jeff and I were standing outside Moulin Rouge waiting for our turn to enter the doors of the word-famous cabaret. The interview was fun, enlightening and trivia-filled so I am sharing some of these facts with you. Here goes!
Paris' Moulin Rouge opened in 1889, the same year of the Universal Exhibition, where the Eiffel Tower was unveiled to the public as the main attraction. The garden was decorated with elephant and donkey-themed landscapes. The atmosphere was positively overflowing with euphoria and glee after years of being faced with war-time tragedies.
Spanish businessman Joseph Oller with Charles Zidler started Moulin Rouge as a temple dedicated to "Woman, the Dance and the Cancan." They nicknamed Moulin Rouge the "Le Premier Palais des Femmes" or the First Women Palace. Rightfully so, because it's like the floodgates of Heaven was opened and out came the most beautiful women in the world - in every show.
My husband Jeff has been telling me about the French Cancan and how difficult it must be for the women to perform. It was first called "quadrille" and involved women dressed in flowing skirts doing high kicks showing their legs and underwear! All these accompanied by boisterous laughter and endless screams. Londoner Charles Morton later changed the name from quadrille to French Cancan. Interesting!
4.

The Doriss Girls and the Doriss Dancers
I met and interviewed one dancer named Poppy and it's amazing how disciplined and graceful she is, even up close! Then there's the story of Miss Doriss, the famous choreographer, who came in the later part of the Moulin Rouge history. She was from Germany, took dancing lessons without her parent's knowledge, and even wrote for newspapers to pay her dance school tuition! She formed the Doriss Girls in 1957 and choreographs the show. To this day, the girls still go on tour.
To enter Moulin Rouge, one must pay at least 100 euros (without drinks) and the price goes higher with ½ glass of champagne and dinner (if you go to a dinner show that features vegan and vegetarian menus too). But nobody is there for the food or the drink, or they would have flocked to any of Paris' classy restos. In most parts of the show, the ladies are topless. But it's not trashy, it's classy and tasteful. The show sparkles and dazzles and you marvel at the grace and poise of these women wearing headdresses that weigh more than they do!
The moment you enter the main door of Moulin Rouge, you know it's not a cheap entertainment place. You have men in tuxedos welcoming you the moment you arrive and personally escorted to your table. The place can be noisy, especially when it goes full house (capable of holding 900 people at one time!), but it truly is a once in a lifetime experience, to be in a theater which has been running for 124 years.
More than eight million Euros were spent for the presentation of Féerie Show consisting of 80 artists (including 60 Doriss girls recruited from around the world). Imagine the costumes that these girls wear as they jump from one scene to the other. Watch out for one special young lady who dives into an aquarium with 40 tons of water and five pythons swimming with her!
Knowing these facts, will you dare visit Moulin Rouge?Or, if you've already been there, is there another interesting fact or story you can share?
{{#comments_count}} Show Commnents ({{comments_count}}) {{/comments_count}}