29 Essential Food Experiences around the World That Will Make Your Mouth Water ...
By Neecey
One of the benefits of travel is the wealth of amazing food experiences that await you. Food is a major feature of every culture and says so much about the country you are visiting. When you visit a new country, don't seek out the golden arches, the fried chicken, or the full English breakfast, seek out food experiences and really get a taste of where you are.
---
1

Gobble up Grilled Sardines in Portugal's Algarve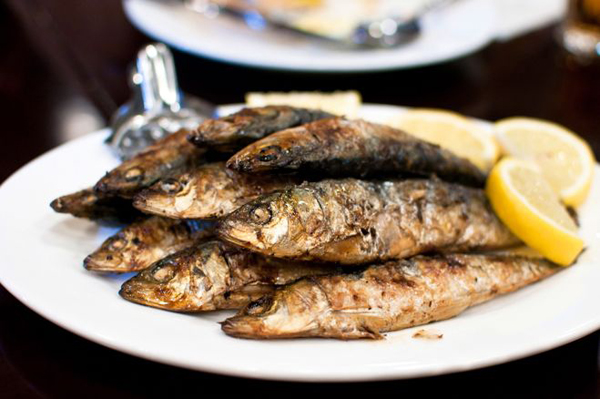 The Algarve is Portugal's southern coast. It is characterized by simply stunning beaches and cute towns and villages. Villas hide away in wooded foothills, terracotta pots bake in the sun, the biggest noise is the sound of golf clubs hitting balls and the small fishing ports still support generations of coastal families. One of the essential food experiences of Europe is to eat freshly-caught sardines in the Algarve. Sure, visit a quayside restaurant, better still haggle with a local fishing boat for some of their catch and cook them over hot coals on the beach.
---
2

Try Truffle Hunting in Buzet, Croatia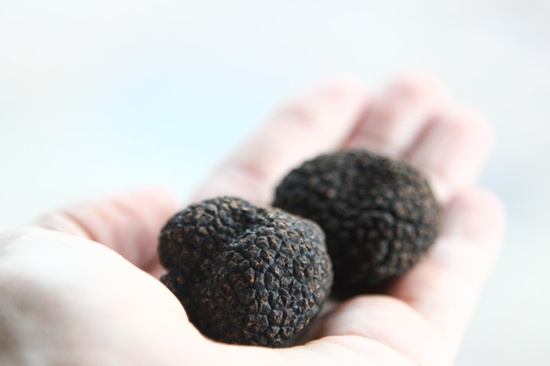 Some of the great food experiences don't necessarily mean sitting down to a plate of delicious food. Croatia is a gorgeous country, not necessarily associated with a notable cuisine, but it has plenty of other charms for visitors. You could sail the Adriatic islands or enjoy the sights of Zagreb but I thought that as adventures for foodies go, truffle hunting is a great way to explore the fabulous countryside. Buzet on the Istrian Peninsula is known as the "City of Truffles" and skilled guides (you need a license) with their dogs hunt for the "black golden nuggets" in the Motovan Forest.
3

Partake of Pho in Hue, Vietnam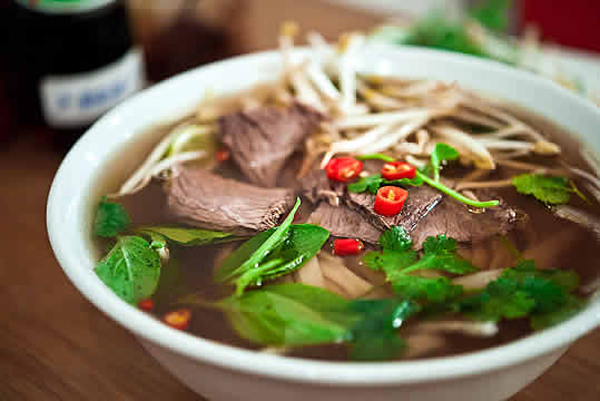 One of the iconic Vietnamese dishes is Pho – a tangy soup with noodles and meat, usually chicken or beef. It's a popular street food in Vietnam and whilst simple, the layering of spices makes it oh so tasty. Why not slurp a steamy bowlful in Hue (pronounced hway), the old Imperial capital of Vietnam. Pho is the perfect meal for a day of sightseeing the magnificent temples and palaces of the Nguyen Dynasty. Find a restaurant on the banks of the Perfume River and enjoy.
---
4

Wolf down Wienerschnitzel and Sachertorte in Vienna, Austria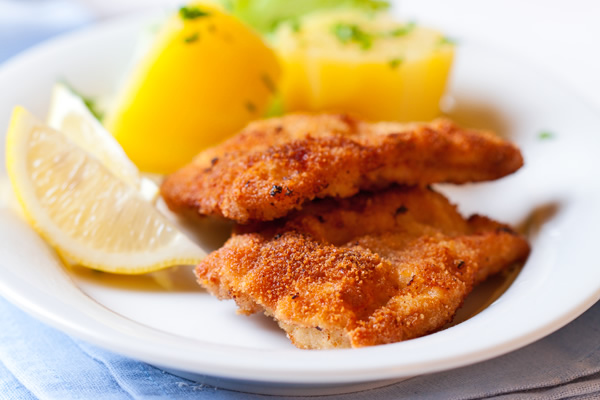 Vienna isn't classed as one of the food capitals of Europe, but there are 2 totally iconic dishes that really have to be tried. These are Wienerschnitzel, a breaded thin veal escalope, and sachertorte, a rich, indulgent chocolate cake. The cake is traditionally eaten with a cup of really good coffee and a local liqueur made from apricots. One of the best places to sample these fine dishes is Café Sperl – an example of an authentic Viennese eatery.
---
5

Eat out at El Celler De Can Roca in Girona, Spain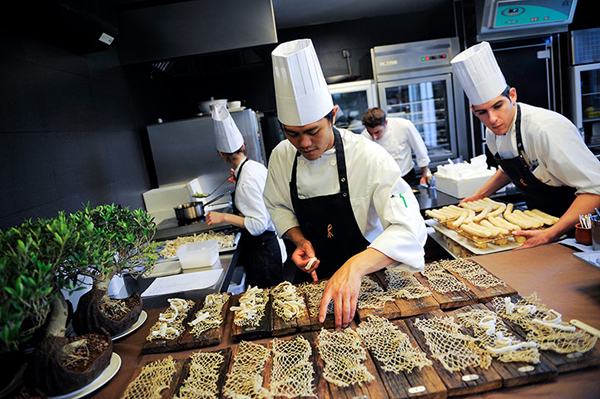 Some food experiences are going to be expensive – fine dining doesn't exactly come cheap. So, if you are really going to splurge on a meal, you might as well go for the best. There are a number of organizations that award the accolade of Best Restaurant in the World, and for 2013, Restaurant Magazine has chosen El Celler de Can Roca. The Catalan Restaurant is in Girona, an interesting, antique city with a wonderfully preserved Medieval Jewish Quarter. A full 7-course meal paired with the recommended wines will cost around $250.
---
6

Munch a Margherita Pizza Overlooking the Bay of Naples, Italy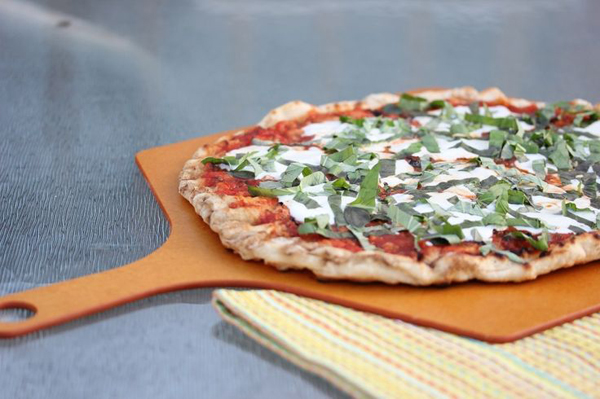 If I had to tie down the first of my many food experiences, it would have to be my first taste of a real Italian pizza. Back in 1981 when I was just 18, pizzas were still exotic to us Brits and times sure have moved this simple food to be one of the world's favorites. Despite the immense variety of toppings we now see on pizza, it started life as a simple dough topped with tomatoes and mozzarella, cooked in a wood-fired oven and finished with a drizzle of olive oil. Trust me when I say a Margherita pizza in a small family-run restaurant eaten as the sun sets over the Bay of Naples is one of the best food experiences ever.
---
7

Pig out on Poutine in Quebec City, Canada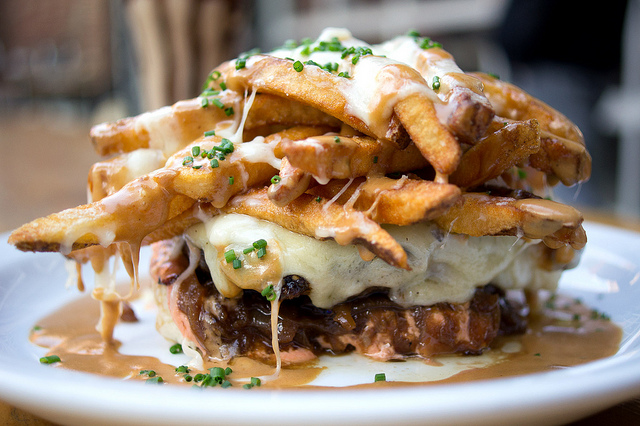 I had never heard of poutine until a fellow AWS writer brought it to our attention. From the reaction it received I had to conclude that it is so revered that it must be one of the food experiences to have in Canada. Head to the deliciously French Quebec City and salivate at the thought of a pile of crispy French fries topped with cheese curds and brown gravy.
---
8

Tuck into a Tagine in Marrakech, Morocco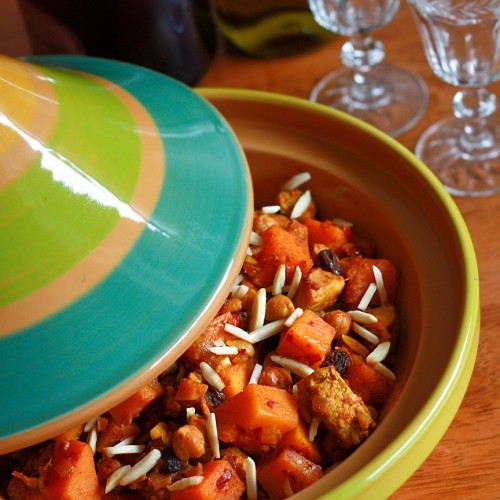 Rich, sumptuous, spicy and tantalizingly fragrant: Is that the food I'm describing or the Moroccan city of Marrakech? Actually, it's both. Marrakech is a fabulous destination and the central square is a major hive of activity day and night. Although the daytime food scene is excellent, come sundown the square is full of stalls serving up delectable North African treats. A lamb tagine is a must try – tagine refers to the vessel it is cooked in. Served over fluffy couscous, the tagine is tender meat suffused with spices, in a rich thick sauce usually containing a dried fruit like apricots or raisins and almonds.
---
9

Chow down on a Currywurst in Berlin, Germany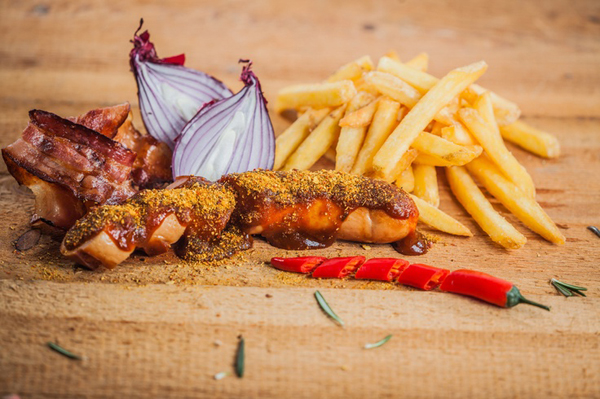 Everyone knows that Germany is famous for its many different types of sausages, so it's no surprise that one of the recommended food experiences is the iconic symbol of Berlin take-aways – the currywurst. Attributed to one Herta Heuwer in 1949, the concoction is a steamed pork sausage which, after frying, is doused in a sauce made from tomato ketchup, curry powder, a dash of Worcestershire sauce and spices – apparently Ms. Heuwer obtained her ingredients from British soldiers who were occupying Berlin after the Second World War. Enjoy currywurst in a bun or without during a day hitting the tourist hotspots in the vibrant German capital or, better yet, to rejuvenate during a night on the legendary Berlin tiles.
---
10

Dine on Dim Sum in Hong Kong, China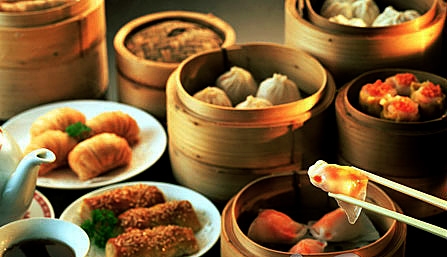 One of the most edifying ways to try food around the world is with social dining, and most of the Asian cuisines lend themselves perfectly to this. Whereas in the West we serve up individual servings, in Asian cuisines it's more a case of helping yourself from shared dishes. A perfect example is dim sum, which is a spread of divine little morsels that includes pork dumplings, egg rolls, steamed buns, noodles – well, anything that's small and tasty. Where better to try dim sum than the amazing city of Hong Kong? HK is a complete assault on every sense and the food culture is a major player.
---
11

Fish Cheesy Bread out of a Fondue in the Swiss Alps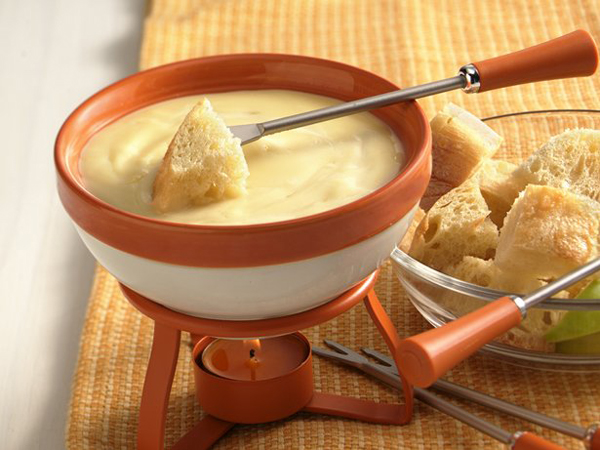 It doesn't matter which outstandingly beautiful location in the Swiss Alps you choose, the cheese fondue is the ubiquitous signature dish. Best experienced in winter when the alpine region is a snowy wonderland, the fondue is a fabulous dish for après ski. A shared dish where everyone dips hunks of soft bread into a mix of melted cheeses and wine, wash it down with plenty of gluhwein or crisp cold beer.
---
12

Fill up on Falafel in Tel Aviv, Israel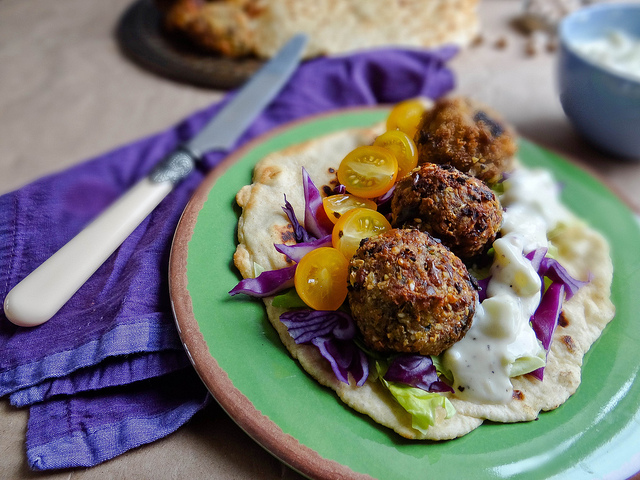 There are some great food experiences to be had in Tel Aviv. The most cosmopolitan of Israel's cities, there's a strong youth and arts scene and when it's art, it's usually foodie too. Visit the main attractions of the city and then stop off at any of the street stalls selling soft warm pita breads overstuffed with falafel, dressed the way the stallholder likes best – often a mix of crunchy fresh veg and a yoghurt based sauce.
---
13

Assuage Your Appetite with Arepas Con Queso in Cartagena, Colombia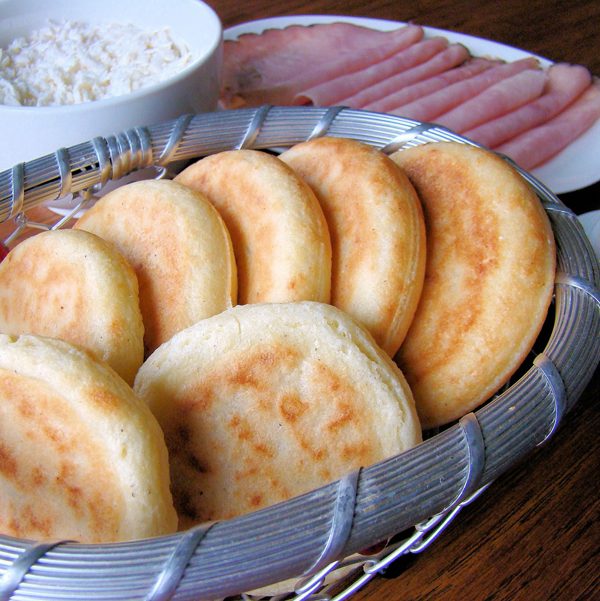 It's a shame that South America doesn't have a reputation for having destinations for foodie adventures because the food across the continent has great variety. Much of it is simple but prepared in such a manner that there's no issue with a lack of taste and flavor. One of the most common foods, particularly in Venezuela and Colombia is the arepa. Head down to Cartagena, find a street vendor and tuck into a corn or flour pancake oozing with melted cheese.
---
14

Catch a Chip Supper in London, England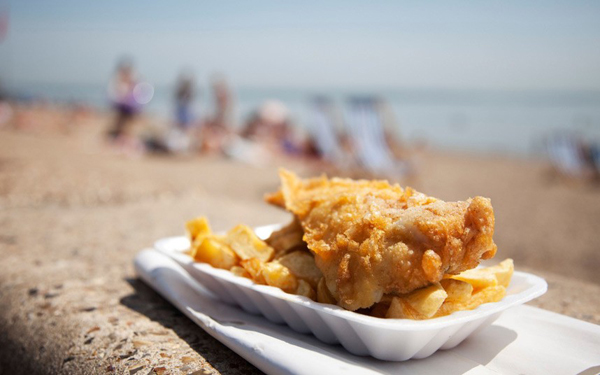 The London food scene is one of the trendiest in the world, with a mass of Michelin star restaurants, sumptuous hotel dining rooms and restaurants that represent practically every world cuisine. There is one staple on the British menu that really is one of the meals to try before you die – good old fish and chips. Now, search the Web for the best fish and chips in London and the world and his wife will have their say, including every newspaper, magazine and travel company. However, the recommendation of food blogger Daniel Young is Fish Central in Clerkenwell, Having said this though, if you were ever to venture to the north of England, in my opinion, the best fish and chips in England are served in Whitley Bay in Yorkshire, or at Mevagissey in Cornwall in the south west. Both are fishing towns so the catch is the freshest.
---
15

Chomp on a Cheesesteak in Philadelphia, USA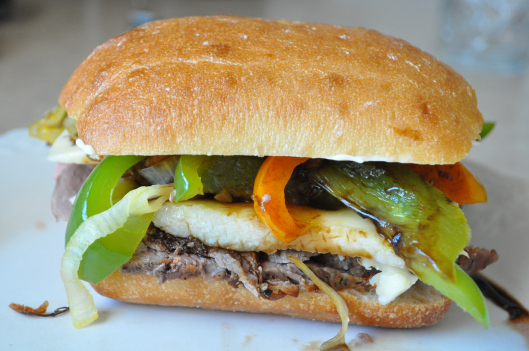 The cheesesteak may be popular all over the US, but it is an institution in the City of Brotherly Love. It is a sandwich – usually on a large hoagie style roll – heaped with thin slices of griddled steak and melted cheese, preferably provolone. Credited to Harry and Pat Olivieri in the 1930s, the legacy they left to the city still stands at Pat's King of Steaks restaurant. The iconic sandwich is an excellent way to fill up during or after touring the famous sites of Philadelphia, including those associated with the American Revolution.
---
16

Dig into a Dosa in South India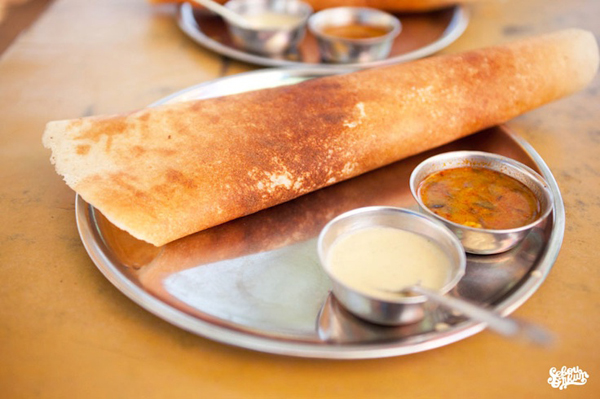 One of the joys of street food experiences around the world is watching the food being prepared. One of the most fascinating and skillful items to watch being made is the dosa. It is a wafer thin pancake, usually 12-18 inches in diameter, created by the batter being swirled and spread quickly across a baking hot stone. The action of a real artisan produces a really even pancake that is then rolled up to be eaten. Sometimes the pancake itself is flavored; otherwise it is filled with a delicious vegetable mix. You'll find delicious dosa all over the cities and towns of South India, a region that is predominantly vegetarian.
---
17

Gorge on Greek Meze in Santorini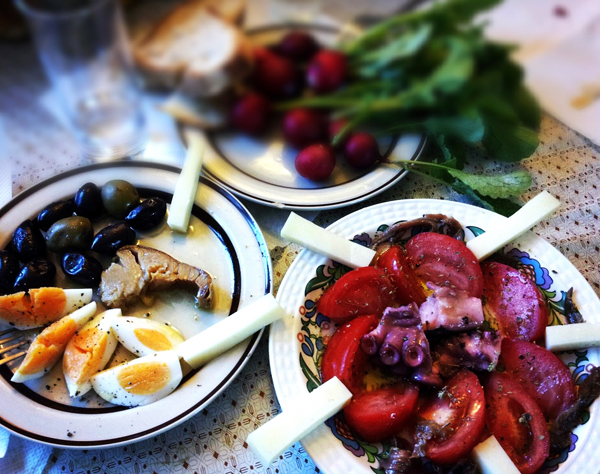 I love meze. Being able to pick from a whole array of tidbits all temptingly laid out in small dishes is such a great way of experiencing a number of the main elements of a cuisine in one sitting. And, if it comes after a day on the beach, soaking up the sun on one of the most gorgeous islands in the Mediterranean, I'd say that was pretty close to food heaven. A Greek meze will typically include fragrant roasted meats, souvlaki and kofta, salty feta cheese, olives, hummus, dips like eggplant, taramasalata, tzatziki, fresh tomato and cucumber salads, and of course freshly baked bread.
---
18

Frighten Yourself with the Thought of Fugu in Tokyo, Japan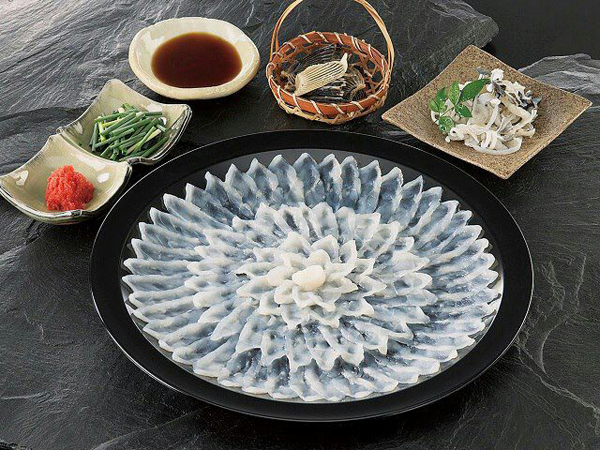 You know something is special when chefs actually need a license to make something. You know for sure then, this is not your average piece of sashimi. Fugu is a puffer fish and is deadly poisonous and only certain parts can be eaten, hence the reason only licensed chefs are allowed to prepare it. It is a delicate flavor and once prepared, it is eaten the same as other sashimi with soy sauce, daikon and pickled ginger. Visit Tokyo, see the sights, eat some fugu and round off the evening with some sake fueled karaoke.
---
19

Eat Ethiopian Mahaberawi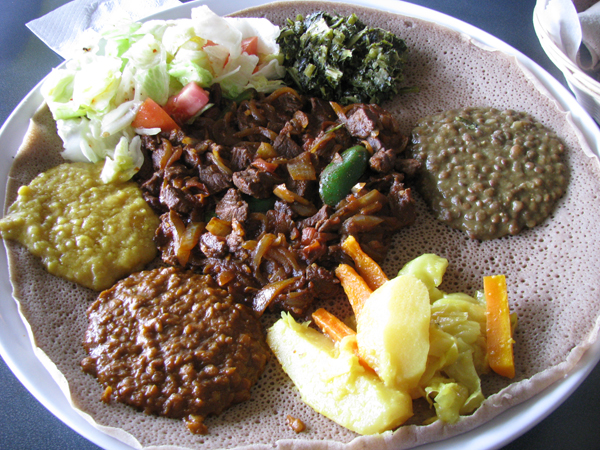 Ethiopian is another of the world cuisines you must try for the sheer experience of sharing. Although simple, Mahaberawi is a wonderfully social dish. No plates, no knives and forks, but plenty of injera (flatbread made from Teff grain) is used to scoop up deliciously fragrant roasted or curried meats and lots of fresh and raw vegetable dishes, salads and pickles. Eat it in a restaurant in the Ethiopian capital Addis Ababa, or better yet, get invited to a rural family home for a true experience of communal eating.
---
20

Make a Meal of Moules-frites in Bruges, Belgium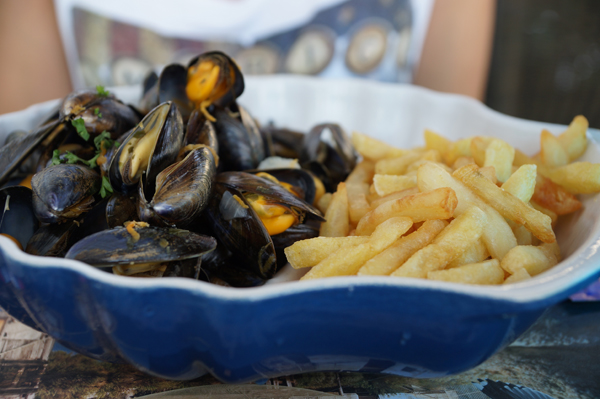 Moules-frites, or mussels and fries, are available all over Belgium (the best I ever had was at a truck stop on the road from Bruges to Ostend!) and are best eaten with great dollops of fresh mayonnaise. I've chosen the gorgeous medieval city of Bruges as one of the best places to eat them because it also gives you the chance to sample from the massive range of Belgian beers and finish off with some yummy Belgian chocolate.
---
21

Kill for a Kebab in Istanbul, Turkey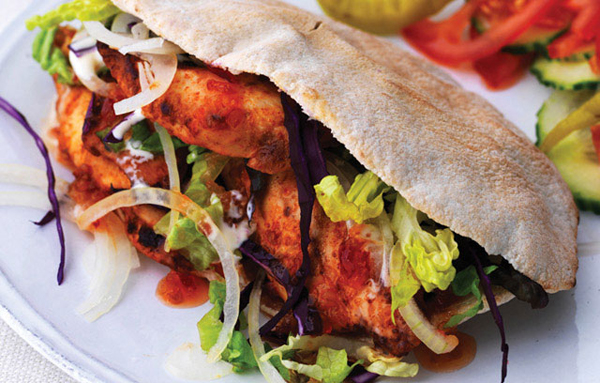 If you like your food stories delivered with a touch of romance, you'll love the fact that it is said the origins of the kebab is Persian soldiers who use to skewer meat onto their swords and grill it over an open fire. Today the kebab is a street food all over the world, but if you want to continue with the romance, few places can beat the authenticity of a kebab being devoured with a view of the Bosphorus. The view of the sea as the lights of magical, mystical Istanbul dance on the water makes the chewy pita crammed with roast lamb even more delicious.
---
22

Chew on Chicken Mole in Oaxaca, Mexico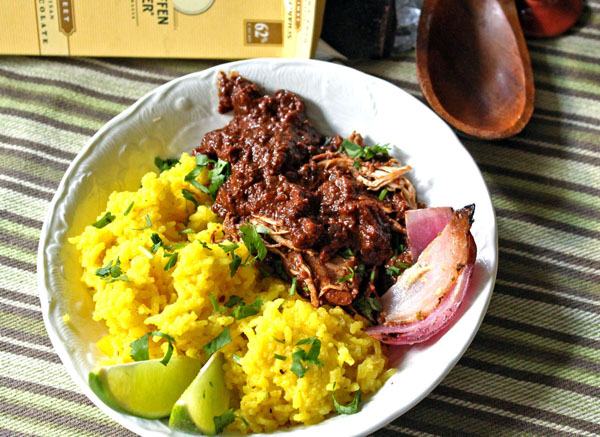 Don't be swayed into thinking that your food experiences in Mexico are limited to tacos, tortillas and chili con carne. The regional cuisine of Mexico is highly varied, interesting and unusual to foreign palates – especially the mole sauces, a specialty of the Oaxaca region. Mole is a thick, slow-cooked sauce usually based on chili, chocolate and sesame seeds with a number of variations. Shun the resorts of Cancun, head to Oaxaca, and feast on black mole chicken for a real taste of Mexico. And while you're there, there's plenty of sightseeing to be done too.
---
23

Yank out Yabbies in Melbourne, Australia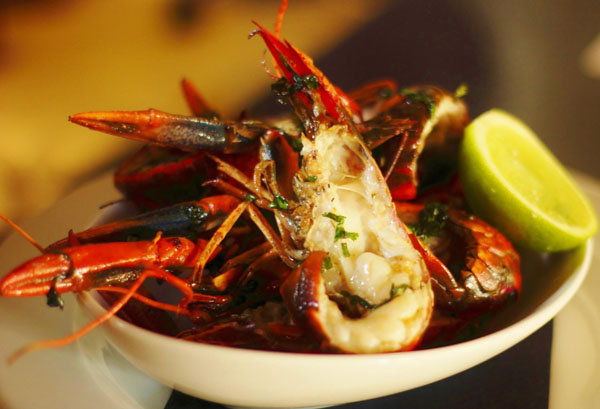 Like I mentioned when I suggested truffle hunting in Croatia, food experiences can involve catching your own food. There's a really hot food scene in Australia but there's no particular stand out dish. However, barbecues run deep in the Aussie blood, so a great way to experience food culture down under is to go yabbying. Find your way to Melbourne, Australia's food capital, get some local info and catch your own yabbies (crayfish) and cook them on the Barbie.
---
24

Call for Chicken Yassa in Senegal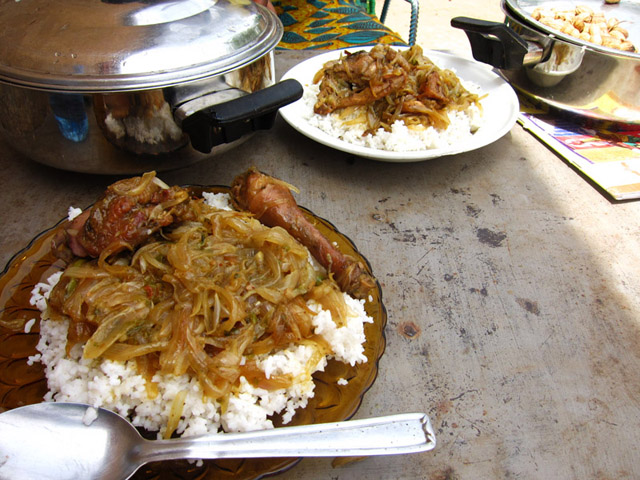 I think the world is waking up to the delights of African cuisine. More and more African restaurants are making their way to our cities, but there's nothing like eating food in its homeland. Whether you head to Senegal for the sublime beaches or the dizzying atmosphere of the capital Dakar, the food you must try is Poulet Yassa (Chicken Yassa) – a dish where France meets Africa. Chicken is slow cooked in a marinade of onion, chili, lemon, Dijon mustard (the French connection) and served over fluffy rice. Delicious!
---
25

Feast on Feijoada in Sergipe, Brazil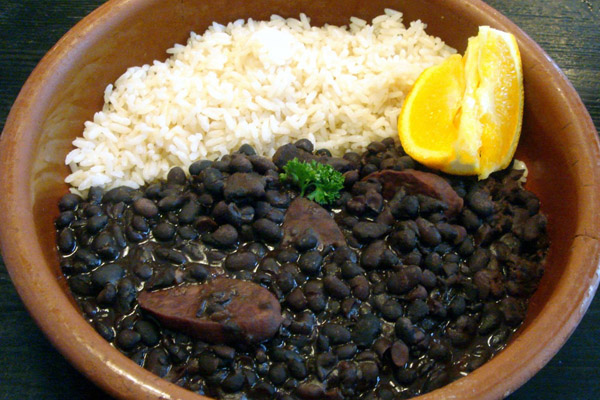 Although Brazil has a highly varied set of regional cuisines, the dish considered to be the national one is Feijoada. Brought from Portugal, it is a hearty stew of smoked and spiced meats – usually pork – and black beans. Brazil's smallest state, Sergipe, has its own variation and this is where it is best eaten. Feijoada Brasileira in Sergipe features vegetables like squash, potatoes, okra, cabbage/kale, chayote and plantains as well as the standard meat and bean base, lovingly prepared in a thick clay pot and cooked for hours.
---
26

Sample Singapore's Favorite Dish – Chili Crab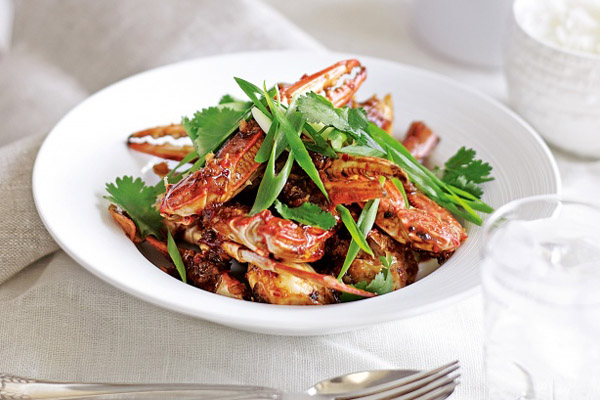 Naturally, as a South East Asian country, the food of Singapore is fragrant, spicy, and heavily influenced by a number of world cuisines. If you have to distill Singaporean cuisine into one dish, it would have to be chili crab. And, in Singapore, you don't eat chili crab in a restaurant or a sanitized food court sold to you as authentic street food. Hawker food in Singapore is a way of life, not a tourist attraction, so eat where the locals do, not other tourists. The chili crab at the East Coast Seafood Center is excellent, but for the sheer allure of the name, you'll also find it at Chomp Chomp Food Center.
---
27

Ruminate on Ragout in Budapest, Hungary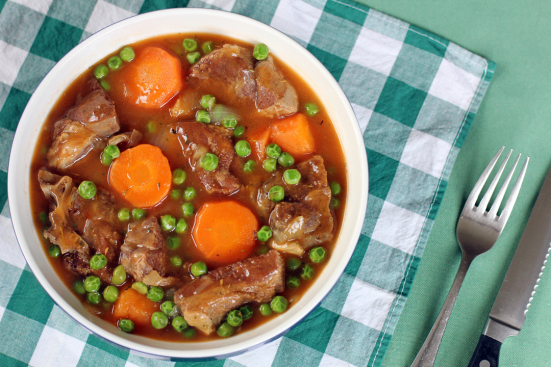 The food of Eastern Europe, whilst delicious and homely, isn't known for delivering up great food experiences – other than the delight of eating great food in great places. It's also quite rare that a single spice is a key to a cuisine, but that's the case with paprika and Hungary. From sweet to searingly hot, paprika flavors many dishes in Hungarian food, including sausages and the dish that gives its name to many thick stews around the world today, ragout. Visit Budapest – one of the most gloriously magnificent cities of Europe, take in all the sights and then spend a very few dollars on a hearty beef paprika stew.
---
28

Tuck into a Thai Panang Curry in Phuket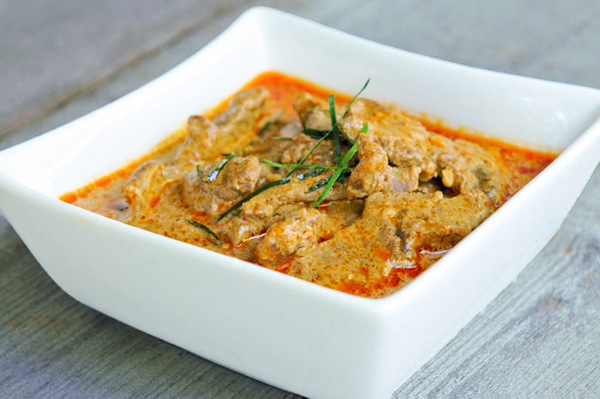 If you travel to Thailand, the choice of what to eat will leave you bewildered, as well as sending you home a good few pounds heavier because you just want to eat everything. So, which is the essential Thai food you must try? Pad Thai? Green Curry? Satay? Chicken Rice? Well, cleverly, a Panang curry will combine many of these same flavors in the one dish. Spend the day soaking up the sun on a stunning Phuket beach, then head downtown to be served ladles of a thick coconut cream-based chicken curry with peanuts and red bell pepper over steaming jasmine rice.
---
29

Banquet on Bæjarins Beztu Pylsur in Reykjavík, Iceland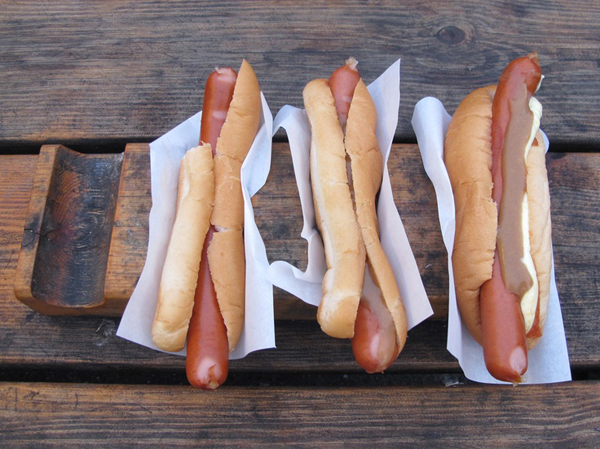 Translated, this is a hot dog! So, why would hot dogs be one of the meals to try before you die? Well for one, you have to go to Reykjavik, the incredible capital city of Iceland, to get it. Secondly, this is no ordinary hot dog sausage. Thirdly, unless other people have ventured out with their own carts, there might well only be one vendor of this deliciousness. The sausage is made from native Icelandic lamb and served in a soft chewy roll with a mayonnaise-based sauce and an assortment of condiments. Well worth taking the trip to Iceland for. Eat it while keeping an eye out for the Northern Lights. Bliss!
Well I think I have put on 10lbs just writing about the incredible food experiences that travelers can have around the globe. And, there are so many more that I haven't been able to include here. I'd love to hear your ideas for the meals you must try before you die.
---
Comments
Popular
Related
Recent