7 Cool Reasons to Visit Cuba ...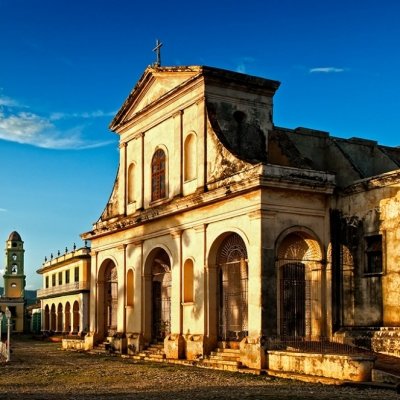 I hope I can give you some reasons to visit Cuba, the largest island in the Caribbean that is sure to captivate you with its rich history and heritage (think Spanish and African)! Cuba receives over 2 million visitors each year; most of them Europeans and Canadians. Although unknown to most people, Americans can travel to Cuba, just on a limited basis, and only with U.S. State Department-approved tour companies, like Insight Cuba and Central Holidays. Travelling to the capital city, Havana (Habana locally), is gradually getting easier for Americans, and believe it or not, the flight time between Miami and Havana is under an hour! If you've been contemplating visiting, or wondering where to go on your next vacation, here are some cool reasons to visit Cuba.
1.

Baseball and Other Attractions

The reasons to visit Cuba aren't just related to seeing this untouched country that has been sanctioned economically (embargoed) by the U.S., since the 1960s. Cuba's rich history, culture, architecture, and aspects that make it so famous, like cigars, baseball, and music are definitely other reasons to visit. Who knew that in Cuba, baseball is more universal than soccer is to the Brazilians? From the streets of Havana to rural towns like Viñales and Trinidad, Cubans embrace baseball. If you're not into baseball, there are some great architectural sights to see! The magnificent Edificio Bacardi is a masterpiece of art deco architecture, the Palacio de Valle looks like a palace from the 'Arabian Nights,' and you can't miss Plaza Vieja in the capital city - Havana's most architecturally eclectic Old Square!
2.

Cultural Music

If you love music, there's no shortage here! Cuban music is extensive; if you have to stereotype it, it's a mixture between Spanish and African styles. Other styles include Jazz Cubano, Rumba, Cha-Cha, Bolero, Conga and Timba (Conga and Timba being the most recent musical styles coming out of Cuba). The majority of Cubans have a proficiency in music, which is interesting, given that they were unable to express themselves fully, under Fidel Castro's communist regime.
3.

Caribbean Weather

If you're seeking temperate, yet sometimes tropical, sunny weather, Cuba should be on your list from this aspect alone. A typical day sees minimum temperatures of 25° C (77° F), and maximum temperatures of 30° C (86° F). The best time to travel is from March to May, when there's very little humidity. As with all Caribbean islands though, Cuba is subject to trade winds which determine its levels of humidity. The rainy season extends from May to October, and note that Cuba is prone to hurricanes; something to consider when booking your trip!
4.

Honeymoon-Style Beaches

If you're seeking desolate white sands, turquoise water and swaying palm trees in your midst, look no further than Cuba! With 300 untouched sandy beaches, you can be sure to find one that suits your needs. Varadaro beach on the main island of Cuba is popular (think Waikiki, Honolulu)! It's perfect for scuba diving or snorkeling local coral reefs. Other beaches worth visiting are located on the smaller northern chain islands, making for wonderful day-trips. Cayo Santa Maria and Cayo Coco are both suitable, particularly if you're honeymooners looking for seclusion and romance. You might even catch glimpses of dolphins, flamingos or mockingbirds, if you're lucky!
5.

History and Heritage

One of the reasons I have wanted to visit Cuba is due to its rich history. From being claimed by Christopher Columbus for Spain in 1492, to the importing of slaves from Africa in 1526, to the revolutionary war of 1959 (that reads like a movie script), and the long history between Fidel Castro and the USA, need I say more? Castro severed ties with the States in 1961 and began allying himself with the former Soviet Union, declaring Cuba a communist state. It was at that time, that the US embargo began on all exports with imports banned the following year. The embargo has remained in effect since, however there could be a chance that this U.S. Administration might lift it; something which many want to occur; I guess only time will tell!
6.

Cuban Cigars

The island has gained a massive reputation for having the best cigars in the world. They are highly desired for their exquisite flavor and are made by some of the most skilled cigar manufacturers (torcedores), revered for their skills and treated like local celebrities! Just be careful you purchase cigars from reputable tobacconists, and always check for counterfeits and fakes before buying!
7.

Spanish-Influenced Cuisine

Last but not least, Cuban food has to be up there on the list of reasons to visit! This type of cuisine is becoming more prevalent in the international food scene, and you can find it in unexpected places (there's a couple of Cuban restaurants where I live on the west coast)! Spanish, African, Dutch and French cuisines (via Haiti) all influence Cuban cuisine. The staple 'arroz congri oriental' is rice and kidney beans baked in an oven, and there's 'boliche,' a roast beef stuffed with chorizo sausage and hard-boiled eggs. Tropical fruits cooked in sugar syrups are typical desserts, topped with cinnamon, served with white cheese. And, you must sample the Cuban mojito - it makes for a perfect accompaniment to these dishes!

From cultural music, cigars, amazing beaches, scuba- diving, destination weddings, and honeymooners, Cuba is slowly opening itself up. Hopefully the more that people venture and are touched by Cuba's beauty, the more that others will be inspired to visit. Would you like to go? What inspires you the most about Cuba?

Source: Cuba-culture.com, visitcuba.com, lonelyplanet.com, About.com, tasteofcuba.com.

{{#comments_count}} Show Commnents ({{comments_count}}) {{/comments_count}}