The best restaurants in NYC are one of the reasons so many visitors flock to the city. They're also why so many people love living there, and never want to go anywhere else. You can find all kinds of different cuisines when you dine in the top restaurants in NYC, from scrumptious sushi to fabulous French fare. It all depends on what pleases your palate the most. After you check out this detailed list of the most amazing restaurants in NYC, you might be hard pressed to pick just one! Do I smell a serious foodie tour?
---
1

MEGU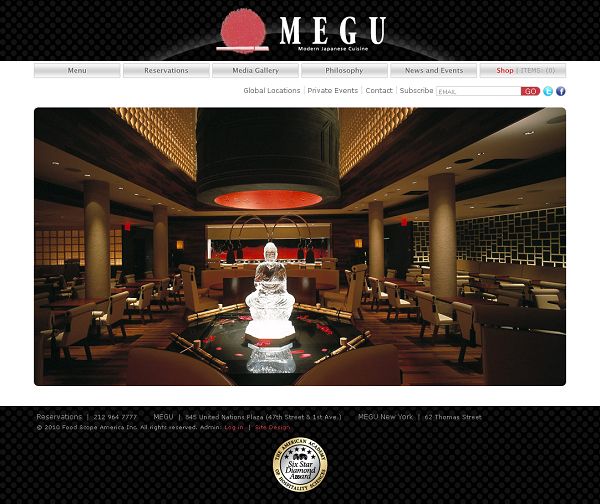 If you love sushi, then for you, one of the best restaurants in NYC will definitely be MEGU, which has so many delicious choices your mouth will start watering when you read the menu. You can enjoy a wonderful light lunch there with appetizers including edamame soup and Yellowtail carpaccio, and lunch choices including sushi rolls, Kobe steak, or duck confit! Dinner is even better, and the choices are seemingly endless. There are cold dishes, hot dishes, and lots of traditional Japanese delicacies with their own flair. It is to die!
---
2

Nobu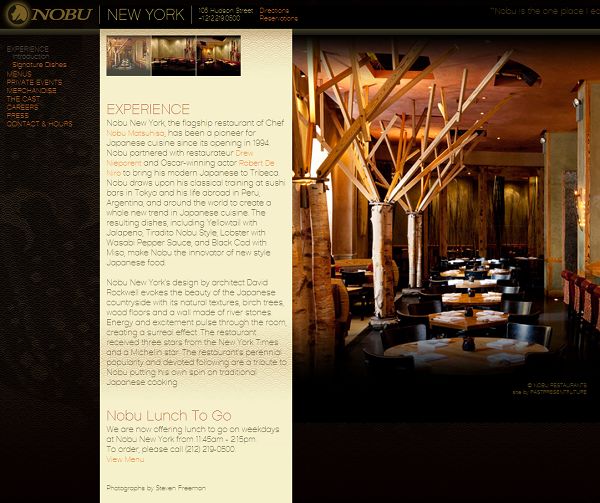 Nobu is also considered by many to be the best restaurant in NYC, and actually, there are two locations – Nobu Next Door and Nobu Fifty Seven. The restaurants are owned by the Matsuhisa family, notably Nobu Matsuhisa, and co-owned by several others, including Robert De Niro! It isn't the famous name that makes Nobu a favorite, however, it's the modern take on Japanese food, largely influenced by Nobu's travels as well as his classical training.
---
3

Boulud Sud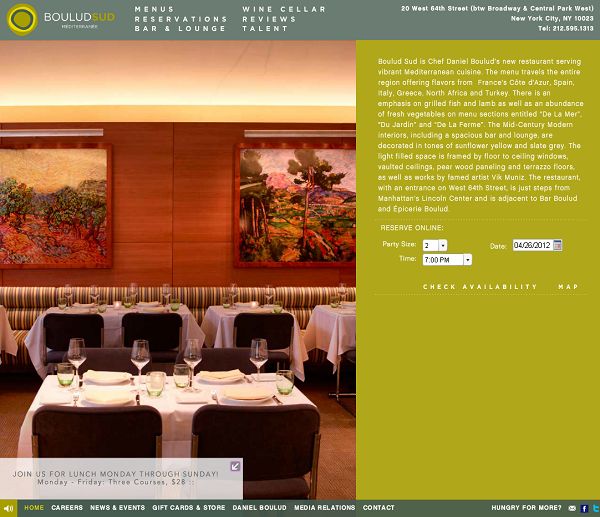 Boulud Sud is a relatively new restaurant owned by Daniel Boulud, and this time, Mediterranean is on the menu. The restaurant promises to take you all along the entire region, with delicacies inspired by Spain, the Cote d'Azur, North Africa, Turkey, and Greece. You'll see lots of amazing fresh vegetables, plenty of fish, lots of lamb, and you'll enjoy it all in a truly beautiful restaurant, which makes use of light, colors, and wonderful art. After all, food tastes even better in a gorgeous setting!
---
4

Per Se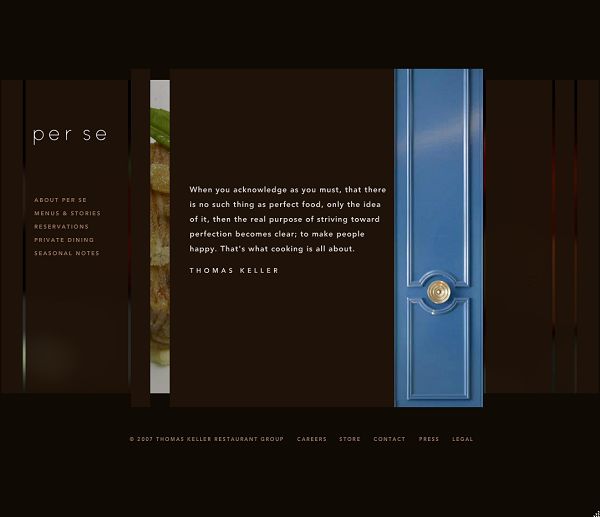 Thomas Keller, one of my favorite chef's of all time – he's so surly and colorful! – owns one of the best restaurants in NYC, called simply Per Se. However, the name is the only thing simple about it. Typically, you'll be given a choice of two different menus when you eat at Per Se, both of them a staggering nine courses. They're well paced, naturally, so you can savor each individual course, and really experience it before moving onto the next one.
---
5

Asiate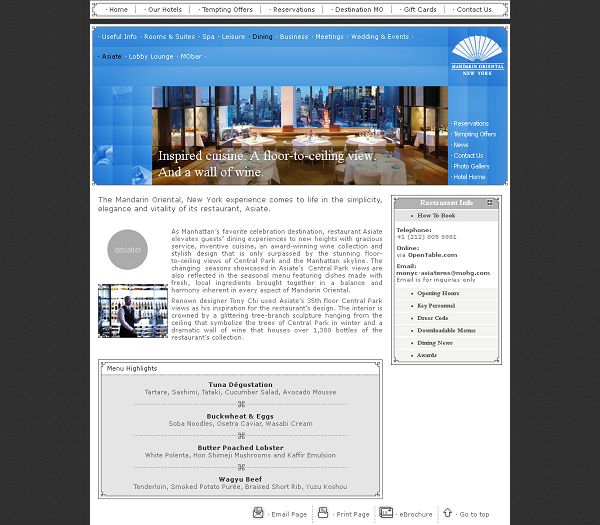 Asiate is a top restaurant in NYC, located within the Mandarin Oriental hotel. The cuisine is contemporary but, appropriately, it has a definite Asian influence. It's located on the hotel's 35th floor, so you get to enjoy breathtaking views while dining on incredible food. Imagine being able to see Central Park at night, while dining on Tuna Degustation, Buckwheat and Eggs, Butter Poached Lobster, or Wagyu Beef!
---
6

Masa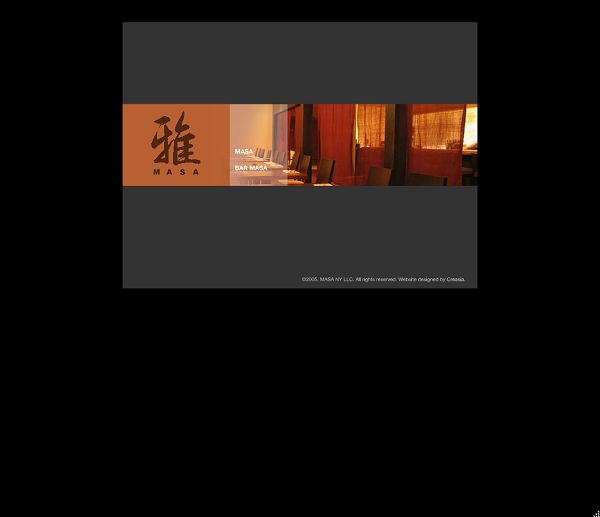 It seems like many of New York's best restaurants deal in sushi, and Masa is no exception. It's thought to be one of the most expensive restaurants you'll find anywhere in the world, but once you've tasted the Japanese cuisine of Chef Masa Takayama, you'll understand why. The menu solely features Omakase, but don't worry – you can definitely trust Chef Masa!
---
7

A Voce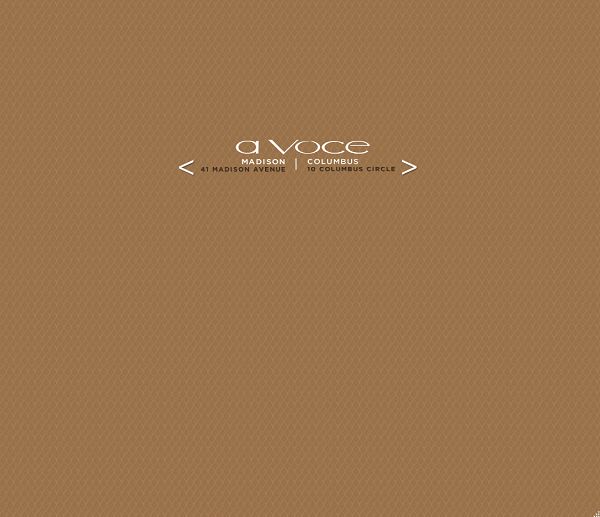 Located on both Madison Avenue and Columbus Circle, the two A Voce restaurants offer entirely different atmospheres, but the food is amazing at either location. And the fare? It's largely rustic Italian, delicious but never pretentious, especially since you may receive it in a terracotta bowl. Both locations also make use of seasonal ingredients, so you're getting the freshest, tastiest foods you can imagine. If you adore Italian, this is one of the best restaurants in NYC to visit.
---
8

Daniel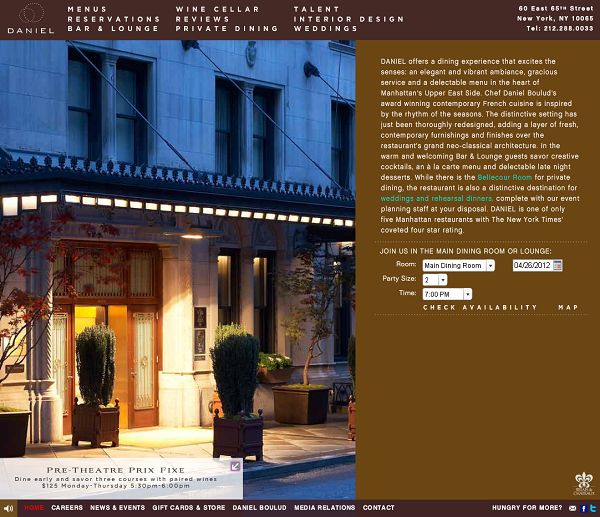 If you enjoy Boulud Sud, then you'll also love Daniel, which is another baby belonging to Daniel Boulud. Considered by many diners to be the top restaurant in NYC, it's my favorite when it comes to French food. You just can't get better than this, especially if you, too, love flawless French cuisine. For instance, as an appetizer right now, you can get anything from Dodge Cove Oysters (in a sea water gelee, no less) to Duck Terrine with Marcona Almond. There are Peekytoe crabs, frog's legs, and tons more. Main courses include fish like sea bass, cod, and king salmon, plus rabbit, duck breast, veal, or beef. And please, don't even get me started on the desserts!
---
9

Le Cirque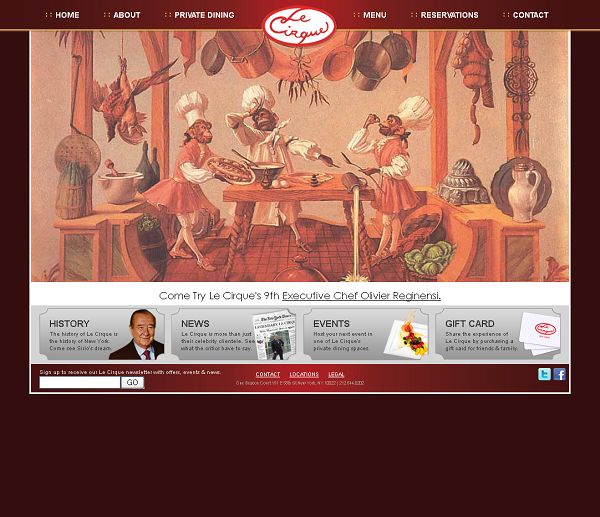 Speaking of French restaurants, Le Cirque is another favorite, and it is absolutely fabulous. Again, there are several locations, but you can look forward to the same amazing cuisine in each. For dinner, depending on the season, you can get foie gras de canard confit, smoked salmon, or half shell oysters, among others, while lunch entrees include dover sole, black bass, flounder, NY strip, or special meals for two. The desserts are incredible as well, with a number of signature dishes in addition to classic sweets, like Crepes Suzette and chocolate souffle.
---
10

Peter Luger Steak House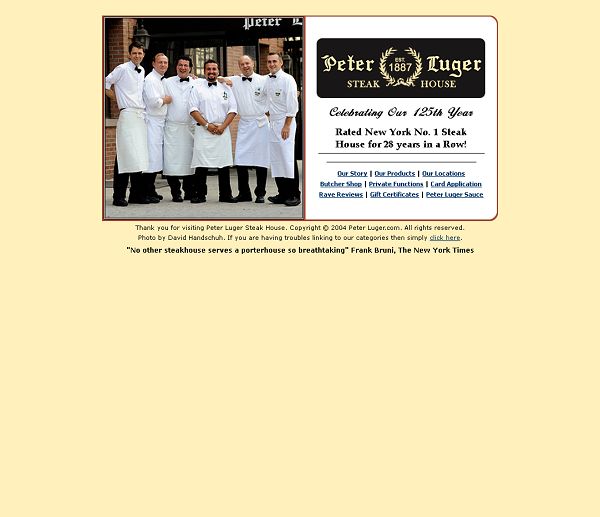 This one might come as a surprise, but you knew there had to be one top restaurant featuring largely American cuisine, right? If you're looking for steaks, Peter Luger's is the place to go, there are no two ways about it. It's not just one of the best restaurants in New York City, it's also been voted the best steak house for 28 years running. The menu doesn't have a lot of items, but it doesn't need them. You can get just about any kind of steak you want, as well as lamb, fresh fish, and different specials, along with incredible salads, wonderful desserts, and signature chocolate coins afterward!
The best restaurants in NYC range in cuisine. Whatever your palate prefers, be it contemporary, rustic, Italian, Japanese, French, or Mediterranean, you can find something to make your mouth water and your stomach growl. What's your opinion on the most amazing restaurants in New York City? If you have spots to add, we definitely want to know about them!
Top Image Source: pinterest.com
More
Popular
Recent