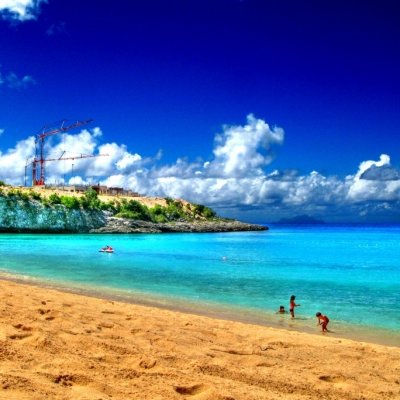 Those in the know are well aware that the beaches of Croatia are among the underappreciated charms of Europe. The coast of Croatia really deserves to be called the Adriatic Riviera because it is stunning. I can warn you that it's not a secret anymore. More than 12 million visitors are now enjoying the beaches of Croatia every year, so better go bag your spot in the sun before someone else beats you to it.
1.

Zrce

If you normally head to Ibiza, Ayia Napa or Magaluf for the summer nightlife, turn further East and land up in the party town of Novalja on the island of Pag and its long, scenic beach of Zrce. This is not somewhere for a quiet seaside holiday and definitely for those who can rock killer heels until dawn. This is one of the beaches of Croatia that is graced by open air clubs, plenty of bars and restaurants and is quieter during the daytime as everyone sleeps off the excesses of the night before under the beating sun.
2.

Saharun

If you're looking for peace, tranquility and exceptional beauty, you can find it in the relative isolation of Saharun. This beach graces a stretch of the northern coast of Dugi Otok, the largest of the islands in the Zadar Archipelago. (Did I mention that Croatia's beaches are found on the mainland and scattered around more than 1,000 islands?) The beach at Saharun is fringed with aromatic pine trees and offers a view of a seemingly endless horizon, where the sky meets impossibly turquoise waters that are perfect for snorkeling.
3.

Rajska

One of the most popular beaches in Croatia, its name kind of gives it away because Rajska Plaza translates to Paradise Beach. The jewel in the crown of the 20 or so beaches claimed by Lopar, a village on the northern coast of the island of Rab, it swathes across a mile of Crnika Bay. One of its most charming features is a small island out in the bay that you can walk through shallow waters to reach. Paradise Beach is popular with families thanks to its plentiful amenities.
4.

Punta Rata

This is one of my favorite beaches in the whole of Europe, let alone Croatia. It is simply stunning and you really do think you are on a tropical desert island, except the backdrop of trees are fragrant pines rather than swaying palms. Punta Rata occupies prime real estate in Brela on the Dalmatian Coast, and its length is broken by secluded coves where you can easily escape the world for a few hours.
5.

Zlatni Rat

When the elements are doing their thing, Zlatni Rat Beach (Golden Cape) is wont to change. The action of the wind and the waves regularly pulls the spit of white pebbles into new shapes. It's certainly an added attraction to the existing tree lined promenade, the waters that are great for surfing and diving and the vibrant nightlife. Nude bathing is permissible in some areas.
6.

Stiniva

If you like your beaches to have more than a gentle tilt towards ruggedness, your seaside passions will be inflamed by Stiniva. Stiniva is one of the hidden beaches of Croatia and that's because it's not the easiest to access. There's a climb down a steep path, or you can reach it by boat. Located on the southern coast of Vis, Stiniva is wildly beautiful and the rock formations, once the narrow passage opens up into the bay, provide seclusion.
7.

Bili Boci

Not many of Croatia's beaches can match up to the pristine whiteness of Bili Boci. If you don't mind a pebble beach, this is a knockout stunner. It lies on the small island of Proizd off the Dalmatian Coast and is reached by your own boat or trips from Vela Luka. It is known for its crystal clear water, forest trails and nature. It also offers fabulous views of other islands.

There are many convincing reasons to visit Croatia, and its beaches are one of its greatest adverts. Would you like to visit or have you already sampled its delights?